Promoting your fan page couldn't be easier. If you're looking to boost your fan page subscription numbers then you've come to the right place. We get thousands of visitors looking for new accounts to follow, so by promoting your account with us, we can help to amplify your content and make sure you're getting seen by huge numbers of potential subscribers.
We support all fan platforms including OnlyFans, Fansly, Fanvue, iFans, FanCentro, Unlockd, MYM, AdmireMe.VIP and many more. Check out our Follower Feed here to see where your ad will be seen.

Choosing a monthly or pre-paid option will give you a discount.
Choose your promotion plan
Please note that while we will be getting your fan page account potentially thousands of new viewers every day, that is no guarantee of new subscribers. Ultimately it is up to the person browsing your profile to decide whether they want to subscribe. Your job is to create content worth subscribing to, but we'll help advertise that to a huge audience. Refunds are issued at our discretion and will be pro-rated.
If you need to cancel your subscription, please get in touch with our team.
Have you got a Free Page or a TikTok Account to Promote?
If you've got a free fan page (you don't charge for subs) and/or a TikTok page (where you post teaser content), then get in touch as we have some great bespoke promotion opportunities that could skyrocket your subscriber numbers. There are only limited spaces so these advertisement spaces are priced accordingly. Speak to the team here
Reasons to Promote Your Profile With Us
Whether you're just starting out on OnlyFans or you're trying to build on your early success, it can sometimes be tricky to get your profile the exposure it deserves. You'll have your own social media to help amplify your content, but once that audience has been tapped then where do you turn?
Rather than looking into paid advertising through social, which can be hit-or-miss, we offer you the chance to be seen by thousands of people who are actively looking for OnlyFans accounts to follow.
Find out more details here on our promotion and advertising service
Design & Photo/Editing Service
We offer a bespoke design service for your OnlyFans header and profile image, as well as general photo/video editing services. If you're interested, please get in touch here – prices start from $25.
Our thousands of visitors are already on the lookout for interesting, exciting profiles to subscribe to, so we've already done the hard work of finding the audience. Now we can just direct them your way and help to boost your subscriber numbers as you build your OnlyFans career.
We offer you the chance to have your profile featured in some prime spots, including on our homepage. And we can add you to your preferred categories to help put you in touch with people who are directly interested in what you have to offer.
So what are you waiting for? We've also got some great guides, help and advice on our main site, Follower, aimed specifically at creators.
Why Do I Need to Promote?
A lot of subscriber websites like OnlyFans aren't built in a way to make finding new fans easy. Think of OnlyFans as your product – your content, hidden behind a paywall, is something you're trying to sell. But OnlyFans isn't also a place to advertise that product. The onus, instead, is on you to do that work and direct people to your page.
This means that it's really not easy to just accumulate new subscribers naturally. OnlyFans, and some of the other top fan platforms, don't have the functionality to allow users to just browse profiles. People who log onto these sites as a potential subscriber might be interested in taking a look around, but the sites aren't built with that in mind.
To be clear, some sites are much better for this – but these names aren't as big as OnlyFans anyway, and so have fewer visitors who are browsing.
All of this means that you can't just set up a great platform page and hope the subscriber count will grow naturally. No matter how good your content is, people need help finding it. Promoting your page should be where you focus most of your attention, so long as you're creating content that is good.
Social Media is a Risk
It's true that having your own social media is essential for promoting your page, but relying solely on Instagram, YouTube, TikTok or Twitter is a huge mistake, especially if you are posting adult content. A lot of social media sites don't allow adult content. Instagram in particular is renowned for closing down accounts with almost zero warning, and a quick search online will show you countless stories of people who've lost thousands of followers in an instant because they posted something a little too risqué.
When you want to promote an adult account, you need to use more than one method for your best chance of growing a subscriber base. Relying on social media alone could be a risky tactic if your account gets closed down – you've got to completely start from scratch. That's why we're a good option to consider. The people that will see your page are actively looking for the type of content you're promoting, and there's no risk of us banning you from posting adult material to your page. You're exposing your profile to a ready-made audience.
Plus, think about how much more impressive your page will look on social media if your fanbase is already bigger? People who follow your fan platform will likely then follow you on your social media channels and interact with you there too – and those interactions could be key to encouraging others to subscribe too.
Promoting Anonymously?
A lot of people sign up to a fan platform anonymously. They want to keep their OnlyFans or other accounts secret, either because they're a little shy, they want to make sure their friends and family don't see it, or they might have a professional day job that wouldn't take kindly to adult content being posted online.
Promoting anonymous accounts is hard, because you then need to build up whole new social media profiles, and you've got to be careful about how you target your promotion too. It's another reason to consider our service, since we don't need to publish your real name, and we will just present your profile to thousands of potential subscribers through our own site. You can focus on creating great content and making sure your profile sparkles so that when people do visit your page from our site, you've got the best chance of converting them to a subscriber, all without having to risk revealing your identity.
How It Works
Step 1: Choose the plan that best suits your budget. The better a package you pick, the more exposure you'll get.
Step 2: Complete the order, making sure you include your correct fan page account URL.
Step 3: If you've chosen a Grow, Pro or Elite plan, choose the categories you want to feature in once you've completed signing up.
250,000+
Visitors per month
20,000+
Promoted Accounts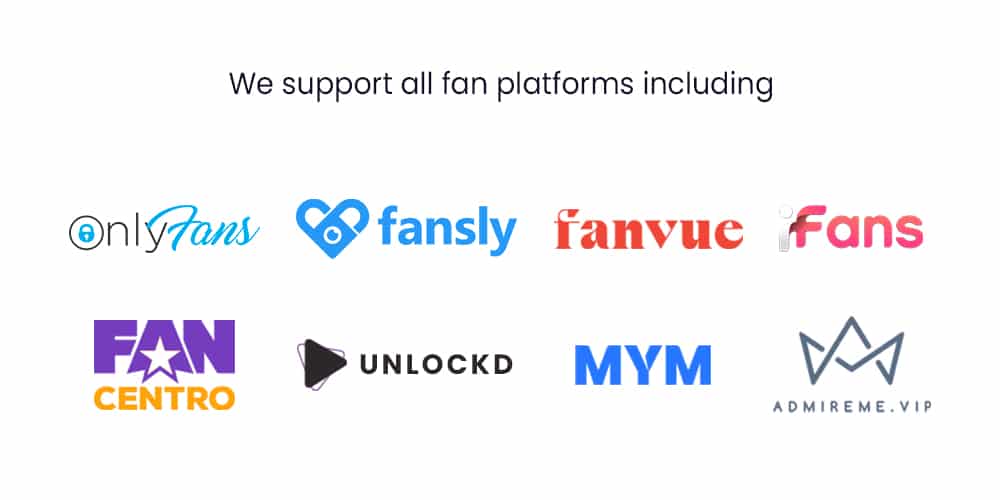 Promotion Reviews
I felt like I already had a good starting point with my OnlyFans, but I didn't realise how easy it could be to grow my subscribers with a little extra help. My subscriber numbers keep climbing faster and faster – I can barely keep up!

Caitlin Lake, Model
My OnlyFans profile was only meant to be a bit of fun at first, where I could show off a bit more of my wild side. But with very little effort I've now started making good money from it, and I'm definitely seeing the value in paying for more exposure.

Aydin Horne, Fitness Model
Paying to have my profile featured has really helped to get more eyes onto my profile. I've worked hard at the same time to offer my best content so far, and the combined results are definitely showing.

Daisy-Mae Fox, Content Creator & Model
If you have any questions for our team, please don't hesitate to get in touch and we'll be happy to help! We're one big creator family. ❤️