👋 Got a fan account that needs a boost? Promote it here. We support ALL platforms ❤️ Get a FREE digital eBook packed with Onlyfans tips with every ad purchase!
Now, there are many different platforms that content creators can use if they want to start up a fan subscription page. And despite all working in very similar ways at a base level, there are quite significant differences between them.
Of course, the most famous is still OnlyFans. It's one of the few websites with adult content that has become recognizable as a brand in the mainstream. People talk about their OnlyFans as a sort of catch-all term for all these kinds of pages.
But just because it's the most famous, certainly doesn't mean it's the best. And in this guide, we're putting OnlyFans up against a solid competitor in LoyalFans.
LoyalFans is newer than OnlyFans, but it has been built by people with good experience in the adult industry, aiming to create a closer bond between creators and users.
So, with all that in mind, which is the better platform for content creators today? Should new creators pick OnlyFans or LoyalFans for their first page, and should existing creators consider switching? Let's find out.
Intro to OnlyFans
OnlyFans is certainly a veteran of the fan subscription world, despite only coming into existence in 2016. But that is still one of the first of these types of platforms, and certainly the first to get significant traction.
As a result, the website has attracted literally millions of creators and even more visitors to the site every month. Those creators come from all over the world and are creating all kinds of content – although clearly adult content is the biggest sector of the website by some distance.
And yet, in August of 2021, the website tried to ban sexual content from the website, due to issues with banks and payments (and some brewing scandals over how the platform ensured exploitation content was banned). The site backtracked within less than a week, but the damage was already done by this point.
Many creators have never forgiven being burned in this way and are considering whether it's worth the effort to switch to another platform which potentially offers more security for adult creators. There are concerns as to whether OnlyFans may try something similar in future, which could seriously impact the earnings of adult creators.
You can sign up to OnlyFans here
Intro to LoyalFans
LoyalFans may have been created post-OnlyFans, along with a number of other similar platforms, but that doesn't mean it's a website built without experience.
The team behind LoyalFans have a combined 35 years of working in the adult industry, and that's vital – it means they know what adult content creators want support with, and the things that need to be prioritised.
LoyalFans will accept creators of work-safe content too, but it's likely to get lost amongst a website which is essentially dominated by adult creators of various niches, including a significant presence of findom creators.
You can sign up to LoyalFans here
How easy is it to use?
There are two sides to this question because every fan subscription platform has two sets of people using the site – creators and the users who will potentially become subscribers.
A website needs to be at least passable for both of these groups but ideally will make sure it has an easy-to-use interface that doesn't throw up any blockers that can become frustrating.
If it does have weird quirks, and they impact the creator, it can make it harder to upload content, or even just to be motivated to keep uploading content. Which can then cause subscribers to cancel.
And if the interface issues affect the user, it can become a barrier to them subscribing – they may look elsewhere if it's not really easy to get around the site.
In this area, OnlyFans is fine. It looks like a fairly standard social media website and getting around is simple enough. But it has one major issue in that discoverability – the ease of finding new creators to potentially follow – is pretty terrible.
LoyalFans is significantly better in this area. It has a whole page that you can filter by popular, new and active creators, as well as those offering particular services. It could be better – there are some platforms which let you narrow down searches by type of creator, or where they are from – but it's still much better than OnlyFans.
And the main interface is clean and easy to use for creators and subscribers too. There are multiple pages related to the various features that a creator can be a part of, but you can switch between them with the press of a button at the top of the page.
Overall, in terms of general usability, the sites are pretty similar, but LoyalFans is a little slicker. And then when you consider the ease of finding new creators to follow, compared to the almost non-existent equivalent on OnlyFans, there's only one winner in this category.
Winner: LoyalFans. Not even close.
Ways to make money
For this, we're going to focus on the main ways that these websites let you make money. The reason we're clarifying it in this way is that LoyalFans has some additional options to let you make money, but we'll cover those under the Features section further down in this head-to-head.
So, for now, we're going to look at the standard ways to make money from the platforms, which is through subscriptions and tips, as well as comparing the referral programs.
The main way to earn money as a creator is to have a page where you upload photos and videos. You then charge users a monthly subscription fee to access this content, and as long as they keep paying, they can see all your old posts, and any new posts you add.
With both OnlyFans and LoyalFans, you can set your own subscription prices at a level that you want to. There's no real difference here. And both platforms let you receive additional tips from users as well.
So far, a tie then. But when we get to the referral program, there's a stark difference.
Both OnlyFans and LoyalFans have a referral program. This allows you to earn a passive income from the site by referring users to other creators. Any money that they spend on that creator, you get a cut – whether that's subscription fees, one-off video purchases – anything.
And with both OnlyFans and LoyalFans, that cut is 5%. But OnlyFans caps it to one year from your referral. Anything after that just belongs to OnlyFans.
Not so with LoyalFans. That member is your referral for life. No matter how long they use the site and spend money, you'll always take 5% of those earnings, which means you can, over time, build up a substantial additional income from the members you've referred.
Winner: LoyalFans
How much can you earn?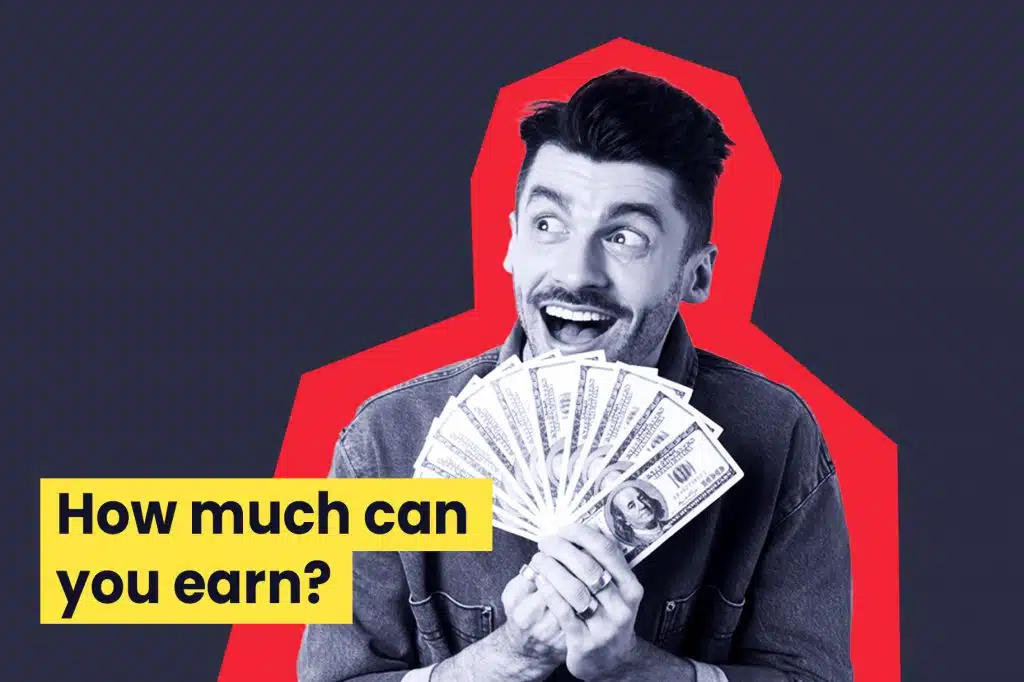 This one is a tricky one to call without infringing on other categories, but starting at the basic level – the money you can earn on a platform depends on a few different factors:
The ways you can earn income
How much the platform takes as a cut
The popularity of the platform and ease of finding new subscribers
So, when it comes to the ways you can earn income, LoyalFans wins hands-down – and we'll get to that in more detail when we get to the features section of the guide.
The cut is an important one to flag because this is the percentage that the platform charges whenever you earn money. With OnlyFans and LoyalFans, that cut is 20%. 20% is a relatively standard fee – there are a small number of platforms that only charge 15% but most are at the 20% level. Some are even higher, especially those with live cam shows.
Which brings us to the last point – how easy is it to grow your subscriber base and therefore maximize your earnings?
After all, if you charge $10 a month, you want as many people as possible to be paying that fee because you'll keep $8 of it after the cut is taken by the platform.
OnlyFans has the bigger brand name – people know what you're talking about if you tell them to subscribe to your OnlyFans.
LoyalFans doesn't have that recognition, but it does have better discoverability features. It's easier for casual users to find your profile if they're already browsing the site.
Really, it's tough to call between them for this matter, but then when you look at how many ways LoyalFans lets you earn money, it probably edges OnlyFans out overall in this section.
Winner: LoyalFans. A close one though.
Payout frequency
Payout frequency refers to the minimum withdrawal amount, and how often you can get paid.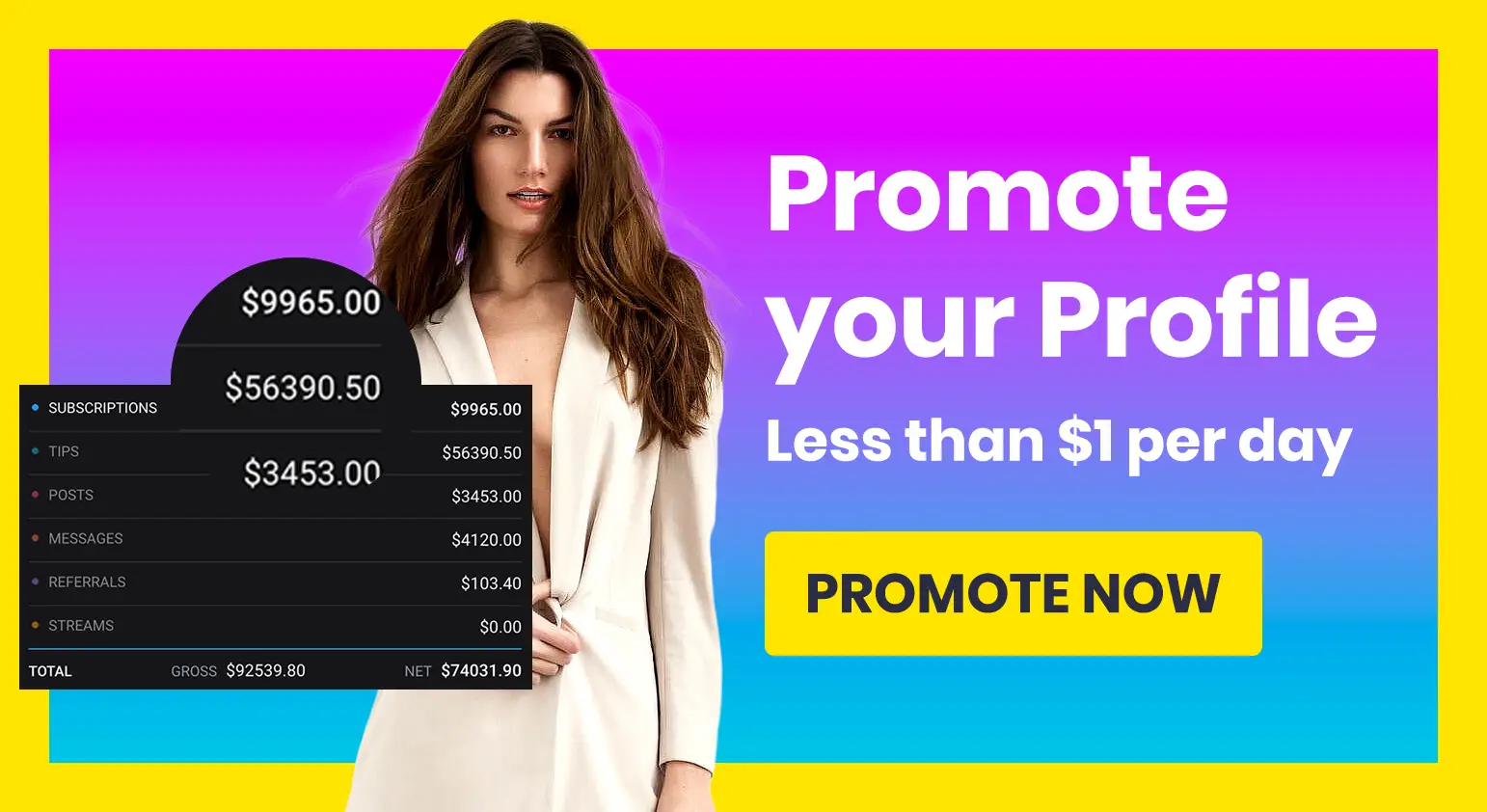 With OnlyFans it's pretty simple. The minimum payout amount is $20, and you can request a payout at any time. It'll take around 21 days for payments to be processed to you, and around a week for payments to reach your bank once you've asked for them.
With LoyalFans, there's a higher minimum payout of $50, and there are only two payments made every month – one on the 15th of the month, and one on the last day of the month. These payments also take around 7 business days to reach your account, so expect to receive payments on around the 22nd and 7th of the money, give or take a few days due to weekends.
This means that OnlyFans has the better solution here. You can get payments on an ad-hoc basis and request payments when you have fewer funds in your account, so it just has that little more flexibility.
Winner: OnlyFans
Which has the best features?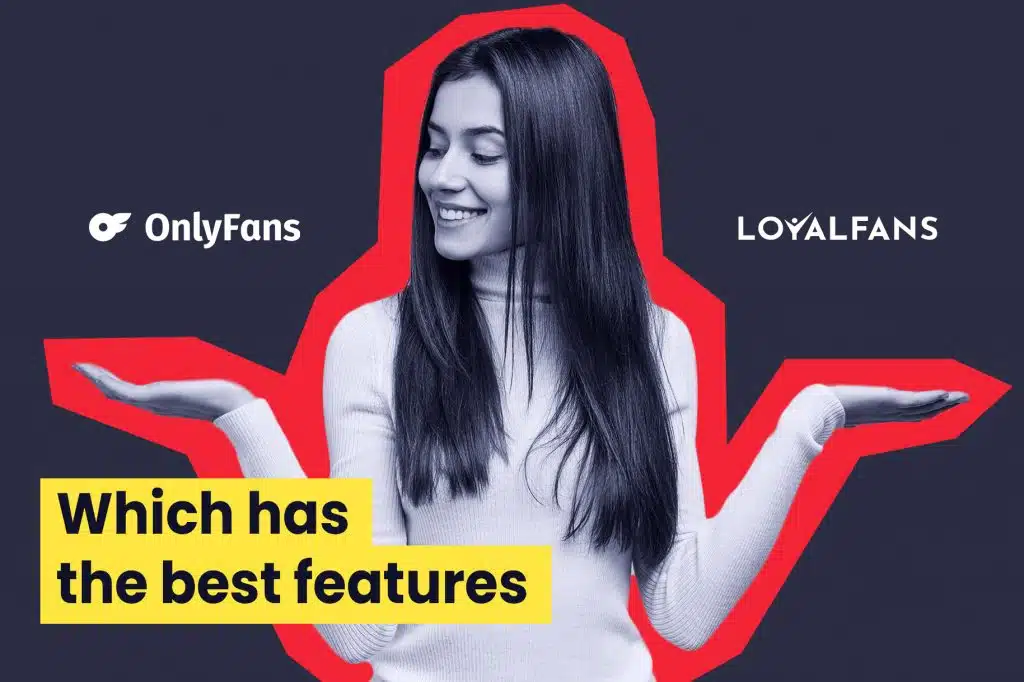 One of the biggest criticisms of OnlyFans as a platform is that it has stood still. It doesn't offer enough new features to creators or users and has stagnated as a website – because it doesn't need to do anything extra. It works, and it makes a ton of money.
Having said that, there are a couple of useful features that it has, but some are shared with LoyalFans.
One of those is the store where you can sell video clips. This is one of the rare additions to OnlyFans, and LoyalFans has done an excellent job of implementing it too. This lets you offer standalone videos for a one-off purchase. Subscribers can't watch these for free – they also need to pay.
It's a great place to offer a more premium version of the content you already offer. It might be longer videos, or something more explicit that you normally wouldn't share on your own newsfeed.
Another shared feature is geoblocking. This is a handy feature that lets you block certain parts of the world from seeing your page – perfect if you don't want friends and family to know about your secret side gig or career as a content creator.
Unfortunately, both OnlyFans have the broadest version of geoblocking which only lets you block entire countries. If you live in a small country then that's not an issue, but if you're American do you really want to block all United States customers just to avoid a few people you know from seeing your content?
LoyalFans lets you geoblock down to state level – much better.
The final feature that both platforms share is automatic watermarking – the option to add a watermark to any content you upload in order to protect it from theft.
That's it really in terms of shared features, so let's take a look at the unique features that each site offers.
OnlyFans features
There aren't really any features that OnlyFans has that LoyalFans doesn't.
You can probably guess which way this one is going.
LoyalFans features
LoyalFans has a few extra features that OnlyFans does not, which all help to boost your earning potential.
Firstly, a really simple but effective one is auto-tweeting. You can set up your profile so that, whenever you post new content on your newsfeed, it automatically sends a tweet to your Twitter account, letting people know you've posted new content.
Twitter is the most lenient of the social media platforms for adult content, with maybe the exception of Reddit, and this is a handy tool to show people how consistent you are at posting content on a regular basis.
A bigger feature that may be more useful is the option to host live streams. Streaming live with your fans is a fantastic way to interact with them and build a community. It's also a fast track to improving the tips that you'll make.
Even if people have to pay to access your stream, they will want to reward you more – especially if you are clever enough to tease things out, and maybe encourage people to tip to a certain level to unlock certain acts from yourself.
Finally, LoyalFans has shoutouts, and these are really cool. Some other platforms do let you request personalized videos, but LoyalFans has done a great job of making them into a 'thing' with shout outs, which are similar to the kind of celebrity videos you'd order from Cameo but with a naughty twist.
Users pay a set fee, which can be quite small, and in exchange, you will film a short video to send to them, which mentions them by name and directly addresses what they've asked for.
It's fun, and potentially a great way off adding more income if you use it in the right way.
Winner: LoyalFans. It has so many more features that this doesn't even end up being close.
What's the support like?
We mentioned that one of the biggest criticisms of OnlyFans was that, as a website, it had stagnated. Well, the actual biggest complaint from creators (and users) is that the support is bad. Not just bad – it downright sucks.
People have left many reviews remarking on the long wait times to get a response from OnlyFans whenever there's a problem. And then if they do get a response, it's often a cookie-cutter auto-reply that doesn't actually address the problem.
If you have an issue with something important – like a harassing user or a payment, you want a genuine answer ASAP. And while they do eventually come back to you properly, it can be really drawn out.
If you look at the OnlyFans website, you'll see that they promote their support network, and how they claim to be readily available to help their community.
LoyalFans is certainly better. It isn't perfect, but as a newer platform it is growing in the right way, and most reviews of the site explain that they have received prompt, genuine replies to concerns and that things are fixed quickly.
Plus, LoyalFans hosts a series of articles and FAQs on their site for both creators and fans. OnlyFans does have similar and to be fair, it probably has more content – but it's terribly organized and hard to get into.
No thought has gone into the user experience, and if you're worried about a problem, you don't want to get frustrated having to dig around to find the answers you need.
It's a poor showing. And again, LoyalFans' version isn't the best, but it's better than what OnlyFans has to offer.
Finally, LoyalFans also offers weekly webinars to help educate new creators. That's going above and beyond.
Combine that with the faster response times to genuine support queries, and LoyalFans wins this category as well.
Winner: LoyalFans
So, which is best?
OnlyFans may be the bigger brand, but this head-to-head has had a consistent thread running throughout. LoyalFans is not the perfect platform (no platform is) but is outperforms OnlyFans in almost every way.
Scores:
LoyalFans wins: 5 (Sign up here)
OnlyFans wins: 1 (Sign up here)
Draws: 0
This is our unbiased opinion, so take from it what you will. You may prefer the idea of a bigger brand name and feel that it is more trustworthy. Or maybe the pay-out terms really matter to you, and you want to be able to make small withdrawals rather than waiting until you have $50.
But for most creators, LoyalFans is the better choice, and it is up there with some of the best fan subscription platforms around. It has areas that can be improved, but it also has some really cool features – especially the shoutouts, which are better than other personalized video offerings from competitors.
If you're with OnlyFans now and considering a switch, we'd recommend checking out LoyalFans and learning more.