👋 Got a fan account that needs a boost? Promote it here. We support ALL platforms ❤️ Get a FREE digital eBook packed with Onlyfans tips with every ad purchase!
If you are looking for the best ways to promote your OnlyFans (in fact, ANY fan page), this handy guide is for you. While OnlyFans continues to grow in popularity, many users are using it as a way to make some money on the platform. In order to make more of it, you need loyal followers who can be converted into subscribers.
Looking to promote your OnlyFans profile? Use our popular promotion platform – it could help boost views, fans and help you earn more.
Where else can you create premium content and sell it at a price that you think is good enough for your followers? Plus, if you need to grow your following and make more money, you'll need to promote your OnlyFans. We'll be taking a look at seven (actually, more than seven…) of the best ways to advertize your OnlyFans or other fan page and build up your fanbase.
We live in an age where digital marketing has taken its rightful place on the throne as the top dog when it comes to promoting things. Even Facebook ads have been more favorable compared to standard advertising tactics.
If you are serious about starting an OnlyFans or already have one but want to grow it, read on so you have a few good ideas on how you can promote it for more followers (and eventually paid subscribers).
Why 7 with an asterisk? Because we've snuck a few extra ones on here too.
FREE Promotion
Free promo? Whaaat!??
We've started our own Follower Fanvue account for guys, girls and trans users.
If you want to get an extra bit of publicity then follow us (for free), fire us a message with a link to your profile and a photo or video, and we'll give you a shout out to our followers. Naturally, our followers will increase over time, so you're welcome to come back to promote as many times as you like.
This is new, and so might change, but for now, there's no charge. It's tailored to creators of adult content and everyone's welcome! This is perfect for both established creators that need a quick boost of visibility or equally if you're just starting out.
If you're not signed up to Fanvue yet, first do that here and then send us a message on our profile here.
Where to promote OnlyFans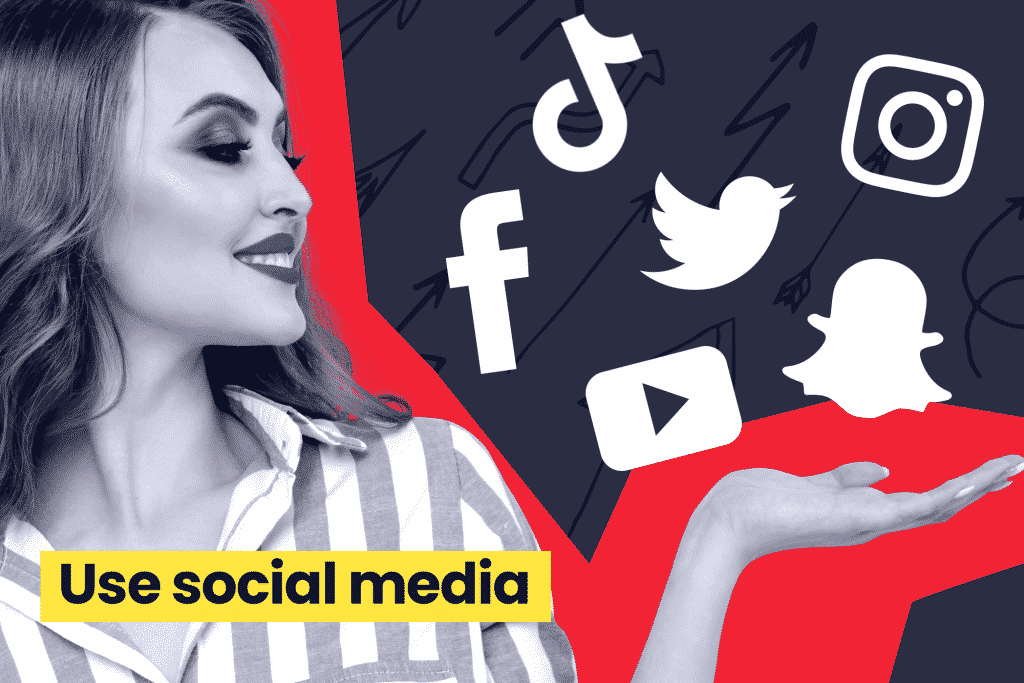 1. Use social media
Almost everyone is using social media. With so many platforms, it may seem overwhelming to choose which ones you'll want to use to promote your OnlyFans. The platforms that we'll be focusing on are Twitter, Instagram, and Facebook.
Before you go any further with social media, it's important to know some of the guidelines and boundaries of each platform before you post about your OnlyFans. Since OnlyFans does allow adult content on its platform, it doesn't mean that it's acceptable on others (unless stated otherwise).
What can you post when it's OnlyFans vs. Instagram? Is it acceptable to post nude content on Reddit of all places? Let's take a look at the three social media channels and give you a good idea of what kind of content is appropriate and what is considered off-limits:
Facebook and Instagram
While it is OK to promote your OnlyFans on both of these platforms, you need to be really careful about what to post (especially if you are using photos or videos). Facebook and Instagram will not allow any posts that contain nudity or sexual content.
If your OnlyFans does sell or broadcast adult content, then subtlety is key. The caption for your post shouldn't be too overly sexualized. This can be tricky, but a simple "check out my OnlyFans" or the like is a good start (followed by an attention-grabbing image).
On Instagram, you can post a link to your OnlyFans to your bio. In an Instagram post or story, you can let people know about it and direct them to your link or get them to "swipe up" if you are using Stories.
Twitter
Out of the major social media platforms that allow adult content, Twitter is the best option here. The good news is that Twitter has a feature that will filter out or block adult content (unless the user changes their settings). Unlike Instagram or Facebook, you are allowed to post content that contains nudity without any repercussions.
If you have the ability to post something about your OnlyFans in 140 characters or less, Twitter just might be the platform for you. Plus, it's been the staple of many adult performers who use OnlyFans as of late.
Reddit
Reddit is another social media platform that allows NSFW content. Like Twitter, you can be able to set it to make such content visible. Also, you'll be able to make an indicator that your content may be sensitive for viewers because it contains such content (the same as Twitter).
There are plenty of subreddits that allow adult content. If you post there regularly, you may get followers that can become paid subscribers at any given point.
YouTube
YouTube has a video platform. So does OnlyFans. In the case of Onlyfans vs. YouTube, who wins? In the case of adult content, OnlyFans obliterates YouTube in that regard since the latter has restrictions. But you don't have to have adult content on your OnlyFans to be successful.
You can have a solid YouTube following and leverage your OnlyFans so your subscribers can get extras they won't find on your channel or anywhere else on social media. It can be extra videos, PDFs, digital products, and so much more.
Of course, you can add your OnlyFans link to your profile or video description. You can also remind them to check out your OnlyFans and subscribe as a call to action towards the end of almost any video. You know how people on YouTube say "if you like this video, click subscribe" and such?
YouTube is more of a long game approach. The longer your video is up there, the more people over time will see it. That can lead to some residual growth over time since people find you because of one video or another.
Snapchat
Snapchat has grown in popularity over the years. And there are those who have to sell premium Snapchats to followers. If you offer premium Snapchats, you already have a number of followers who might be primed for subscribing to your OnlyFans page.
At any given point, you can drop the link to your OnlyFans page so your premium Snapchat subscribers are able to "swipe up", follow and subscribe to you. Although many creators post adult content on their Snapchat accounts, a link is probably safest and most respectful considering that there are many minors using the app.
TikTok
TikTok is massive – and so another great way of promoting your page. The only problem is that it REALLY doesn't like users to mention adult content, and if you do it too obviously then you're on the fast-track to getting banned.
So you've two options.
Firstly, use Ohh.me (a free social profile tool) and promote that. Ohh.me is totally innocent – and if it just happens to have your OnlyFans profile on there for people to discover, that's up to them. You can even monetize this as another string to your bow – you can get people to buy you virtual gifts through the tool. And if you refer other creators to Ohh.me and they make any virtual gift sales, you get a cut too. Win-win!
The second is to go live on TikTok, and mention your OnlyFans without linking to it. Tell your viewers what your profile name is, or where to find you. Don't do an all-singing, all-dancing ad though, as that'll still get you in trouble. Just subtly mention it while live.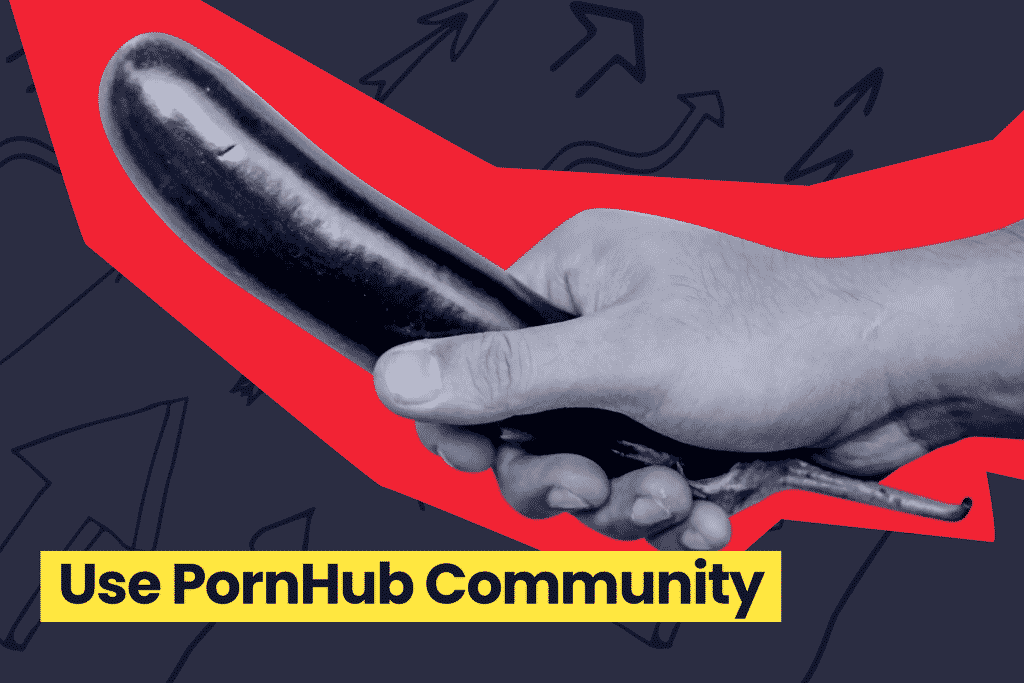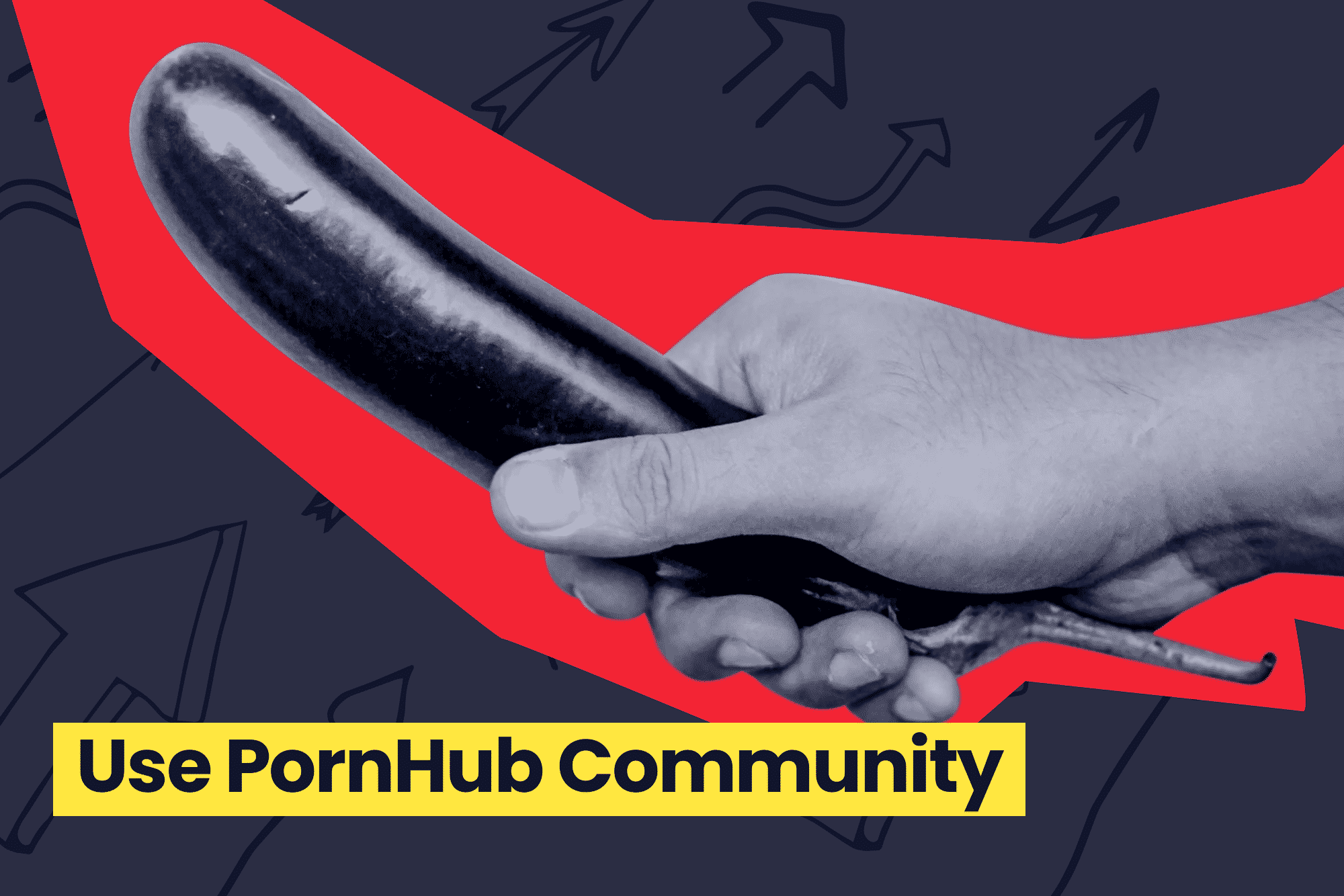 2. Use PornHub Community*
*Note: Only if you produce adult content
If you are someone who consistently creates adult content regularly, you can use the PornHub community in order to promote your OnlyFans so your followers and subscribers get additional content.
Since PornHub is one of the most popular YouTube-style platforms that allows you to view adult content (albeit videos), this is a perfect place to upload samples of your videos.
The PornHub community has members that will post adult content that they share with other members using a "public post" setting. Of course, you gain followers through the PornHub community. So why not leverage them into paid subscribers on OnlyFans?
Before you ask: will OnlyFans ruin your career if you produce adult content? Here's something you need to know if you are worried about that. You can be completely anonymous.
In fact, there are those on OnlyFans who maintain an anonymous identity by never showing their face. Alternatively, you can be known by a stage name or a pseudonym. In short, you don't have to use your real name if you don't want to.
If anything, a lot of people won't care what you do in your private life. Some will say that anyone with an OnlyFans is not reflecting "corporate values" or crap like that. If you are worried about someone "outing" you for having an OnlyFans, take the necessary precautions to make yourself as low profile and anonymous as possible.
If you do product adult content, PornHub might be what you'll limit yourself to in terms of promotion. Also, you can consider other social media platforms listed above that allows adult content (like Twitter or Reddit). Those are two platforms that can allow you to promote your OnlyFans under a stage name or when you want to fly under the radar and be anonymous.
This means you'll need to avoid Facebook and Instagram since there's a good chance your friends or family could be following you on there. Not to mention, you could have a snoopy co-worker or employer that could be checking out your Facebook or Instagram and not know it. Yes, there are people like that out there.
The PornHub community is one of the best ways to promote your OnlyFans without social media. Especially when a majority of your content is mostly NSFW. Not that you need to, but OnlyFans profiles with adult content seem to be growing quite fast compared to others.
3. Use Ohh.me
Today, you can put together all of your social media and OnlyFans links all in one place. Ohh.me is a new, completely free tool that lets you host links to all of your profiles in one handy place. It's also a really memorable name, so it's easy to post it everywhere.
Once you've added all your links, and started sharing your Ohh.me profile, your followers and subscribers who may be from one platform can also follow you on another. It's also the perfect place to include your OnlyFans in there. Will you get more subscribers that way?
It's worth noting that Ohh.me has extra features too which make it worthwhile, including offering even more chances to make money. Fans can buy you a virtual gift, paid straight into your bank account via Stripe. So it's worth getting it just for that reason too.
Link ideas
Your Amazon Wishlist – so fans can buy you stuff!
Your OnlyFans link (Free and Paid if applicable)
Your PayPal.me link
Don't forget to add a good profile pic and short bio.
The short answer is yes. Ohh.me will keep your social media and other related links organized all in one place. That way, your most loyal fans will follow you on almost any channel you have. And with more new features being added every week, it's a must-have tool for promoting your various platforms.
4. Adult cam sites*
*Note: If you create adult content
Now, this is probably one of the best ways to promote your OnlyFans if you create adult content. Especially if you've got some time each day to dedicate to it. It's perfect for male, female, and trans creators PLUS it's yet another way to earn money!
If you are consistently broadcasting shows on cam sites like Chaturbate, then you can use that to promote your OnlyFans.
There are plenty of Chaturbate users that are always viewing live broadcasts, which is the perfect platform to leverage the extra content that you may have.
Sure, you can sell your past content on these cam sites. But what would be the difference between how much you earn there and what you earn on OnlyFans?
Keep in mind, if you sell content on OnlyFans, you keep 80 percent of the total money you make plus if you continue to make awesome content, you'll get a recurring payment every month on OnlyFans!
5. Shoutouts/cross-promotion
One of the most common ways to promote your OnlyFans page is with cross promotions, our shoutouts.
This doesn't mean you simply start bombarding other OnlyFans pages and ask them to link to your own – that's never going to work.
Instead, start by finding profiles that complement your own and build up a rapport. Promote them – don't go nuts, your priority is still pushing your own content live, but share a link to them every now and then.
Make sure you're messaging them too, to let them know you've seen their page and you like it, so you've promoted it to your own fans.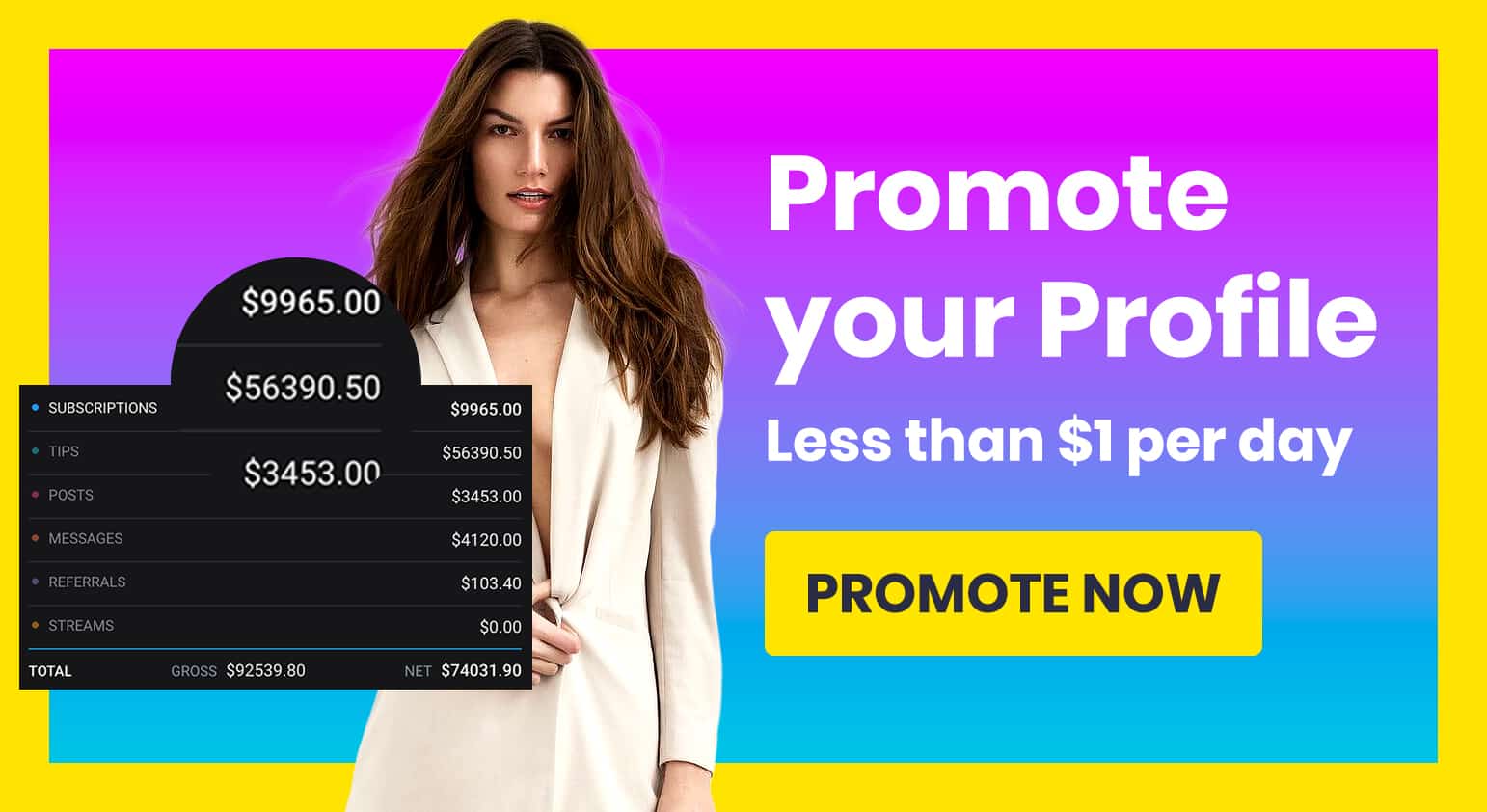 Some will then start giving you shoutouts back. Some won't – that's fine, you can't force them. But the ones who do promote you, keep in touch and promote them every once in a while.
Over time, you'll be building up a network of profiles to cross-promote and you'll start seeing fans flocking to sign up to you.
6. Paid-for promotion with other creators
There are a few different options for promoting your OnlyFans profile with the help of other OnlyFans creators. Rather than giving each one its own entry, we've grouped them together into an on-site tactics entry, but there are actually five different things you can do to work with other creators as a way of boosting your subscriber numbers.
And these build on the shoutouts above, but they are all paid-for promotion – and so tend to get you much better results than just relying on casual agreements.
Guaranteed Gains
Guaranteed gains have become one of the most popular ways of growing your subscriber base, and it's helped by that word "guaranteed".
It's a way for creators to work together to promote each other's services and help build up new creators, whilst taking a fee for doing so.
In a nutshell, guaranteed gains is where creators promote other creators to their own fans, charging a fee only when those fans have signed up to the referred creator. So, if you're the creator looking to boost your fan base, you'll list your details and then another creator who is similar to you will agree to promote you.
You give them a link that they can use like an affiliate link, so you can track which sign ups are coming from them, and then you pay an agreed fee for the subscribers. Uou are paying to promote your page, but you're paying for a guaranteed increase in subscribers, since you only pay for the subscribers you've gain. Hence "guaranteed gains".
It's extremely popular, and some of the top creators are spending serious amounts of money to promote their page in this way, so it may be worth getting in on it now and making sure you aren't missing out.
Shoutouts (paid)
Shoutouts that are paid for work just like regular shoutouts above, except that you're paying a fee to be given a shoutout by a more experienced creator.
In a shoutout, the creator might send out a social media post to advertize you, or they may make a one-off post on their own OnlyFans feed that talks about you and why you're worth following.
Paid shoutouts are often more effective than organic ones since you'll be engaging with someone who has more fans. But there's no guarantee of success, and so you might pay for a shoutout and see no results.
Try to make sure you have some say in the shoutout content, so that you can make sure it is correct and that it sounds appealing to potential new subscribers. You don't want to pay someone for what sounds like a boring, cookie cutter advert that everyone is going to scroll past.
Shout for Shout (paid)
Shout for Shout is where you pay another creator for a shoutout, and as part of the deal you give them a shoutout too.
Normally when you're paying a fee for a shout-for-shout, it's because your fanbase is lower. Therefore the other creator's shoutout is worth more, so you have to pay a fee to justify it.
Shout-for-shout also has the advantage of looking (slightly) more genuine than a straight shout-out. You can make it look like you're just helping another creator, and vice-versa, so it looks less like an advert that's been paid for.
Savvy users will see through it, but that isn't necessarily a bad thing, since they understand creators have to advertize. And naïve users might just visit your page and subscribe because they think you're friends with the creator they already like.
Pinned posts (paid)
On OnlyFans (and some other fan platforms), creators can pin a post to the top of their timeline. Anyone who visits their profile will always see the pinned posts first, even if more recent posts have been added.
Some creators with a lot of followers will use these pinned posts as adverts for other creators. You could pay to be featured at the top of someone else's profile so that anyone who clicks onto their page will see a link to your profile first.
Bear in mind that this only works for users who navigate to that creator's personal page. Users who subscribe to multiple creators will rely on their own feed instead, where posts are shown in date order. The pinned post will appear in combined feeds, but it won't stay pinned to the top.
So just remember, that advert really relies on people who are visiting the profile for the first time, and not so much on the fans who are already subscribed.
Mass DMs (paid)
Mass DMs work just like a paid-for shoutout but, as you can probably guess, they involve the creator sending a DM to lots of their followers at once, mentioning your profile.
You might see success from this, but it depends on the user and whether that's the kind of DM they want to get from the creators they've subscribed to.
A warning
This leads to a very important point. All of these methods of advertising within OnlyFans can become very annoying to users. A lot of creators choose not to engage in any of these promotional tactics because they worry about putting off their fans due to looking like they care more about advert revenue than content creation.
And even if you don't offer the promotions to other people, be mindful of the fact that an advert on another creator's profile may not get you the results you want, and it can make you look a little more desperate to those who are savvy enough to realize these shoutouts and messages are paid for.
The best remedy to this is just to make sure your profile always looks its best, and that you're posting regular content. That way, even if someone does know you're paying for promotion with other creators, you can easily see at-a-glance that you're a profile worth subscribing to.
7. Promote your profile with us
And here's our cheeky sixth tip – and it's promoting your OnlyFans profile using our very own fan promotion platform. We wanted to give you some other ideas before we plugged our own option but hear us out.
Anyone going to Facebook, or Twitter, or the PornHub community or any of the other sites above isn't actively looking for OnlyFans profiles to follow. Our website visitors are, and we get a lot. So, if you promote with us; you're reaching a dedicated audience who are already searching for your kind of content. It's an easy win!
How do I promote OnlyFans secretly?
Running an OnlyFans page is a great way to boost your confidence, but some people still prefer to keep it a secret. It might be that it clashes with your day job and you don't want to run the risk of being fired, or you just don't want any chance of people you know seeing your content.
Whatever your reasons, that's fine – it is definitely possible to run an anonymous OnlyFans page. But promoting it is a lot more difficult.
You're going to need new social channels that are anonymized as well, and you're going to have to work extremely hard to:
Build up an audience from scratch, and quickly
Make sure your audience doesn't overlap too much with your existing real-name socials, otherwise someone is going to work out who you are.
This is where you need to take these tips and run with them in overdrive. Reddit is a great place to start, since you can head straight to the relevant subreddits, but don't neglect your other platforms.
Streaming on cam sites and uploading clips to Pornhub or other similar adult sites is another essential. And make sure your online 'persona' is consistent. That way you can easily slip into character, and you don't have to worry too much about accidentally revealing any personal info.
Still, you need to be careful. Make sure you watch every video and check every photo before you upload it. You're not just hiding your face, but also any information in your background that could reveal private information.
It's another reason you need to be even more careful when streaming live, but as long as you always do a pre-check of your background and you obscure your face throughout, you should be OK.
And of course, services like our Promote tool work really well if you're planning on promoting an OnlyFans anonymously. You choose your profile details with us, so we can showcase your page to a willing and ready audience but only with the details you approve of.
When you're just starting out and your anonymous social media profiles are at their earliest stages, an advert on our site with the Promote tool could be vital for jump-starting your content creation career.
How to promote OnlyFans without social media
Promoting your OnlyFans or other fan page without social media of any kind is really difficult. Even though we offer our Promote service, we'd still always advise you use that alongside your social channels, as that's where you can build engagement by talking to your potential subscribers.
But it isn't impossible.
If you're going to promote your OnlyFans without using social media, you need:
A service like our Promote tool to help you find interested users
A free OnlyFans (or alternative) page to upload teaser content
The best OnlyFans profile you could create
You need to work hard still – promoting OnlyFans without social media isn't a shortcut. We provide a partial shortcut with our Promote tool, since we'll help bring traffic to your page. But you need to work harder on your fan platform to win people over.
That means setting up a free profile, where you can post editing clips/photos and other teaser content. This is super important for helping to show these casual users what kind of content you'll be giving them if they sign up to your paid page.
And then your paid page needs to be sparkling. You need a great bio, a very attractive header and profile image, and you need to be posting regular content. They won't be able to see it when they aren't subscribed but they can see the frequency of your posts.
Keep your profile looking strong, add regular teaser content too, and make sure you're driving traffic to these pages (ideally with a paid advert) and you can still succeed.
Other ideas for promoting your OnlyFans
The above are the best ways to promote your OnlyFans, but there are other options too. These might not have quite the same level of success, but every bit of effort counts. If you try all of these, you'll see an overall improvement in your popularity.
Mention that you have an OnlyFans to people you know. This only works if you're comfortable sharing this information, but spread the word with people you know IRL and they'll likely help promote you as well, even if they're just gossiping about you. Be careful mentioning it at work if your job would look down on it – you don't want this to backfire.
Stream on Twitch – you need to be careful when using Twitch because the community guidelines are strict, but if you're into any niche that could gain popularity then you could build up a following there. And then you can encourage people to visit your Ohh.me page and from there they'll find your OnlyFans.
Add your OnlyFans to your email signature. Again, this isn't something to do at work, but if you regularly send emails (some people still do!) then having your details in your signature is another small way to get your name out there.
Start your own website, or write a blog. You don't have to be a super-talented writer to build up some interest, and if you write articles about the kind of work you're doing as a content creator then you will definitely – definitely – have an interested audience. And once you've described some of the things you've been doing that day, people will be glad to see the footage or photos themselves.
Use special offers to give subscribers short-term discounts, and then promote these everywhere you can. If you can hook someone on a lower subscription fee, then they're more likely to stick around when you revert to your regular pricing. Just make sure you're clear that it's a limited offer.
Use dating apps. This one is a little sketchy, because you don't want to lead people on. And a lot of people get angry when they match with someone on Tinder who turns out to just be promoting their services. If you aren't worried about upsetting people then go for it, but a better option would be, if you are dating anyway using the apps, to drop in that you use OnlyFans and give them a link but maintain that you are still interested in conversations with them.
Frequently Asked Questions
The following is a list of frequently asked questions regarding promoting on OnlyFans. Use this as a guide to give you a good understanding of how the promotion process works. Here are the following questions:
🤔 How do you get followers on OnlyFans?
One of the best ways to get followers on OnlyFans is by leveraging your social media accounts. However, it would be a good idea to hold off on doing that until you are able to grow your following on platforms like Instagram, Twitter, etc.
🤷🏼‍♀️ How much do girls make on OnlyFans?
You can make a good amount of money on OnlyFans. As an estimate for having 10,000 followers on OnlyFans, if one to five percent become paid subscribers at the price of $14.99 each, you can earn anywhere between $1500 to $8000 per month.
🤓 Can OnlyFans creators see who subscribes?
As a content creator, you won't know exactly who follows you on the platform. You will not know their names or their identities. The only way that you may know that is when they message you and they reveal their identity themselves.
📈 Can you grow your OnlyFans without promoting?
While it is possible, it might be hard to do. If you do not promote your OnlyFans, your growth will likely be slow. Sure, the promoting process can be tough, but it's worth doing rather than nothing at all.
👀 Do you need to use your real name on OnlyFans?
Whether you are creating content or promoting your OnlyFans, you do not have to use your real name. In fact, you can be able to use an assumed name if you want to be anonymous. Furthermore, you do not have to show your face in any of your OnlyFans content or in posts related to your OnlyFans page.
Conclusion
If you want to know where to promote your OnlyFans page, these are five of the best ways to do it. You'll now be able to grow your following and eventually get enough subscribers to reach your earning potential and more. Don't forget that subscriptions are not the only way to make money.
Be sure to suggest tips each time you publish content. You can also sell digital or physical products to your fans or subscribers as well as leverage your Pay-Per-View messages. All this success can be possible if you promote your OnlyFans page on a regular basis.
Be sure to know where your potential fans and subscribers hang out so you have an easier time promoting your page. It's better to be in front of the right people at the right time.