👋 Got a fan account that needs a boost? Promote it here. We support ALL platforms ❤️ Get a FREE digital eBook packed with Onlyfans tips with every ad purchase!
For a lot of people, the idea of setting up an OnlyFans account is intimidating and potentially a little bit embarrassing, which is why many creators prefer to make their OnlyFans anonymous.
There are actually many reasons why someone might prefer their OnlyFans to be anonymous, rather than including their real name or any identifiable details.
The good news is, it is possible. You just might need to work a little harder, and be a little cleverer with how you tackle promotion and content creation.
Let's explore everything you need to know about setting up an OnlyFans anonymously.
Why are some people anonymous on OnlyFans?
This is a good question. Especially if you're lucky enough to be in the position to create an OnlyFans page without worrying about anonymity.
But there are potentially a few different reasons why someone might want to keep their OnlyFans anonymous.
Clashes with a day job
It's not common for OnlyFans to be the sole job for someone, especially when they're just starting out. It takes time to build up a sufficient following for you to make enough money to get by on your OnlyFans alone.
So many people set up their OnlyFans around their existing job.
In many jobs, that shouldn't be a problem. In theory, unless your contract states otherwise, you're entitled to get up to whatever you want to outside of the office.
But some contracts might specify that you can't undertake work of a specific kind, which an OnlyFans page might well fall under. Or it may even just specify that you can't take a second job at all.
Certain careers wouldn't want to be associated with an OnlyFans creator, either because of the implied reputation or because of the position it would put the creator in. Imagine a teacher with an OnlyFans page that was discovered by their students.
Not only would it be highly inappropriate but, if the students were malicious enough, it could completely undermine their teaching ability if the images were passed around the school.
And before you say that underage students shouldn't be viewing an OnlyFans, of course high schoolers are visiting these websites anyway.
And even if you have geoblocking switched on (more on that later), today's youth are more than capable of getting around trivial things like IP bans based on location.
If you do have a day job that wouldn't permit you to have an OnlyFans, you'll instead need to set up an anonymous one – and still be prepared for the fact that you're breaking company rules and could be fired if you're caught.
After all, a defence of "it was meant to be anonymous" won't stand up when your boss discovers your page. But it will at least minimize the risk of you being caught in the first place.
Shyness or embarrassment
Genuinely, one of the most common reasons people choose to remain anonymous when setting up their OnlyFans is shyness or embarrassment.
While we now live in times where we are, for the most part, more accepting of sex work as an industry, and of different body shapes and sizes, there is still a stigma about this kind of work for a lot of people.
And while they may be comfortable showing their body, with a bit of a confidence push, they might not want it to be known that it is actually theirs.
And so they may set up their account anonymously, making sure to hide their details and creating a persona.
That persona is key, because for a lot of people it's like acting – they become a character, which enables them to loosen up and be more confident online. It's not just about posting photos and videos, but it may make it easier to then engage with fans on topics that you normally feel shy about.
One interesting thing here is that some people may find that this new-found confidence is empowering, and that can actually lead to a conundrum – you may change your mind and decide to go public later down the line.
Once you see the positive reactions to your content, you might regret setting up anonymously in the first place, and want to take ownership of your page in a more personal way.
That can actually backfire. Once you go public, there's no undo button. And you might lose a bit of the magic of being anonymous and having that character to play. Plus, you're building a brand – it's best not to muddle it by switching to your real name.
If you're going to go down the anonymous route for your OnlyFans, it's best to stick with it.
Reluctance to let family and friends see content
It's not just about general shyness and embarrassment – specifically, some people don't want their friends and family to know that they're creating adult content on OnlyFans, and they certainly don't want them to find it.
Especially when it's family – imagine the double-whammy of finding out that a) your dad uses OnlyFans and b) he found your content.
There is the option to use geoblocking – more on that below. But there are two problems with geoblocking:
It can rule out a large potential audience, so some people don't want to use it
Not all of your friends and family live in the same place
Choosing an anonymous profile might therefore be the answer you're looking for. As long as you are extremely careful not to include any details which could reveal your identity. This means thinking about your backdrops too.
Staying anonymous on OnlyFans
If you want to stay anonymous, it's important to cover as many bases as possible. We'll be taking a look at some "do's" and "don'ts" that you really need to take seriously if you want to keep a low profile on OnlyFans.
1. DON'T feel obligated to show your face
One of the key aspects of being anonymous is not showing your face. This might be the obvious choice if you are creating adult content on your OnlyFans page. If anything, a lot of OnlyFans users might not care about your face (you probably see where we're going here).
GAMWAY Ski Mask Balaclava Hood Skullies Beanies Outdoor Sports Cycling Hat
GAMWAY Ski Mask Balaclava Hood Skullies Beanies Outdoor Sports Cycling Hat
If you want to show your face and use a stage name (Spoiler alert: that's our next tip), then you can. Of course, someone could then try to find your real identity if they wanted to – so it's how much of a risk you want to take.
2. DO use a stage name
Think about it…being anonymous means not using your real name at all. If you need to choose a stage name, you'd be smart to steer clear of any names that may sound close to your real identity. For example, if your name is Jennifer, don't use it as part of your stage name (or any of the short names like Jen, Jenny, etc.).
When it comes to choosing a stage name, don't overthink it. Come up with something simple. Bonus points if you come up with something that may have a bit of a ring to it.
And try to find a name that you can use across your social media accounts too – something where the handle is available across the board will make promoting your page so much easier.
Whether you're trying to remain anonymous or not with your OnlyFans account, the only way to be truly successful is to promote yourself across the web. You can't rely on people finding you.
So you need social media accounts to get your name out there. And the problem with using OnlyFans anonymously is that you don't have a starting platform of followers. Your anonymous account is brand new, and so you need to put the work in to build up that following.
Which is why a stage name works well. As does setting up a second, free account on OnlyFans where you can post teaser content.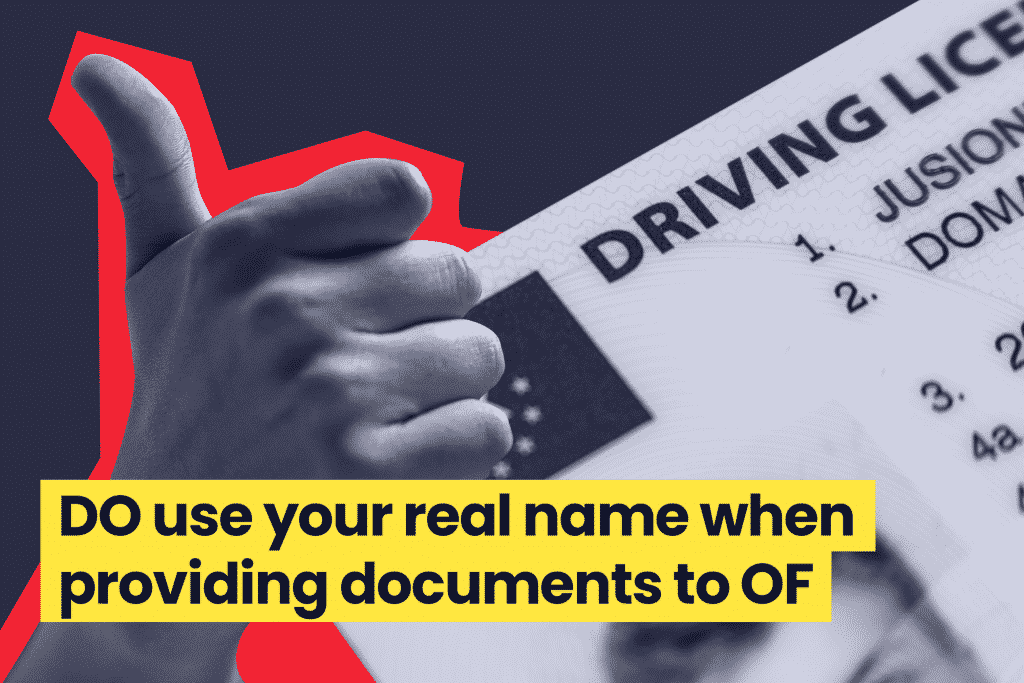 3. DO use your real name when providing documents to OF
Even if you do want to stay anonymous OnlyFans will need to know your real name. You can remain anonymous with your OnlyFans account even if you add your real name to the system, and it's important you do if you want to get paid.
The reason why is obvious. Your real name is linked to the bank account. And if you make enough money, there's the potential of reporting your OnlyFans income when tax season rolls around. In the US, OnlyFans content creators will receive a 1099 form if they were to make $600 or more in a single tax year.
4. DO maintain your anonymous ID on social media
There's going to come a time when you'll want to promote your OnlyFans on social media. However, you can run into potential issues if you are not careful. This is a tip that you really need to pay attention to as you read on.
First and foremost, which social media platforms you plan on using for promotional purposes. If anonymity is essential, Reddit should be one of those platforms. Another can be Instagram.
When creating your social media platform, you absolutely do not want to link any social media that uses your real name. For example, if you have an IG account under your real name it should not be linked to your anonymous IG. Keep it separate and far away as possible.
Set up new email addresses for your online persona, and sign up to all your socials with that anonymous email address only.
5. DON'T reveal your actual location
OnlyFans creators may have the option to reveal their location. You do not have to do this if you want to maintain an anonymous identity. On top of that, revealing your location may also generate some buzz (especially if you don't live in a large city).
Do not give away your location. If you need to, play around and have fun. Come up with a fictional location or something like "Only in your dreams". You get the idea.
6. DO enjoy yourself
Whether you stay anonymous or not, OnlyFans is meant to be fun for a lot of people. Regardless if you are creating valuable content for your cosplay fans or if you are giving your fans a bit more extra than what you do on cam shows, have fun and enjoy yourself. It's also important to focus on monetizing your content so you have a bit more of a side income.
7. DO check your backgrounds
Staying anonymous isn't just about hiding your face or any other identifiable features on your body.
If you're really serious about staying anonymous, you need to also check the backdrops to your photos and videos.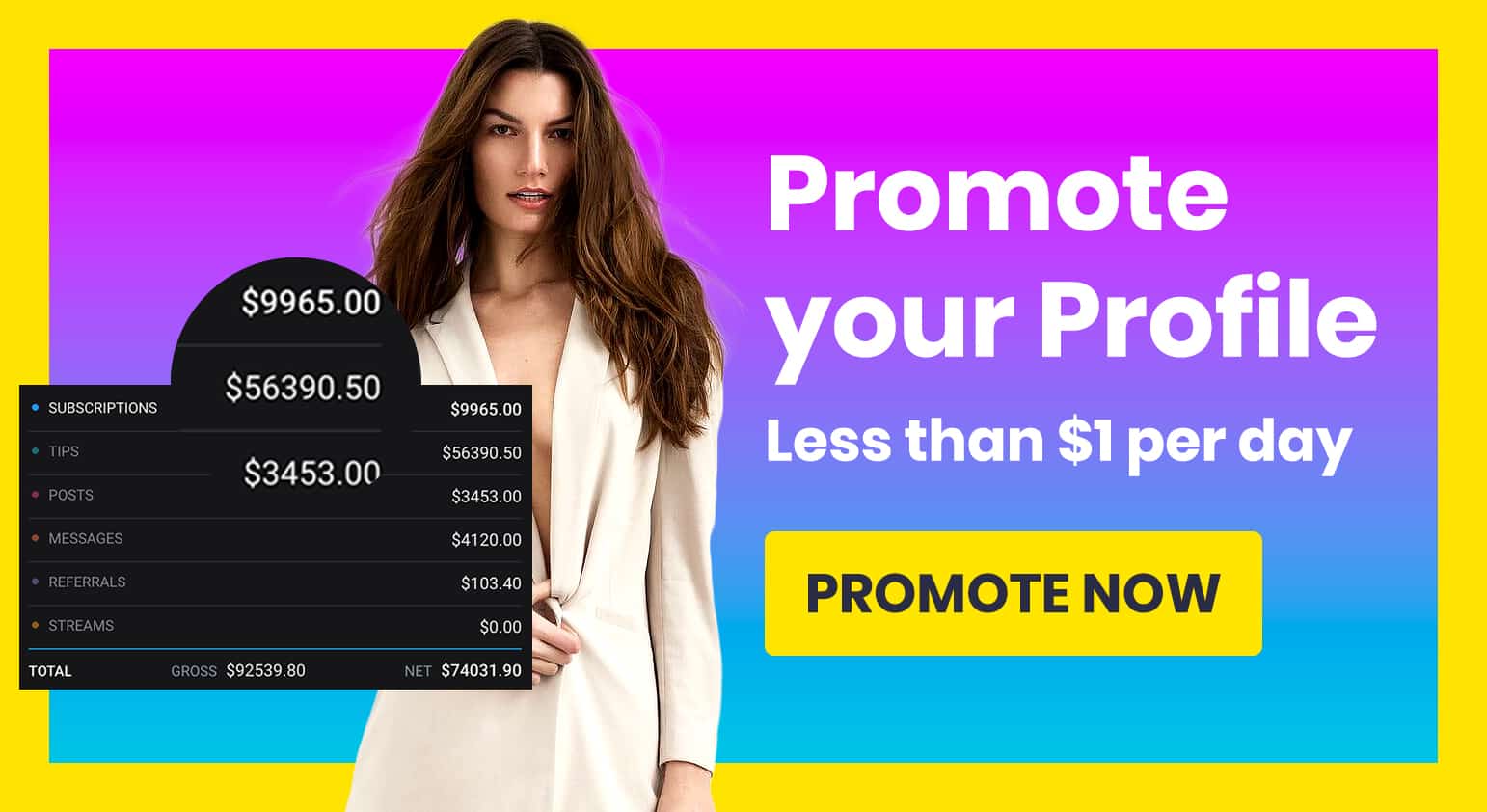 Imagine how embarrassing it would be to carefully film a video that doesn't show your face, but has a family photo in the background?
Some people even film content at a desk and leave letters or other documents with revealing details in shot.
You need to be extremely careful whenever you're shooting content.
8. DON'T assume that promoting your content will be simple
One of the biggest drawbacks to creating an anonymous OnlyFans account is the fact that you have a major disadvantage when it comes to promoting your page.
Promotion is essential – it's how you grow your subscriber numbers. But anyone choosing the anonymous route isn't able to rely on their existing social media followers.
Instead, you have to start from scratch.
You also don't want to promote your new anonymous social profiles to your existing fans/friends, because anyone could spot that your 'persona' is followed by the same different groups of people as you are in real life, and potentially out you.
Being anonymous on OnlyFans is not impossible but you need to be braced for the hard work involved in making it a success.
Can you still make money without showing your face?
While you can be successful on OnlyFans while remaining completely anonymous, there are still concerns around this. Especially when you may not want to show your face. So is it really possible to make money on OnlyFans without showing your face?
The short answer: yes. You can be able to make money without showing your face. However, there are some caveats that you need to pay attention to.
It may depend on the parts of your body that may appear aesthetically pleasing. If you think you have a great body, then you can stand a chance of making more money on OnlyFans.
Especially if you are creating adult content. Most people will pay more attention to the rest of your body and care less about your face.
There are people who use OnlyFans that might be into a certain body type. And yes, there are those on OnlyFans who might like certain things (i.e. Feet pics). The key here is to know your ideal fan and what they look for.
It's basic marketing 101 to know your audience. Let's take a look at Reddit in this example. You cannot promote your feet pics to a subreddit to those who hold an affinity for larger breasts.
But, there are subreddits that are dedicated to those who have an affinity for feet. You post a sample of your content there, promote your OnlyFans (and even add your link to your profile), and the rest pretty much takes care of itself.
GeoBlocking
Is it possible to do some kind of Geoblocking where a specific area of the world can't see your OnlyFans account? The answer is yes. Here's how you do it:
Go to the settings page
Click security
Scroll down until you see the IP and Geoblocking section
Choose the countries you want to exclude and click save changes
While you can block viewers from specific countries from seeing your profile, you can also block out specific users by way of their IP address. Just enter the IP information and save changes.
However, keep in mind that your OnlyFans page could be viewed by someone who may be using a VPN. It's not fool proof.
Also, if you block entire countries, which is all that OnlyFans allows you to do, that could wipe out a huge potential audience.
It's risk vs reward – do you want to ban all those potential subscribers from your home country, just to avoid a few family members seeing your content?
One more thing
If you are starting out on OnlyFans without having to show your face or be fully anonymous, there might come a point where you might feel like you won't care if you show your face from here on out. That is entirely up to you. Before making a final decision, it's important to weigh the pros and cons.
One common pro would be that your fans might have missed out on another part of your body that might be good looking. So they'll likely be blown away.
That could up the tips and subscriptions a bit. If you want to be a bit daring and show your face now and in future content, go for it.
One risk would be that someone may know who you really are in terms of identity. But usually this those with a lot of time on their hands and nothing better to do with their lives that will go beyond lengths to "out". However, there are people out there that just don't seem to care what you do in your spare time (or private life).
However, if you are comfortable with staying anonymous or keeping your face out of the picture, then by all means keep it that way.
Is OnlyFans anonymous for subscribers?
This guide is primarily written for creators, but it's worth pointing out that you can join OnlyFans as a user and remain relatively anonymous. If you're trying to hide the fact that you're browsing OnlyFans, you can do so – to a certain extent.
Some people might feel shy about engaging with OnlyFans creators, especially if they have a niche interest that they are exploring for the first time, or they are contacting a creator who lives in the same region of the world as them.
It might even be that you're interacting with someone you know, but you don't want them to know about it.
And of course, some people who browse OnlyFans do so knowing that their partner might not been keen on their internet activity, especially if they are subscribing to accounts using joint bank accounts.
Well, the first bit of good news is that anyone can sign up to be a user of OnlyFans using any screen name they want to. You don't have to show ID either.
You'll be asked if you're of legal age to view content, but you won't have to prove it with a credit card or a copy of your passport.
OnlyFans anonymous payments – creator side
If you want to send payments to a creator, but not tell them who the payment is coming from, then you can do so just by making sure your account details don't reveal personal information.
You don't need a profile picture to send payments, nor do you need a screen name that contains your personal info.
If there is a reason you want to splash the cash without the creator knowing who you are, then just make sure your profile is anonymous on the site. Don't use nicknames that could be traced back to you.
The creator will only see your screenname, so they won't know who you are in real life.
Is an OnlyFans subscription anonymous?
Unfortunately for anyone with a joint bank account, OnlyFans payments are not anonymous on your bank statements. Payments will always be listed as "OnlyFans". If you were hoping to subscribe to creators without your partner knowing, then unfortunately you won't be able to.
This is also useful to know if you're planning on applying for a mortgage and you have a poor credit history. A lender may not look favorably on payments to OnlyFans when you're explaining your budget.
Frequently Asked Questions
The following is a list of frequently asked questions about OnlyFans and anonymity. Use this as a guide to ensure you have a good understanding of how it all works, even when you want to lay low on the site. Here are the questions:
Can you sell feet pics on OnlyFans?
Yes, you can sell feet pictures on OnlyFans. In fact, there are plenty of those who may have an affinity for them. And it might be a good idea to create content around them if you are comfortable with doing so.
Can OnlyFans ruin my career?
If you decide to reveal yourself, OnlyFans won't ruin your career. Typically, there will be people who hold a negative review of the site that may attempt it. If you are someone who is a model or the like, OnlyFans may actually help your modeling (or a relevant) career since your content might just be a portfolio. Plus, you could use it to score some gigs outside of OnlyFans if it comes down to it.
How much do OnlyFans creators make?
This will depend on how much a creator will charge for subscriptions and standalone content. And it also depends on how much they receive in tips. Either way, the average content creator on OnlyFans can make $3,000 a month.
However, the earnings vary from one content creator to the next. If you want to earn money on OnlyFans, consider your financial goals. How much do you want to make per month?
Also, keep in mind that you have the power to set the prices of your content. Be sure that it's fair and reasonable for your ideal fans. Another thing to be aware of that an average of one to five percent of your followers eventually become paid subscribers.
When should you use your real name on OnlyFans?
There will be times when using your real name on OnlyFans is needed. That's when you need to verify your identity let them know that it is the real you. Furthermore, you'll need to add a bank account that will have your real name and other information linked to it.
What price should you charge for OnlyFans content?
It depends. As long as it's fair and reasonable, you should earn a good amount of money. However, the number of followers you have may also determine how much you will earn. If you have 10,000 followers, chances are that out of those about 1 to 5 percent may become paid subscribers.
Final Thoughts
If you want to be anonymous on OnlyFans and make money without your face making an appearance, it's possible. There are plenty of ways for you to still make money even if you are camera shy or just want to lay low period.
A lot of people may not seem to care about your face. Especially when it comes to creating adult-oriented content. As long as your body is aesthetically pleasing, you may still be able to earn a good amount of money.
There are OnlyFans subscribers who do have personal preferences. This is something to keep in mind whenever you are promoting your OnlyFans. You do not want to promote your page in front of the wrong audience.
When the time comes to promote, it's important to know where to find them online. Get your message in front of the right people at the right time and your success will be assured, anonymous or not.