👋 Got a fan account that needs a boost? Promote it here. We support ALL platforms ❤️ Get a FREE digital eBook packed with Onlyfans tips with every ad purchase!
If you want to make serious money on OnlyFans (you can sign-up here), then you've come to the right place.
This detailed guide will tell you how you can leverage this platform and make a nice side income – or even replace your 9-5. If you have a solid social media following or just starting out, OnlyFans might just be the place for you.
Before we talk about how you can make money on OnlyFans, let's talk a bit about what it is and shake off a few, well…contrary beliefs if you will.
What is OnlyFans?
To begin, OnlyFans is not a porn site or a "live cam" site. Those seem to be a couple of things that have been floating around a lot. Just because it's a social media platform that actually allows adult content, doesn't mean it's a full-blown porn site.
OnlyFans is a social media platform that you can use to make money based on a subscription-based business model. You create your own content and sell it at a price of your choosing. You can publish different types of content like photos, audio, videos, live streams, and so much more.
The purpose here is that a subscriber will pay a fee that you set to access your exclusive content. What's even better is that you keep 80 percent of whatever money you make. The 20 percent will of course go to OnlyFans.
Even though it's been a fixture for those who tend to post adult content, it has also been useful for those who are influencers or authority figures in so many different niches.
Who has OnlyFans?
If you are wondering who has OnlyFans, it depends. As mentioned, you can carve out a space in whatever niche you're in and make some money. The following content creators who make money on OnlyFans include but are not limited to the following:
Adult models
Fitness coaches
Social media influencers
Cosplayers
Travel bloggers
DIY bloggers
Beauty experts
Models
The list goes on and on. If you are someone who is starting out or is already building a bit of a following on other platforms on social media, could OnlyFans be for you? If your goal is making a bit of extra money, of course!
Ways to make money on OnlyFans
First and foremost, make sure that your OnlyFans account is set up and ready to go. This means you'll need to fill out the signup sheet, upload a government ID to prove your real identity, and link your bank account.
After everything is set and ready to go, you can now make some money on OnlyFans. You can begin posting content that your subscribers will pay for to have full access to. Again, you can set the price to what you believe is best for you.
1. Subscriptions
At first, your subscription price is set to "free" by default. You can change this to a price at any given time. Also, promotions can be set at a price lower than your usual subscription rate.
Let's say you set the price to $14.99. If you have a promotion going on for exclusive content, you can set the rate to half that amount. You can adjust the price accordingly if you see it as fit.
So how much money can you really make? That depends on how many subscribers you have. For example, if you have 10,000 followers and anywhere between one to five percent of them become paid subscribers at a price of $14.99, that's anywhere between $1500 to nearly $7500 a month (excluding tips).
2. Tips
If you think you can only earn money by selling content, think again. Not only will you make money on subscriptions, but you can also ask for tips as well.
Just like YouTubers asking for subscribers on a regular basis, you can request tips every time you post content as if it were second nature. Users can send you tips via private message. If you sell a product or service, you can suggest that your subscribers tip you if it has helped them out in some way. 😉
Keep in mind though, if you are charging subscribers to access your content, you're going to need to be consistent (and keep the content fresh). Plus, you want to have a decent amount of content available for access when you're starting out. Ultimately, the more quality content you can produce, the better.
3. Pay-Per-View Content and Messages
Aside from the content that you can publish on OnlyFans and ask for tips, you can send messages to subscribers who can pay only to see them. You can set the minimum price of this to $3. You can send the message to all subscribers and make some money in the process.
Going back to the example where you have 10,000 followers and only one percent subscribe. At $14.99, that's about $1500 a month. However, if you send a PPV message with a set price of $5 and only 300 out of the 1000 subscribers pay to view them, you earn what you normally get on subscriptions alone! 🤑
What content can you sell on OnlyFans?
You can sell products that can be easily accessed or downloaded or sell physical products. Either way, there really isn't any limit to what you can sell to your subscribers. Here are just a few examples:
Photos or videos (especially those containing adult content)
PDFs or ebooks that cover a certain topic (I.e. If you are in fitness, you can sell a PDF on at-home workouts).
Physical books
Any products of your own that you can sell to subscribers (both digital or physical)
Keep in mind that when you are selling something on OnlyFans, you can suggest them to leave a tip with a note mentioning the correct product that they ordered. Not only is this a creative way to make extra money, but it's a win-win for both you and the subscribers. You make money, they get the product they want, and everyone is happy.
If you are planning to sell physical products, be sure that they are lightweight and easy to ship. Your goal is to make as much money as possible. The last thing you want is additional shipping costs eating away at your earnings.
One of the best ways to earn tips on OnlyFans is by pinning the tip menu to the top of your profile. When your followers or subscribers view your profile, it will be the first thing they see before they view the other posts.
Using OnlyFans Messages to sell exclusive content
Of course, no social media platform like OnlyFans is complete without a messaging feature.
As a content creator, you can use a mass messaging system to promote new and exclusive content. This is also a great way for current subscribers not to miss out on what you've posted.
Keep in mind that you can also send messages that can be time-sensitive. This means that a subscriber who hasn't visited your profile or checked out your new content can miss out. If anything, use the mass message feature so it doesn't expire and it gives your users a chance to catch up.
If you have exclusive content that you are planning on releasing, you can also promote it outside of OnlyFans. In the next section, you're going to learn how to promote your OnlyFans so you have a chance to maximize your earning potential. This is where your social media accounts will come in handy.
How to promote your OnlyFans
When it comes to promoting your OnlyFans for new followers and eventually paid subscribers, there's only one place to get it done: social media.
Here is one thing to keep in mind, just because OnlyFans allows adult content, doesn't mean the same rules apply to other platforms. Twitter can allow adult content, but Instagram or Facebook has strict policies.
Before promoting your OnlyFans on social media, it's only right to double-check what you want to post. If you are on Twitter and it's a preview of your video content (but contains adult content), you have the green light.
On Instagram or Facebook, choose your best photo or video that falls within the standards and guidelines (i.e. No nudity is allowed).
Of course, the more followers you have on other social media platforms, the better you'll gain more followers on OnlyFans.
You can leave links to your OnlyFans in the bio of your profiles (and don't forget to let them know about it each time you promote it). If you have a low following on social media, you may want to consider growing it first if you're looking to get more followers on OnlyFans.
How to make serious money on OnlyFans
OK, this is what you're here for – how do you make the big bucks?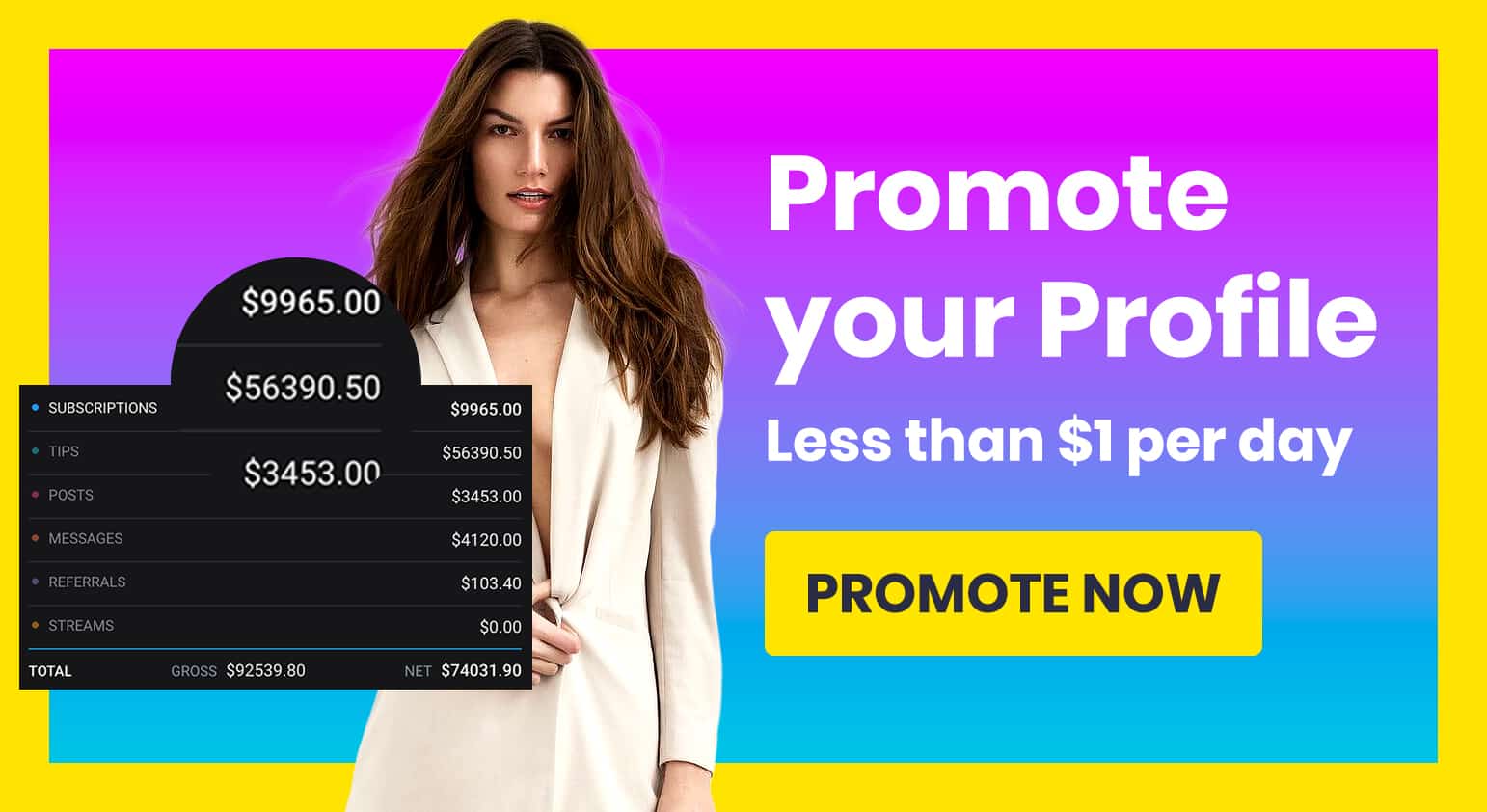 There are essentially four golden rules to making serious money on OnlyFans. Anyone can sign up to create an account and get lucky with a few subscribers, but to make serious cash, you need to live by these four principles.
And it needs to be all four in tandem. If you neglect one, then the others won't be as effective. If it sounds like a lot of effort, that's because it is! Making serious money doesn't happen without hard work.
If you want to turn your OnlyFans or other fan page into not just a career, but a very lucrative one, here's what you need to focus on:
Quality Content
No matter how many people you have signing up to your page, you won't keep making money if the quality of your content puts them off. It's not good enough to just whip your clothes off, snap a few grainy pictures, and hope for the best.
You don't need a professional photo studio to make good money, but you do need to invest in a few tools – some basic lighting, a decent camera, and ideally some photo and video editing software, or someone to edit your content for you.
You can start cheap with all of these – if you have a good quality smartphone it will be OK, and a couple of box lights shouldn't set you back more than $100, probably less. A basic microphone will also massively improve your videos.
Editing software can be found for free online, but it is tricky to learn if you're a novice. If you need help, remember that we offer our own editing services too.
Then, as you become more successful, you can start to upgrade each bit of kit – invest in some new lights, upgrade your microphone for your camera, and make sure you're polishing every video and photo you publish.
To be clear, we don't believe that every photo should look 'professional'. In fact, many of the people who choose to visit OnlyFans are looking for 'real' people who look authentic, and don't look like actual models.
But there's a difference between amateur-style adult content, and amateur-quality content. You can still look authentic and guy- or girl-next-door without grainy, shadowy photos or videos that sound like they were shot in an echoing cavern.
Consistency
The second important principle is consistency. The best content creators – whether on OnlyFans or other fan platforms, or on YouTube or TikTok or indeed any social network – have a schedule that they stick to.
And the reason they do this is because it gives your subscribers transparency on when to expect content, and it helps to hype up your next post as well.
If you are flippant with the times that you post content, you might go for a few days without sharing something. And then your existing subscribers might feel like they aren't getting value, while new subscribers will wonder if they've been duped when signing up.
You don't have to be ironclad. You can have a little bit of leeway in your posting days and times. But try to make sure you are posting regularly, both in terms of volume and the days that you do post.
If you do that, your fans and subscribers will trust you, and that'll help you retain their monthly payment for much longer.
Promotion
We've covered the basics of promotion above, but really it's so vital to stress just how important it is to being successful on OnlyFans or any alternative platform.
Remember there are two main sides to how a platform like OnlyFans works – you need to get people to find you, and then convince them to pay for your content. And the only pillar here that really involves finding people is promotion.
You should spend much more of your time promoting your page than you should creating content for it. Or, you should be using your time wisely and finding the right services to promote your page, so that you can focus more time elsewhere.
Whatever you do, you can't neglect promotion. All that will do is mean that you'll keep the same core subscribers, who eventually over time may dwindle as their own personal situations change.
If you want the big numbers, you need constant new subscribers, which you'll only get by making sure you expose your page to the right audiences, as much as you can.
Engagement
Finding new fans is one thing. Retaining them is another.
You'll primarily do that through the content you create. But people don't just come to OnlyFans to look at photos and videos. Funnily enough, there are plenty of places they can do this.
Instead, they want to engage with you. It's like with any social platform – they want to feel a connection with you, and chat to you. This is also what sparks them to send you tips.
So, make sure you work on engaging with your fans. If they message you, don't send one-word replies. Chat with them, or charge them for the privilege but make sure it's worthwhile.
You need to be charming, fun, and play up to what they're looking for. Otherwise they're just going to get bored, and they'll either find someone else they can chat with, or they'll go to a porn site.
Another option is to offer contests or games, where they can pay a small fee for the chance to win a video chat, or for them to send you a video where maybe they'll rate your manhood – this is a popular choice.
Whichever route you go down, you just need to focus on finding ways of keeping your fans engaged so that they want to send you your monthly payment. Set time aside every day to interact – and not just on the platform, but chatting to people through your promotion efforts too.
Final Thoughts
If you are serious about making money on OnlyFans, then follow the steps above and sell what you think will be the best possible content. This is a great way to generate another stream of income aside from what you're earning now through other channels. You may be an influencer or a model that may be earning money through other methods, but it never hurts to give your income a bit of a boost with OnlyFans.
Frequently Asked Questions
The following is a list of frequently asked questions regarding OnlyFans. This should serve as a guide so you know what to expect when the goal is making money. Let's take a look at the following:
🤑 How much does OnlyFans get from you?
Since you earn 80 percent of the money you make, the 20 percent will go to OnlyFans itself. That 20 percent will cover processing and operational costs that OnlyFans deals with on a regular basis (among other expenses). But still, 80 percent is a pretty reasonable keep.
💸 Do you have to pay taxes for OnlyFans?
It depends. If you make more than $600 as a US resident, you'll need to file a 1099-Misc. Form since the IRS will need you to report any additional income you may have. If you live outside of the US, be sure to check the tax policy in your jurisdiction so you can determine if filing for taxes based on your earnings is necessary.
😎 Can you be anonymous on OnlyFans?
The short answer: yes. You can use a pseudonym if you so choose. The only time you should ever use your name is when you need to fill out your financial information for payouts. Other than that, you can maintain anonymity in your own creative way.
🤑 Can you use PayPal on OnlyFans?
Unfortunately, there is no support between OnlyFans and PayPal. If you are a US resident, you are only able to link your bank account in order to receive payouts. If you reside outside of the US, you can also link an e-wallet (something that's not PayPal related).
🤔 Is making an OnlyFans worth it?
If you are serious about making extra cash on OnlyFans and have a sizable following on other social media platforms, then creating an OnlyFans is worth it. The larger the following, the better the chance you can make a handful of money every month from subscriptions, tips, and more.
💰 When do OnlyFans payouts happen?
OnlyFans payouts are processed daily. So if you do earn money on a daily basis, you get paid daily also. These occur on a rolling seven-day basis according to the OnlyFans website. For example, the earnings you get on the first of the month will be earned on the 8th of the month (and so on).
You can transfer your earnings to your bank account and receive it the same day. However, you may wait as many as 2 to 3 days due to weekends or holidays.