👋 Got a fan account that needs a boost? Promote it here. We support ALL platforms ❤️ Get a FREE digital eBook packed with Onlyfans tips with every ad purchase!
If you are looking to sell your OnlyFans content and make some serious cash, you might want to pay attention to this.
Because we'll be giving you step-by-step instructions on how you can sell your posts on OnlyFans and add previews so you can make them more attractive (and primed for more buyers).
While your subscriptions are one way to make money on the site, there are other ways to go about earning extra. Selling your posts regularly is one of them. Of course, you need a good preview to maximize it's selling potential (such as an image if you are looking to sell photo sets). It's important to create the perfect preview so you can get people to know more about it before making the decision to buy.
With that said, let's dive into this guide on how you can sell your posts on OnlyFans and put together a good looking preview. That way, the more posts you sell, the better. Enough talk, let's go:
1. Upload your post
The first step is pretty self-explanatory. You basically upload the post on OnlyFans. It can be a video, a photo (or a set of photos), or whatever is acceptable.
Double-check to see if that's the file you want before you upload. Once you have uploaded the desired files, you can then set the desired price. That, of course, is the next step.
2. Set a price
Again, pretty self-explanatory step. You can set the price to whatever you want. Once you set the price, you'll see a blue box that highlights the content that will be unlocked once a user purchases it. Keep in mind that you can have it set to free if you choose (but use it at your own discretion, because you can't always give away your content).
3. Setting a preview
Now, it's time to set a preview for your paid posts. This is a super important step if you are planning on selling something like photo sets, videos, and the like. Here's where you need to pay attention to the following.
Outside of the blue box, there's an arrow pointing to the left. What you want to do is click on it. It will then highlight the files that you intend to upload.
Next, select the media you want to use as a preview and click the checkmark button to confirm. What you'll notice is that the blue box no longer covers the media you select for preview. Not to worry though, it will still be part of the content that users will eventually unlock once they pay.
4. Write a captivating caption or preview text
You do not have to write a novel or be an expert with words. But what you can do is write something that is short, sweet, and to the point. That way, your buyers will know what to expect when they pay to unlock the content in its entirety.
Also, one of the things you can do here is suggest that your buyers like and tip if they are satisfied with the content. The likes you get for your content will help improve your profile's standing on OnlyFans. The more you get, the better you'll be visible.
5. Double-check everything and confirm
Finally, double-check everything before you hit "post". This means taking one more look at the content that's about to be posted including the preview. Also, see if the price is good enough (we'll be covering a bit on price strategy later on).
Once everything looks good, post it and it's now live. From there, you can earn money through the content you can post.
OnlyFans Tips and Tricks For Selling Posts and Previews
Now that we've covered how you can sell your OnlyFans content and add previews in five steps, we'll be taking a look at some tips and tricks that you can leverage to ensure that you sell more content and be able to find the right media that would make for a killer preview. The more you implement these, the better.
Here we go:
1. Choose your most attractive photo
If you are uploading multiple media in one post, trying to find the right screenshot for a preview can be a challenge. That's when you need to find your best screenshot so it grabs the attention of your potential buyers. On OnlyFans, a visual preview can truly outshine everything else.
If you sell adult content on OnlyFans, you might want to find a photo that isn't the most revealing, but enough to where your buyers want more. You'd be surprised what users can buy based on visuals alone. So choose the best screenshot from your set and go from there.
If you are selling non-adult content, a good way to choose a preview screenshot is by creating one. Think of it like uploading a special thumbnail to a YouTube video. Choose a photo and add text as a way to "tease" the audience.
This thumbnail preview can apply to photo albums, a video series that you're posting, and so much more. If you are not good at making excellent preview thumbnails regardless of it being adult content or not, you can always outsource the task to someone who is comfortable with working with such content.
2. Don't overthink the caption
Once again, you don't need to write a novel or write something eloquent. Something short, sweet, and to the point. Also, don't be afraid to be a little risque if and when it's necessary.
Risque can go a long way. But you need to know when it's appropriate and when it's not. Remember, it's about getting the right message out in front of the right people (your potential buyers).
3. Come up with creative content ideas
If there is one way to achieve success on OnlyFans, it's being consistent with your content creation. You should come up with creative content ideas. But, if you seem to struggle in this regard, there's only one place to go to find them.
The answer: your followers and subscribers. No one can pump out ideas better than them. Don't be afraid to ask on occasions about the content they want to see.
However, some of your fans will want you to create content that may be outside of your comfort zone. Don't be afraid to say "no" if it violates your personal values or boundaries. Other than that, it's good to listen to your fans and find a pattern as far as what they want to see in future content posts.
4. Promote your content regularly
If there is one key ingredient to your OnlyFans success, it's promoting. It's as simple as knowing where to promote your OnlyFans page and sticking with the plan for the long-term. You also want to make it easier on yourself rather than be overwhelmed.
If you start out with promoting, choose two social media channels at maximum. The most popular choices are Instagram and Twitter. However, some also resort to using Reddit for maximum results since they contain subreddits of various niches.
Before choosing your social media platforms, it's important to know the rules. Especially when you create adult content on OnlyFans. While Twitter and Reddit will allow it, Instagram will not.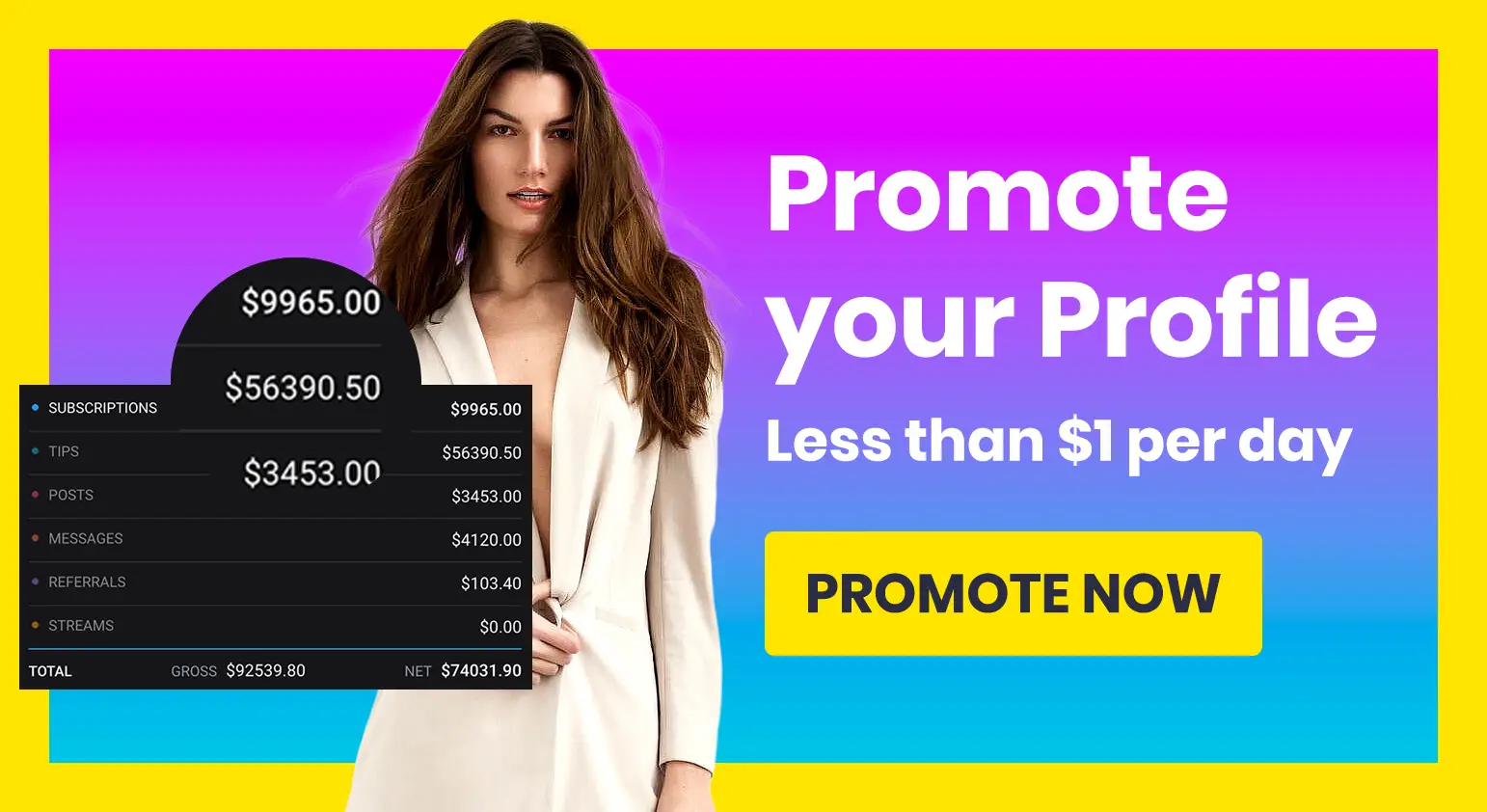 Now that you have chosen your platforms, you can post your promos for new content each time you have something uploaded on your OnlyFans page. Choose a screenshot preview and post it.
Of course, you'll need to make sure that people have a way to visit your OnlyFans. Be sure to post the link to your page in your profile bio. And don't forget to direct them to it each time you post on social media.
If you have a small following on social media, it can be hit or miss when it comes to promoting your content. You may want to consider the idea of investing in paid shoutouts to grow your social media. This will be a task that takes time (because of due diligence) and a bit of money.
5. Implement a pricing strategy
While making money with OnlyFans is important, you need to implement a pricing strategy that will be fair for your buyers. After all, most of them are paying a price for subscribing to you on a monthly basis. That is why you need to set a base price for subscriptions first.
Let's say your base price is $14.99. You can sell stand-alone content for a lesser price. Aim for a price that is at least half off at most, but no less than ten percent off.
In other words, at the price of $14.99, your extra content can go as low as $7.50 to roughly $12. If you choose to adjust your base subscription price, be sure to adjust the prices for the standalone content as well. It seems tedious, but you don't want to shortchange yourself if you're looking to set and meet a certain income goal.
6. Listen to feedback
Getting paid posts right on OnlyFans is not an exact science, and what works for someone else might not work for you.
The best way to improve on your paid-for posts is to do some analysis. Don't just post it and then hope for the best. Pay attention to who's buying it, which posts are getting the most buyers, and what maybe isn't working?
You might think you have a genius idea for a photoshoot or video shoot but if people don't want to pay for it, don't be stubborn by pushing the same kinds of content over and over again.
And one of the best ways to get feedback is to ask your followers – if you know that some of your biggest fans have paid for the content, ask them what they think.
At first, they'll probably just lavish you with praise – they don't want to offend you – but if you ask the right questions, you can find out whether they liked specific elements of the shoot, whether they would be something they'd prefer to see instead, and from there you can start working on more tailored content that suits your fanbase.
7. Package up your content
Say you get good at this paid-for content lark and you end up with a back catalog of photos and videos that have sold relatively well.
However, your subscriber base may have grown since then, and you may now have followers who don't scroll so far back through your profile to find those promoted posts. Or maybe they've just missed them, or they don't want to pay full price.
Once you've given your paid-for content a decent run, consider packaging up posts in a special offer bundle for those who missed out first time around.
It's important that you don't do this too quickly, or you're just going to annoy the people who paid full price. But if you've waited a few months, there's no harm in packaging up say 12 of your best $10 videos for a price between $75 and $100.
That's good business, and you've got more chance of making extra cash from the content instead of just hoping someone stumbles across it again at full price.
Realistically, smaller bundles will do better. That $75-100 example may be too high. But selling 3 videos for $20 instead of paying $10 each is much more achievable for some followers.
Frequently Asked Questions
The following is a list of frequently asked questions about selling your posts and relevant topics. As always, FAQs should be used as a guide and also to give you a better understanding of how OnlyFans works. Let's dive into the questions:
Does OnlyFans own your content?
According to the terms, just because you post content on the site doesn't mean OnlyFans owns your content. They also state that since it's your content, it may not also share your personal views (if you express any). Therefore, the content is yours and yours alone.
What are some OnlyFans content ideas?
There are plenty of content ideas you can come up with on your own. You can post a how-to video if you are a makeup artist or a fitness coach. You can also post behind the scenes videos on your Stories to attract more visitors. These are just a couple of ideas you can run with (paid or otherwise).
What kind of content is on OnlyFans?
There is plenty of images and video content on OnlyFans. And yes, they do allow adult content. Which means you can post a picture or video that contains nudity or sexual acts. Please note, that you must be 18 years of age or older to create and post content on the site.
How much can you make on OnlyFans?
It depends on several factors. One, it depends on the base price you set for subscriptions. Two, it depends on what you are selling other than subscriptions (like items, tips, etc.). On average, an OnlyFans content creator with 10,000 followers could see one to five percent of their followers become subscribers.
If the subscription price is set to $14.99, that content creator can make $1500 to $8000 a month (excluding tips and extras).
How much money on OnlyFans can you keep?
According to the site, you can keep 80 percent of the money that you make. How OnlyFans makes money is that they take the remaining 20 percent of your earnings. This will go towards keeping the site online and other related factors.
What does PPV mean for OnlyFans?
PPV stands for pay-per-view and it relates to paid-for posts that users need to pay a one-off fee to enjoy. The name is misleading because users only pay for the content once, they can then view it as many times as they want to once they've purchased it. PPV content works well when saved for unique content ideas that you wouldn't normally offer as part of your regular subscription package.
Final Thoughts
If you are planning on selling your posts on OnlyFans, it's always a good idea to include a captivating preview as well. While the goal is earning extra money aside from subscriptions, tips, and whatever else it's important not to overthink the task. Just upload your content, keep the previews short, simple, and visually attractive. That's all there is to it.
If you are new to OnlyFans, it may seem like a lot of work trying to make money from the platform. But it doesn't have to be. Just create content, interact with your fans if you wish, and have fun with it.
Also, making money on OnlyFans should be viewed as a way to make a side income but it can grow into a way to earn your primary income sometimes. It's always a good idea to use OnlyFans to your advantage if you have a solid following on social media or adult-oriented platforms.