👋 Got a fan account that needs a boost? Promote it here. We support ALL platforms ❤️ Get a FREE digital eBook packed with Onlyfans tips with every ad purchase!
While there are plenty of content creators on OnlyFans, it can be tough to be the one that stands out the most. If you are looking for ways to improve your OnlyFans profile, then you've come to the right place. We'll be taking a look at the top 6 tips that you can follow so your profile stands out much better than the rest.
Yes, there is competition depending on the niche you're focusing on. But it shouldn't be the kind of competition where you come out on top by destroying the others. It's more about the content you create, the niche you're focusing on, and so much more.
If you're starting out on OnlyFans or if you've been on a while and have yet to gain some traction, take a look at the tips listed below. You'd be hard-pressed to find tips like this elsewhere on the Internet. And you'd also be insane to ignore them.
With that said, let's get started with the first tip on our list: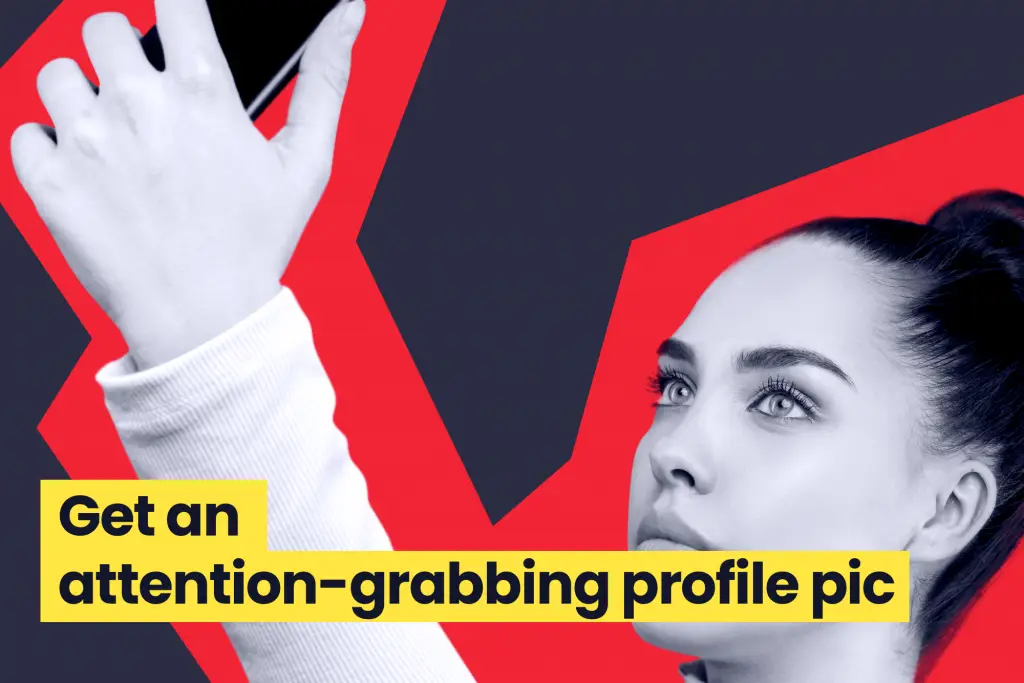 1. Get an attention-grabbing profile pic
Of course, the centerpiece of any profile is a pic that can capture someone's attention. Since adult content is allowed on OnlyFans, obviously you can choose one that can contain adult content (assuming you are going down that route). When selecting a profile pic, find one that can be attention-grabbing.
If you are using your face (if the content is not adult-oriented), find one that brings out your best looks. Remember, that can be entirely optional. Also, high-quality matters.
You don't want a profile pic to be grainy or pixelated. The better the quality, the more you'll stand out. It doesn't matter if it's colored or black and white.
If you have excellent photoshopping skills, you can create a banner-style photo where you can include a few of your best photos. That's actually a clever way to give your potential followers and subscribers a preview of what to expect. Remember, the photo size should be 1237 x 180.
If you don't have good Photoshop skills, you can always outsource the task to a freelancer. Just make sure you give them the specific details (like the dimensions and such).
2. Maximize your profile likes
As commonplace as it is to "like" something on social media, the more OnlyFans likes you get, the better your profile's chances of standing out. It's important to create as much content as possible (albeit high-quality content) so you can be able to maximize your profile likes.
There are two ways to go about utilizing this strategy: One, you can pin a post to the top of your profile. You can reward them by giving something away for free if you so choose. Two, you can suggest likes with every piece of content you create.
It's important to directly ask for the like. But you can caption something and segue into something such as "if you agree with this, like this post" or anything similar to that. Some days will be hit or miss when it comes to how many likes you get (so don't feel bad if you are having a "miss" day).
The more profile likes you get, the better you'll be able to get more likes and followers and eventually paid subscribers. If you are looking to maximize your earning potential, profile likes will get you far enough. But that's only part of the battle.
3. Writing a stand-out profile bio
No profile would be complete without writing an excellent profile description. When it comes to this, it's a good idea to follow the 80/20 rule. By this, we suggest talking about yourself 20 percent of the time and use the 80 percent of what your followers and subscribers will expect.
For more bio tips and ideas, check out this guide
For example, let your followers and subscribers know when to expect new content. The key to retaining them is being consistent with content creation. It's even better when you give them an estimated time table.
You can also direct them to the tip menu if you are offering any kind of products or additional content. The tip menu is a great way to leverage more earnings. Besides, tips are another great way to earn money on top of what you get in monthly subscriptions.
But we digress. You also need to let those who view your profile "exclude" certain people. If you are not creating adult content, you can explicitly tell them that you don't create it. It's good to weed out certain people who may be looking for something you don't offer.
As for writing your profile subscription, you don't have to be too fancy. You also shouldn't write it like a novel. Keep it as short, sweet, attention-grabbing, and to the point as possible.
4. Leverage the story feature daily
Just like Instagram, Facebook, and Snapchat, OnlyFans has a "Stories" feature that you can use. A lot of fans are interested to see what goes on behind the scenes. Using the Stories feature on a daily basis will definitely make your profile stand out a bit more compared to others.
It can be an interesting highlight of your day or something like a reminder about upcoming content. Just make sure that the content is engaging, eye-catching, and make your stories worth viewing. The more people who review your stories, the better the chance your profiles will get likes and it will snowball from there.
5. Promote your OnlyFans
The next part will require you to go outside of OnlyFans (which is fine to do). The question is: where do you promote your OnlyFans page? The answer: social media.
Social media is quite powerful these days. Plus, you can be able to grow your following depending on how your social media stands out. If you have for example 5,000 followers on Instagram, you can be able to promote your OnlyFans and get a good amount of growth.
Keep in mind that promoting your OnlyFans for growth will be a long-term game. But it can yield long-term results like no other. Think about it, your Instagram followers go to OnlyFans and follow you there.
Then, they can like your profile and your content. From there, your profile stands out more due to the increased number of likes. It's basically rinse and repeat as long as you are promoting your OnlyFans profile on a regular basis.
Use Shoutouts
If you don't have a large following on OnlyFans or social media, no need to panic. You can also leverage the power of shoutouts. But this will require a bit of investment on your end.
For example, you can work with an influencer on Instagram who is in your niche. They may not have too large of a following, but you got to start somewhere. Plus, the price you pay for shoutouts will be low.
As a start, you'll want to work with a micro-influencer. This is someone who may have anywhere between 5,000 to 15,000 followers. There are some things to keep in mind when looking for an influencer to shout you out.
First, make sure that this person is the real deal. You might have some that claim to be "influencers" who might try to scam you out of your money. Do your due diligence and see what the engagement rate is and who they've worked with in the past.
Also, since they are in the same niche, double-check to see if their followers are your relevant audience. You don't want to get a shoutout and have it fall flat because it's in front of the wrong people. The key here is to get the shoutout in front of the right people at the right time.
If you can successfully pull that off, you'll be able to see some growth not just on social media, but also your OnlyFans profile. You can invest in shoutouts over time while you grow. The larger your following, the more you will be able to work with influencers with a much larger presence.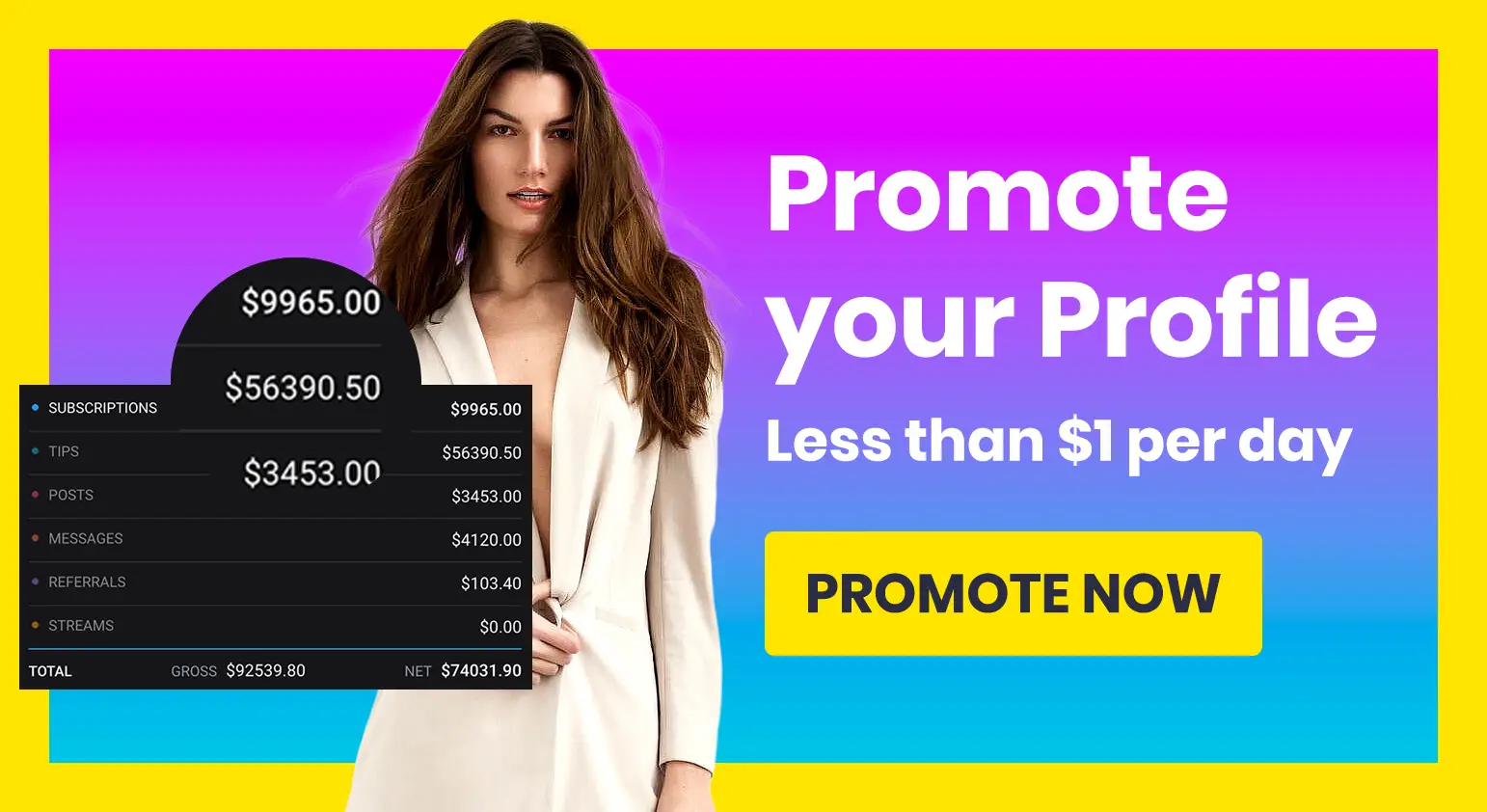 Check out our very own promo platform for OnlyFans
6. Help someone out
If you already have a bit of a presence on OnlyFans, you might help someone out. If they're growing an OnlyFans, don't worry about viewing them as competition. You can be able to give someone a leg up.
Who knows? Your followers can also become that person's followers as well (without leaving you behind). That person will also return the favor and their followers will follow back (and likely subscribe) in kind.
Plus, it's always a good idea to help someone out and expect nothing in return. Some will return the favor and others may not. It's all part of the process of success.
More OnlyFans tips to make more money
Here are some extra bonus tips that might help you make money on OnlyFans. These may not work for everyone – hence why we aren't including them in the main list. But some of these might work for you.
Try to find a niche
Finding a niche on a website like OnlyFans is not easy. There are literally hundreds of thousands of creators, so you are never going to be unique, no matter how hard you try.
But you can at least look to target smaller niche audiences, even if they already have some creators serving them. Just because you aren't the only one doing something, doesn't mean you won't be successful.
So find a niche that you're comfortable with, one that doesn't exclude a wider audience, and go from there. It might be a particular style of dressing (nerd, goth etc) or you may focus slightly more on feet or shoulders in your content.
If you can do it in a way that keeps everyone excited and interested, but also directly target yourself at special interest audiences, your profile will stand out more to them.
Spend time doing live work on other sites
This is less about making your profile stand out, and more about making yourself stand out. OnlyFans hasn't got the best site for performers who wish to work live. So why not set yourself up a profile on a site like Chaturbate, and offer live shows there?
And then, you can talk about those shows, and share screengrabs, on your OnlyFans profile.
So now you're opening up more revenue streams, and making yourself stand out more on OnlyFans as someone who offers even more varied content including the thrills of streaming live.
Vary your backdrops
A really simple tip but not always easy – if you can vary the locations where you shoot your content, your profile will look so much better.
Most creators are limited to their homes, and often just one or two rooms in that home. Over time, content begins to look samey.
If you're in a position to be able to mix things up then you can shoot the same video multiple times in different locations and people will love it, because to them it feels different.
And not only that, but your profile will look so much more interesting too. As someone scrolls through it, they won't just see the same thumbnails for every video – everything will have a unique look to it.
Add reviews
The people who are most successful on OnlyFans are those who interact most with their userbase.
This is why, if someone ever says something positive about you in a DM, ask if you can share their comment to your timeline.
You don't have to share other intimate things you've spoken about, but if you can tell them that you want to share what one of your favorite subscribers has said, and essentially frame it as a review of how fun you are, then you'll stand out among other creators who just post the same thing over and over.
And not only that, you might find that more and more people are willing to tip you and send you paid messages, so that you can be just as fun with them.
Frequently Asked Questions
With the six tips on how to make your OnlyFans profile stand out, we'll now dive into the frequently asked questions. This section should serve as a guide that will help give you a better understanding of how to get the best out of your profile. Here are the following questions:
Can I be anonymous on OnlyFans?
Short answer: yes. You can be anonymous and use OnlyFans under a stage name. You can also refrain from showing your face (especially if you are creating adult content). The only time when you cannot be anonymous is when you are providing your financial information and the like to OnlyFans themselves.
Is starting an OnlyFans a good idea if you have a small following?
You can. However, it might be a tough task to do if you have a small following on social media. However, you can take advantage of tip five and utilize paid shoutouts if you are looking to grow your following exponentially. Of course, you'll also need to make sure that your new followers know about your OnlyFans.
A good way to let them know is to direct them to your profile link that is posted in your bio (or pinned post, depending on the social media platform you are growing).
Do you use your real name on OnlyFans?
Again, you don't need to use your real name on OnlyFans if you want to maintain total anonymity. Your real name must be used whenever you need to register your bank account in order to receive payouts from subscriptions, tips, and more.
What should I put on my "About Me" on OnlyFans?
You can tell your profile visitors a little about yourself. You can be able to tell them about your likes, dislikes, and some fun facts about yourself. You can also mention what your fans and subscribers should expect in terms of content (like when you update). Also, you can also let them know what your content is for and who it's not for. If your content contains nudity, then obviously it's not for those under age 18.
How do you promote your OnlyFans on Instagram?
One of the best ways to promote your OnlyFans is to embed the link in your bio. Alternatively, you can use something like Linktree so your followers and fans can access your links that are connected to not just your OnlyFans, but also your other social media pages as well.
Will OnlyFans affect mortgage applications?
Depending on where you live, there is a chance that OnlyFans could negatively impact your mortgage application. However, this is typically only if you are subscribing to accounts - not if you are a creator. If you are a full-time OnlyFans creator and you can prove you have a consistent income then any mortgage application will go as smoothly as any other freelance worker. But if you subscribe to a lot of other OnlyFans accounts, either for fun or to research your competition, a mortgage broker might look down on these 'frivolous' payments.
Final Thoughts
If you are looking to make your profile on OnlyFans stand out, then you can put these six tips listed above to good use. The more of the tips you can put to good use, the better your profile will stand out. Don't be afraid to suggest your followers like your posts each time you create something new.
Furthermore, it's also a good idea to consider growing your OnlyFans presence by promoting your page via social media. Whether you have a solid following or if you are growing it through paid shoutouts, the work will pay off over time.
Remember, making your OnlyFans profile stand out is something that will take time. Plus, you'll need to put in the work not just by promoting your profile, but also creating new content regularly. Whether it's daily or a few times out of the week, it's better than not creating anything at all.