👋 Got a fan account that needs a boost? Promote it here. We support ALL platforms ❤️ Get a FREE digital eBook packed with Onlyfans tips with every ad purchase!
If you're someone just starting out with OnlyFans, it's easy to focus on how you can succeed. But you also need to be aware of the common mistakes that you can easily make. If you're unsure of what they are, we've got you covered.
In this guide we'll look at the 14 mistakes that you can avoid making while you are on OnlyFans. Some of these can be made even by the best content creators. Some of them are minor while others can be major, and can prevent you from seeing the success you're aiming for.
1. Not being consistent with content creation
The key to generating success on OnlyFans is creating content regularly. It doesn't matter if you do this daily or a few times during the week. Your subscribers want to see fresh content, but they want to know when to expect it too.
Failure to maintain any sort of pattern or rhythm will cause your subscribers to drop off. People won't see you as someone worthy of their money because they don't know when they'll be getting a return.
Loss of subscribers means less money. If you're using OnlyFans as a side income, don't let a lack of consistency be the bane of your account's existence.
2. Not suggesting tips
While you can make money with subscriptions, it's not enough. That's where tips come into play. A lot of content creators will suggest their followers and subscribers tip them each time they post something (or go on a live stream).
Don't be afraid to suggest tips each time you have new content. You'll have loyal followers and subscribers who are willing to throw something your way.
But at the same time, don't just constantly beg for tips either. Promote the option of sending them to you, but you have to earn them by engaging with your fans. That's when they'll be more willing to spend extra.
3. Not "hacking" the tip menu
While OnlyFans doesn't offer a feature that allows you to sell products directly, there are ways you can get around it.
If you're selling digital or physical products, you can utilize the tip menu and suggest how much a user should tip to receive that specified product.
For example, you have Product A for a $5 tip, Product B for $10, Product C for $15, and so on. This will straighten out any confusion and prevent you from sending the wrong product to someone.
This little tip menu hack will be perfect if you sell multiple products. Feel free to play around with which products are getting the most desire from your followers and subscribers. You can switch it around to where the most desirable product should be the more expensive tip on the menu.
While it's not really a "mistake" per se, it would be a mistake to ignore this important tip if your goal is maximizing your earning potential. If you have multiple products to sell, leveraging the power of the tip menu would definitely catapult your daily and monthly earnings.
4. Lack of promotion
Circling back to our first mistake about consistency, the same applies when it comes to promoting your OnlyFans. If you're thinking about growing your OnlyFans without promoting, then good luck.
The only way you're going to grow your subscriber numbers is by promoting your content, because OnlyFans isn't going to randomly send traffic to your page. Promoting your page will likely take up most of your time.
Most of the content creators on OnlyFans will leverage social media sites like Instagram, Twitter, Reddit, YouTube, and even adult cam sites like Chaturbate (assuming you create such content).
But even if you're all over those sites, there are other mistakes you can make when promoting your OnlyFans:
Don't spam your social media platforms. It's fine to do it at least once a day.
Don't leave out your OnlyFans link on your profile bio (Use Ohh.me)
Take note of what's allowable in terms of adult content on social media. It's fine to post adult content on Reddit or Twitter. But Instagram doesn't allow it…so be careful with what you post (especially if you create adult content).
Don't overwhelm yourself if you are starting out. Choose up to two social media channels to start out when promoting. You may find success with one of them or both.
Try to make sure your social handles either match your OnlyFans handle, or that they're easy enough to remember. A consistent personal 'brand' makes it much easier to promote yourself.
Even when promoting your OnlyFans, you can make some mistakes. You can avoid these fairly easily. The more you promote, the more likely you'll gain followers and potential subscribers.
Also, if you have a small following on both OnlyFans and your social media platforms, focus on growth strategies for the time being. Your social media growth and OnlyFans growth can go hand in hand.
5. Don't offer subscriptions for free
Again, this isn't a fatal mistake per se.
But you'd be crazy to offer free subscriptions if the goal is to make money with OnlyFans. Some will do it because they're probably making enough money as it is.
But if you are not generating plentiful income outside of OnlyFans, don't offer any subscriptions or extras for free. Not to mention, you might also attract low-quality followers and subscribers. The moment you decide to offer a paid subscription, there will be those who will be unwilling to pay and your followers or subscribers will drop off.
6. Lack of products or services to sell
Despite OnlyFans getting a not so good rap for being an "adult website" because it allows nudity and such, there are those on OnlyFans who create content that doesn't show sexual content.
There are models and those in the fitness niche that leverage OnlyFans as a way to offer extra content and products that cannot be found anywhere else on the Internet.
They also sell multiple products and services like ebooks, video courses, and coaching programs. And these are vital – you'll never make a success of your OnlyFans career as a work-safe content creator if you don't have side products to push.
A lack of products and services can cause your earnings on OnlyFans to be stagnant. You can put something together as easy as your "best content compilation" and it can sell at a pretty reasonable price.
7. Not knowing your audience
The most successful content creators on OnlyFans have this one common secret that is not hard to figure out: they know their audience very well. And then they tailor their content to suit them.
And if you don't know your audience too well, remember that users can leave likes, comments, and messages. This should give you a good idea as to what your market wants from you.
The idea here is to keep your audience happy. However, some of them may suggest the most outrageous things for you to do. If something like that were to happen, you can choose to refuse that request since it's likely out of your boundaries.
Be sure to get as much feedback as possible from your audience. There is a reason why they subscribed to you. Give them a reason to stay on by creating the content they would like to see more of.
8. Expecting success very quickly
We know that success can be attainable on OnlyFans. The problem is, there's this mentality that you can be successful in the quickest amount of time possible. That's a dangerous mindset to have.
If you're growing your OnlyFans, you'll need to adopt the mindset that it's a long game strategy. Plus, you'll be "competing" with others in the same niche (and different niches) as well. Don't treat it like a competition, but rather have fun with it.
It doesn't matter when you attain success. But as long focus on your own subscribers and followers (and what they want to stay on as your loyal fans), you should have nothing to worry about.
And remember that OnlyFans needs work and effort if you want to be successful. It's not going to be an instant career for you.
9. Using OnlyFans as your primary source of income
Yes, content creators have made plenty of money on OnlyFans. We're talking thousands (even tens of thousands) per month. However, it shouldn't be considered a primary source of income.
Furthermore, it shouldn't be a replacement for what you do to earn regular income (be it a 9 to 5 or as an entrepreneur). At least, not at the start. Because it takes time to become successful enough for it to be your main career.
Consider it one of your side income streams regardless of what you earn. Plus, it would be a mistake to quit your job before becoming "OnlyFans famous".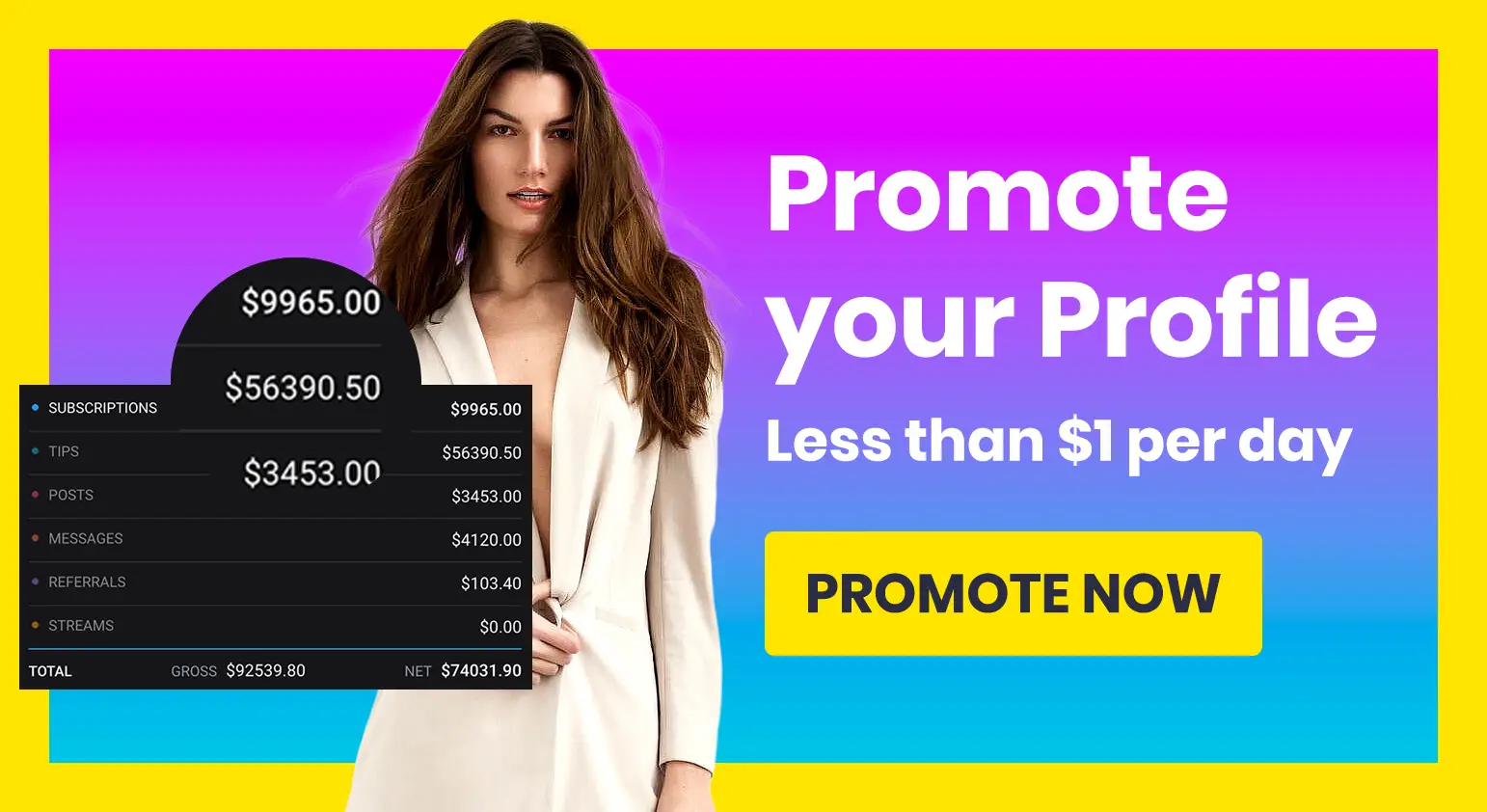 That might happen – but never immediately.
10. Using your real name if you create certain content
Can OnlyFans be anonymous? Absolutely. In fact, a lot of OnlyFans content creators do as a way to protect their identities.
While you can use your real name, there's only one caveat: don't do it if you are creating your own adult content and you don't want people you know to be aware.
Some people are perfectly happy to use their real name, and are proud of their decision to bare all. And that's fine.
But if you're running an OnlyFans alongside another job, that workplace might not look kindly on your side hustle. So it's better to choose a fake name and build a brand around that.
11. Assuming you have to go it alone
A lot of people believe that OnlyFans is a career that you have to work on alone.
And that's not really true, because there are plenty of professionals out there who can help you – either through promoting your page to their existing audience, or assisting with things like photo editing and video editing.
Plus, OnlyFans is not a dog-eat-dog world, and many people cross-promote. This means building a relationship with other creators, and making sure to recommend each other to your existing fans.
Don't assume that you have to make your OnlyFans a success without any help. Ignoring the help available is one of the biggest mistakes you could make.
12. Setting your prices too high
When you set your subscription price, it's tempting to push the limits of how much you charge. After all, if you have 100 subscribers, then every extra dollar you charge is an extra $100 for you to enjoy every month – well, an extra $80 once OnlyFans takes its cut.
But you have to plan your prices carefully, because if you aim too high then you'll earn less, since you'll be out of reach of most subscribers and even those who could afford you might not think you're worth that price.
Say you have 10,000 people following you on social media. If you charge $5 per month, you might convince 1% of people to sign up – so that's $500 per month.
But if you charge $10 a month, you might get just 0.3% of your followers willing to pay that much – which would be $300.
Want to know the easiest way to work out a subscription price? Look at other creators who are similar to you, work out an average, and charge that.
Then, when you work hard to be better than them, people will see you as great value.
13. Posting the same type of content again and again
It's true that you will likely have a particular niche of content that your fans will want to subscribe to see.
But that doesn't mean you should be posting the exact same content every time you upload a photo or video to the site.
Because guess what – even your most loyal subscribers are going to get bored, and once they're bored they'll decide it's time to start saving their money and looking elsewhere.
You need to work on keeping your content fresh and interesting. Push boundaries a little, if you're comfortable. Or just use different backdrops.
Try making seasonal content – everyone loves spooky but sexy Halloween costumes, for example. Maybe add in some giveaways or contests too.
Whatever you can do to keep things fresh will help to make sure your fans don't decide to look elsewhere.
14. Misleading subscribers over your content
When a person first lands on your OnlyFans profile, they obviously can't see your content until they have subscribed.
Which, in theory, presents an opportunity – you can tell them anything about the kind of content you're creating, and they won't know whether you're being honest until they've paid.
But don't do that, because:
At best, you'll only get a one-month subscription out of them
They might be able to claim a refund for that first month too, if you've misled them badly
They can badmouth you across the internet and prevent others from subscribing too.
If you're only going to be posting content in your underwear or swimwear, then be honest. Don't allude to posting adult content if you aren't doing that.
It may be tempting because you know that people might want to see more than you're willing to show, but there is a big enough audience out there that you don't need to lie. If you're only comfortable posting swimwear photos, you can still make money.
But you won't make money if you're lying to people to get them to sign up. It'll destroy your OnlyFans career before it's even properly begun.
Frequently Asked Questions
Now that we have covered the mistakes you should avoid, we'll be taking at some frequently asked questions. These should be useful if you're considering starting an OnlyFans and you don't want to make mistakes going forward. Let's take a look at the following:
Can you be anonymous on OnlyFans?
Yes. You can be anonymous. This means you'll need to use an assumed name if you feel comfortable doing so. You can take it one step further by not revealing your face when you post a profile pic.
How much can you make on OnlyFans?
It depends on some factors. For one, it depends on the price you set for subscriptions. Second, it depends on how many followers become your paid subscribers on OnlyFans. For example, you can have 10,000 followers on OnlyFans. At least 1 to 5 percent on average become paid subscribers.
Assuming you have that many subscribers at $14.99, that's $1500 to nearly $8000 a month on subscriptions alone. You can also make extra depending on what you sell for products and how much you make in tips.
What are some "About Me" ideas that you should avoid?
If you are writing an "About Me" on your OnlyFans profile, you should consider avoiding talking about yourself a lot. In fact, you should abide by the 80/20 rule. In this case, talk about yourself 20 percent of the time and use the 80 percent to tell your fans and subscribers what to expect from you in terms of your content.
Can OnlyFans see if you screenshot?
There is currently a "no screenshot" policy in place on OnlyFans. They do this to ensure that piracy of content is prevented. While they may not directly see you taking a screenshot, it can be found elsewhere on the Internet and may be reported to OnlyFans if someone were to use it for uploading to pirate sites.
Is OnlyFans bad for society?
Short answer: no. There's this stigma going around saying that OnlyFans is a porn site or the like. Just because it accepts adult content, doesn't mean it's considered a complete "porn site". If anything, don't let any media reports or articles tell you that it's a XXX site because of it. There are those who like to put a spin on things just to get a few clicks online.
Will OnlyFans ruin your career?
There will be people out there who will try and ruin your career because of your presence on OnlyFans. That's the sad truth and people like that do exist. If anything, OnlyFans hasn't ruined any careers. But it has rather bolstered a career for some. If you are worried about someone exposing you for having an OnlyFans, maintain an anonymous identity and do not show your face. Especially if you are creating content that may contain nudity or sexual themes.
Final Thoughts
If you are looking to succeed on OnlyFans, it's important to not make these 14 mistakes listed above. Some of them may be harmful to your success (such as lack of promotion and consistency with content). These mistakes are easily avoidable but can be just as easy to make if you are not careful.
Growing an OnlyFans account can be helpful in generating a nice side income depending on your niche. It should not be a replacement for your primary income like your regular job or if you run a business. Don't feel overwhelmed about the mistakes you could make, but have fun with OnlyFans as you are starting out.