👋 Got a fan account that needs a boost? Promote it here. We support ALL platforms ❤️ Get a FREE digital eBook packed with Onlyfans tips with every ad purchase!
Once you've got your OnlyFans profile set up, you need to get to work promoting it. Even if you post the most thrilling, sexiest content on a regular basis, it's no good if you haven't built up a follower base of people who want to pay to see it.
The best tactic is to promote yourself, your personal 'brand', and your OnlyFans page everywhere you can – as long as you do it in the right way. And unless you've had your head buried in the sand, you'll know that TikTok is huge right now. It really is your secret weapon if you want to help boost your sub count and start making more money on OnlyFans.
Why TikTok?
TikTok is absolutely huge. Of all the major social media networks, it's the newest – launching in 2016, the same year as OnlyFans. For context, Instagram has a 6-year head start on it. Despite being so new, it's got over 600 million users worldwide (according to stats from October 2020), which is more than Snapchat, Reddit and Twitter.
It's also loved because it's so easy to create content. Uploading and editing video clips on TikTok is super-simple, meaning there's no hard work having to make sure your clips are all sorted on third-party software before you hit upload.
Finally, TikTok works really well with the kind of content OnlyFans users want to create – to an extent. Officially, TikTok doesn't support any kind of sexualized content, and you will get banned if you have posts reported due to being too risqué.
Despite being so new, [TikTok has] got over 600 million users worldwide (according to stats from October 2020), which is more than Snapchat, Reddit and Twitter.
But you can get away with more than you can on Instagram, and in terms of sharing videos, you can certainly do more with short clips on TikTok than you can on YouTube – which isn't really designed for short, shareable clips.
It's also really easy to suddenly see a huge upsurge in your TikTok popularity thanks to the excellent 'For You'. If you nail just one good TikTok, your profile will skyrocket as it becomes shared with the whole world, as more and more people like it. And as long as you've done the work to capitalize on that (which we cover below), you can transfer that to your OnlyFans.
How to get more popular on TikTok
Get your quality right
The first step is making sure that you create content that works for TikTok. If your videos aren't done right, then you'll just be uploading to an empty vacuum. Quality is always better than quantity – a rule you should apply to your OnlyFans too, as long as you're still posting regularly enough to warrant continued subscriptions.
So follow some basic video tips as a starting point. Film in good lighting, and consider buying a cheap ring light for your phone if your home or shooting location is dimly lit. Tidy up too – nobody wants to see a messy background. Unless that's the niche you're targeting, in which case go wild.
Make sure you're interesting too, right from the start. Those first few seconds make the difference between how widely your video is shared – if people aren't watching, the video won't make it big. Don't leave big gaps at the start of your video, edit it so you're straight into the action.
Check what's trending
After these basics, it's good to look at what's trending. Copy it, but make it sexier – most of the trends on TikTok start as a funny idea and end up being imitated by hot guys and girls who keep the fun but make it a little more tantalizing – so do that!
Time it right!
The last tip is to try to post at the best times of the day. Generally, for a global audience, that's between 6am and 10am, and 7pm to 11pm EST, but feel free to adjust that if you're targeting a specific region with your content. These times will get you the most success in terms of active users watching your videos though.
How to set your TikTok up to promote your OnlyFans
So if that's how you become a hit on TikTok, there are now some tweaks to that, and some basic things you need to get right, if you want to convert your following to OnlyFans.
How to safely link to your profile
First up – you want to make sure you're actually linking to your OnlyFans profile – but never directly! If you post a link straight to your OnlyFans profile, you're on the fast-track to having your TikTok account deleted as soon as it's noticed.
Instead, use Ohh.me. It's a completely free (and super-memorable) bio link tool where you can host links to all of your social media accounts, including OnlyFans, meaning that anyone who wants to follow you everywhere can easily do so.
You can mark any of them as adult, and there are new features being added all the time. It even has extra features like virtual gifts, where fans can pay you directly through Ohh.me by buying you a virtual gift. Plus, there's now a referral system – if you sign up to Ohh.me and then refer another creator to the site using your special link, you'll earn a cut of any virtual gift sales they make too. More ways to earn!
And because TikTok allows Ohh.me links, you don't have to worry about being booted off the platform for that.
You could also refer to yourself as an accountant. No, we're not joking – the new viral trend for anyone on TikTok who wants to 'talk about their work' when they aren't allowed to is to call themselves an accountant. Trust us, people will know what it means.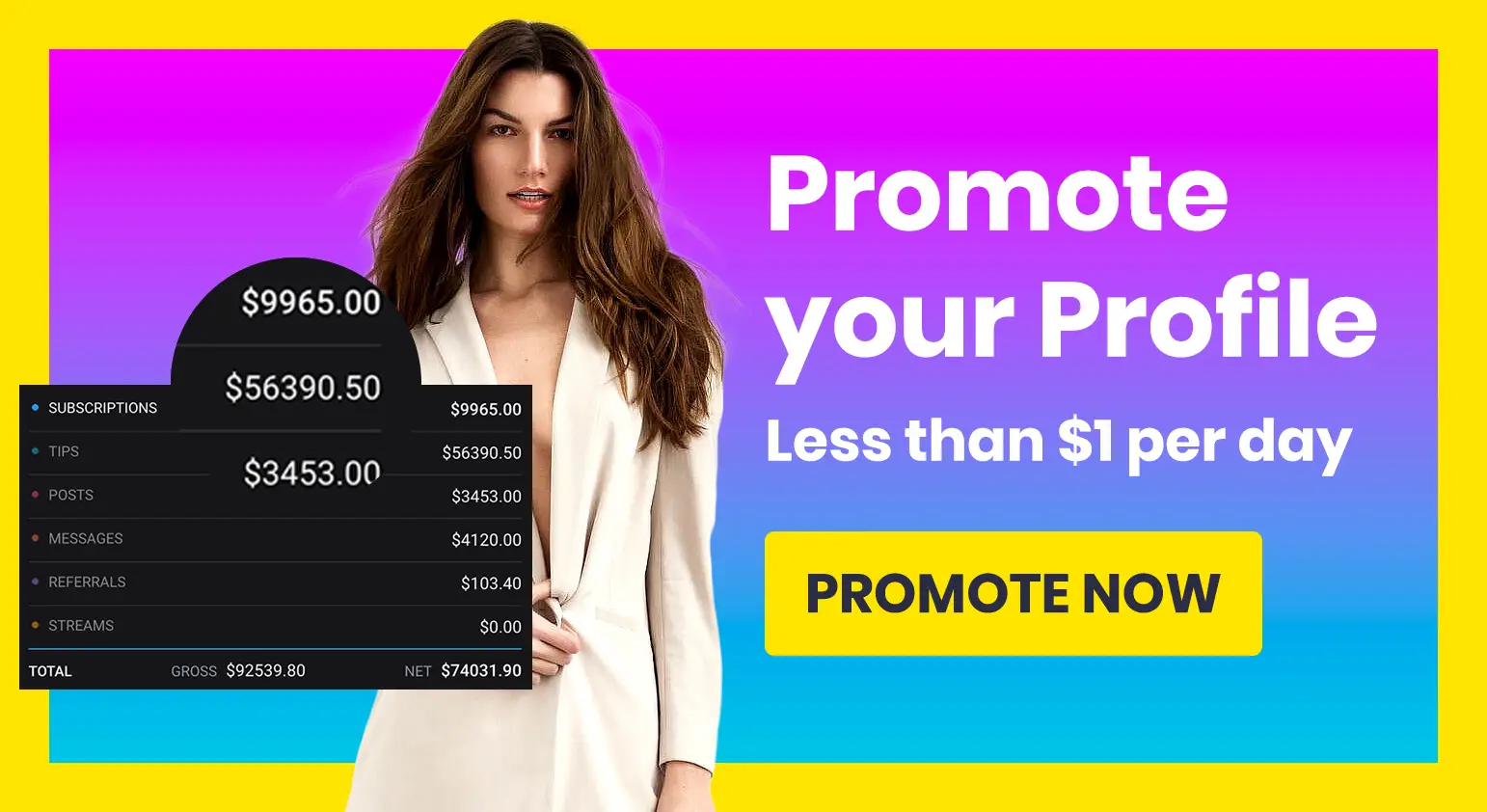 Make use of the right #hashtags
Next, you need to make sure that people who are actively looking for good OnlyFans accounts to follow can see you. That's where hashtags come in. Again, don't use #OnlyFans. Instead use #OF and other related terms, like #fansonly. It's discreet enough to fly under TikTok's radar, but people know to look for these popular tags.
Tease your content, but don't push it
Most importantly, you need to post TikToks that are going to appeal to people in the same way your OnlyFans does – but without taking it too far. You need to be relatively tame, or again you'll fall foul of TikTok's strict regulations. But you can be tame and still be hot.
…you need to post TikToks that are going to appeal to people in the same way your OnlyFans does – but without taking it too far.
Good tips are to avoid underwear and avoid too many videos in swimwear or bikinis. Don't zoom in on any body parts that make it really obvious what you're doing, and don't make any lewd movements or gestures with your hands or mouth. Sexy dancing is the way to go, with just the tiniest tease of revealing too much before you reel it back in. Leave the viewer wanting more – and they'll head straight to your OnlyFans to get it.
Go live!
Our last tip for promoting OnlyFans on TikTok is to go live. Rather than a pre-filmed video, by going live you've got more of a chance to get through the censors and filters when you mention your OnlyFans page. Do it discreetly still though, otherwise, you'll likely end up in trouble.
But by going live, you can subtly mention your page and where to find your name, as if it just accidentally slipped out – and you should get away with it.
Follow all of these steps and you'll soon start building up a following on TikTok – and then from there, as long as you're careful, you can start to convert those fans into followers and subscribers on your OnlyFans page. It always works best if you promote yourself in multiple places though, so don't just rely on TikTok alone. One post that pushes the boundaries too far and your account could be gone.
Is there a TikTok for adults?
There is only one official TikTok app, which is designed for everyone. Technically a TikTok for adults does exist. You might be able to find it on the app store, but it's more commonly downloaded as an apk file from the internet.
The reason for that is because it is unofficial and unsupported. If you choose to download this version of 'TikTok' you could be risking your personal data, or open up your phone to viruses. And because it is unofficial you won't find much of an audience for promoting your content, even if they are looking for more adult photos and videos.
You're best sticking to regular TikTok, following the guidance, and using it to safely promote your OnlyFans.
Does TikTok have parental controls?
TikTok does have parental controls. So, if you're concerned from an ethical standpoint about promoting your own content, you can rest a little easier. All that parents need to do is open up the settings option on their child's TikTok account and choose Restricted Mode, which reduces the mature content they will see.
Alternatively, parents can enable Family Safety Mode. This pairs the parent's account with the child's and allows parents to have even more control over what their child sees.
If you intend to use TikTok to show off some sexy footage and hopefully generate some new subscriptions for your OnlyFans account, you don't need to worry about younger TikTok users stumbling over your content. The responsibility doesn't lie with you, and you're allowed to use TikTok as you see fit. If parents are concerned then the power lies with them to protect their children.
Which TikTok stars have an OnlyFans?
Many celebrities who have a TikTok account also have an OnlyFans. Some of the most famous people include Bella Thorne, Bhad Bhabie, Dua Lipa and Cardi B. However it's worth noting that most celebrities are much, much more active on TikTok than they are on OnlyFans. Some create an account to make money and then abandon it within a month or two.
It's always worth looking at an account's OnlyFans page before you subscribe. You won't be able to see the actual posts but you do get a preview of when they have posted, and how frequently. Don't expect to sign up to a celeb's OnlyFans page and get as much content as they're posting on other social platforms.
How do you find people on TikTok who use OnlyFans?
TikTok doesn't allow people to promote their OnlyFans directly, so you need to be clever with hashtags if you want to find people who have an OF account. Don't look for the hashtag #OnlyFans but instead search for #OF, #FansOnly or even #accountant, a common hashtag used to secretly promote content that TikTok would normally want to remove.
It's also a good idea to check out live videos. Most people using TikTok to promote OnlyFans prefer live content because it's easier to get around the censors.
How likely are you to get banned from TikTok if you advertise your OnlyFans?
If you're really brazen about how you promote your OnlyFans on your TikTok account, you'll likely get a temporary ban pretty quickly. Keep doing it, and that'll fast-track its way to a perma-ban.
But many people are successful in using TikTok to promote their adult accounts by simply following all the recommendations above. Dress suggestively but don't focus for a long time on underwear or bikinis. Use clever hashtags instead of really obvious ones. These simple, sensible steps can help you grow a large following which you can then convert to paid subscribers.