👋 Got a fan account that needs a boost? Promote it here. We support ALL platforms ❤️ Get a FREE digital eBook packed with Onlyfans tips with every ad purchase!
In the past couple of years, and particularly since the beginning of the COVID-19 pandemic, work has become remote and more flexible for a lot of people.
For performers, touring became impossible, which was their main source of income. So a lot of them are transitioning into online work. OnlyFans and Patreon are among the most popular platforms for musicians and artists. However, the biggest alternatives are Fanvue, Fansly, Fangage, Just For Fans (JFF), AdultNode, Encore and Unlockd.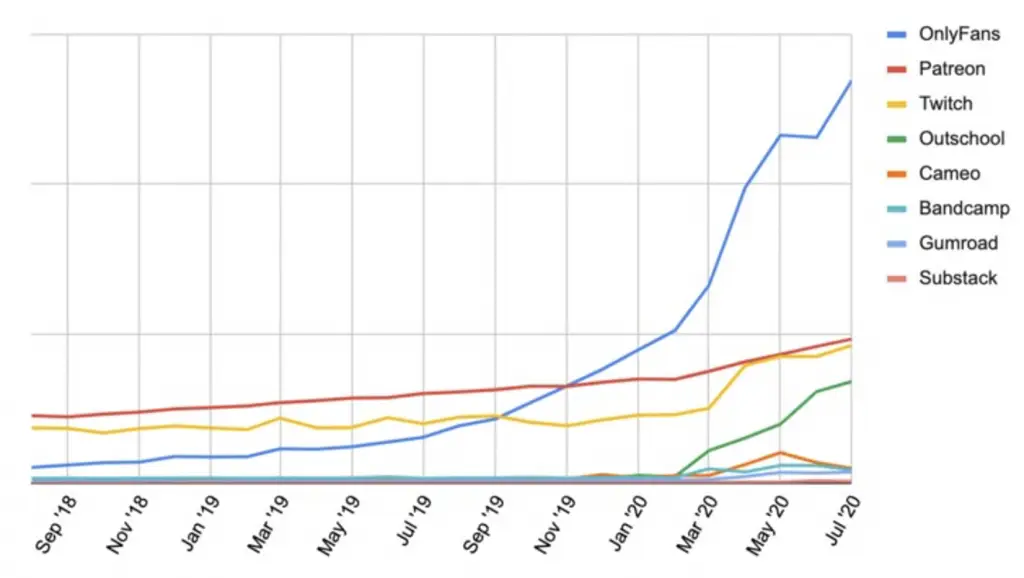 This graph shows the revenues for a selection of platforms. OnlyFans stands clear at the top of the list. The site saw a boost in its revenues between March and July 2020 during the peak of the pandemic and the subsequent lockdowns. Patreon, the site in second place, started with a higher revenue at the beginning but continued on a steady rhythm with minimal growth, being surpassed by OnlyFans at the end of 2019.
OnlyFans has over 100 million registered users, and among its best-known artists are Cardi B and Anitta. OnlyFans has paid over $2 billion to its creators; 33% of this revenue goes to the top 1% accounts according to XSRUS. Also according to the same source, the top 10% earn 73% of the revenue.
The average earnings for every account (excluding tips, for which there isn't any information) is around 180 USD per month. In fact, most accounts barely make 145 USD per month. It all depends on how many fans each creator has, thus naturally celebrities and influencers make more money as they have an existing fan base from other social media platforms that they can bring with them to OnlyFans. On the other hand, most OnlyFans accounts do not have any fans and consequently do not benefit from serious broadcasting. This is a "human systems without safety nets for redistribution of wealth" rule. Thus if you look at Substack, TikTok, YouTube, or Spotify you find a similar distribution.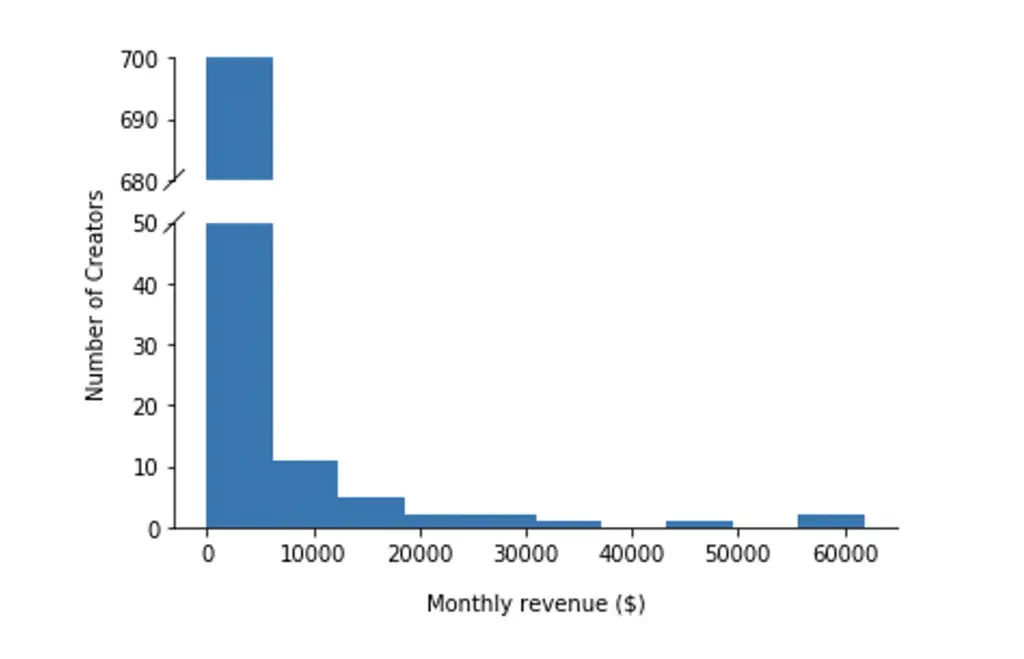 (XSRUS)
The Gini index is a tool used to define the inequality of an economy where 0 is a utopia by the communist definition while 1 is one single entity that owns all the wealth. On the Gini index, OnlyFans scores 0.83, which is a very high score. To put it in comparison, South Africa (an ex-apartheid country), scores 0.68 on the Gini index. OnlyFans is 0.15 degrees higher than the most unequal society in the modern world!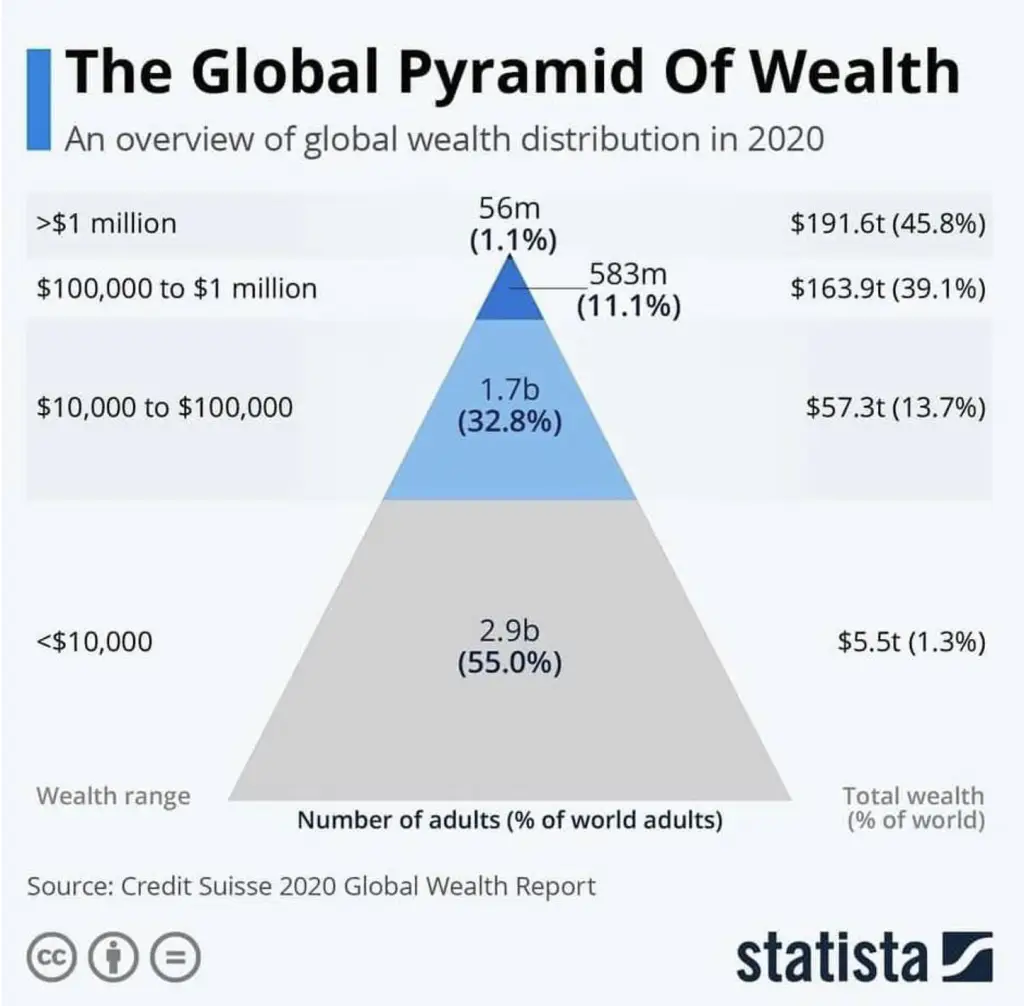 It's a reflection of wealth distribution offline around the globe too. About 1% of the adult population in the world earns more than one million USD. While 55% of the total adult population earn less than 10,000 USD. According to the above pyramid, 1% of the adult population make 45.8% of the overall global wealth.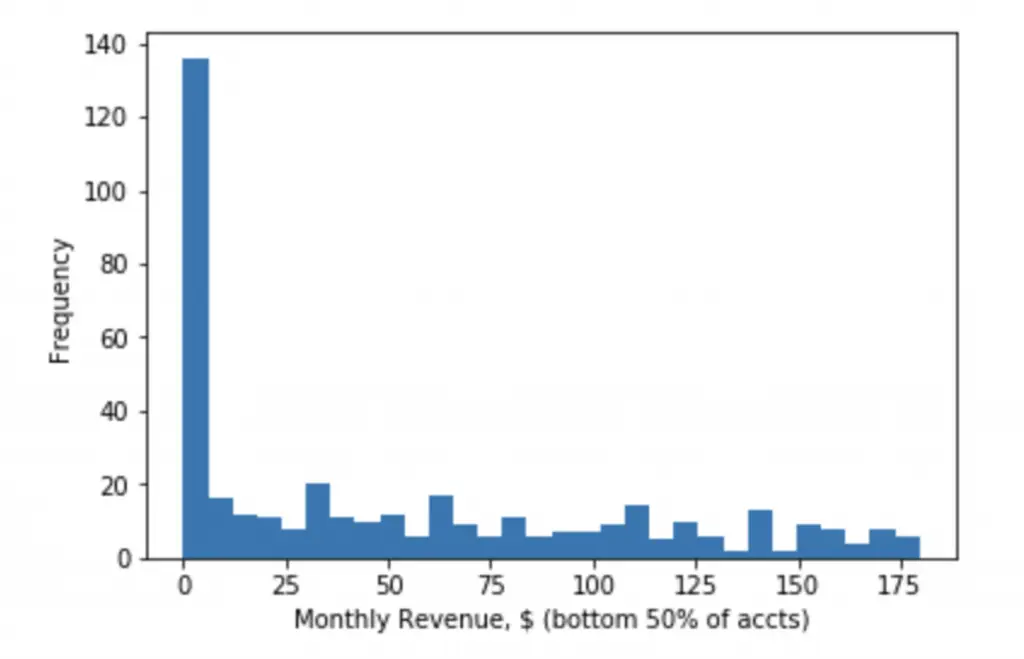 (XSRUS)
As an example – Bella Thorne is an actress, singer and model who has about 24.3 million followers on Instagram. She started an OnlyFans account for only a short period of time and scored a platform record. When she joined in August 2020, she earned over one million USD in revenue. Shortly after, she made her second million. Bhad Bhabie (Real Name: Danielle Bregoli) broke Bella Thorne's record and earned $1 Million in 6 hours on the platform.
Patreon has 6 million subscribers. However, only 624 creators on Patreon (0.33% of the total number) receive sponsorship from more than 2,000 patrons. To date, Patreon has paid its creators cumulatively more than 2 billion dollars to its 200,000 plus creators on its site. According to its CEO and co-founder Jack Conte, the first one billion dollars was distributed over six years. However, the second billion was distributed over 15 months in 2019 and 2020. The platform was initially launched in 2013 yet it has seen unprecedented growth in the last year.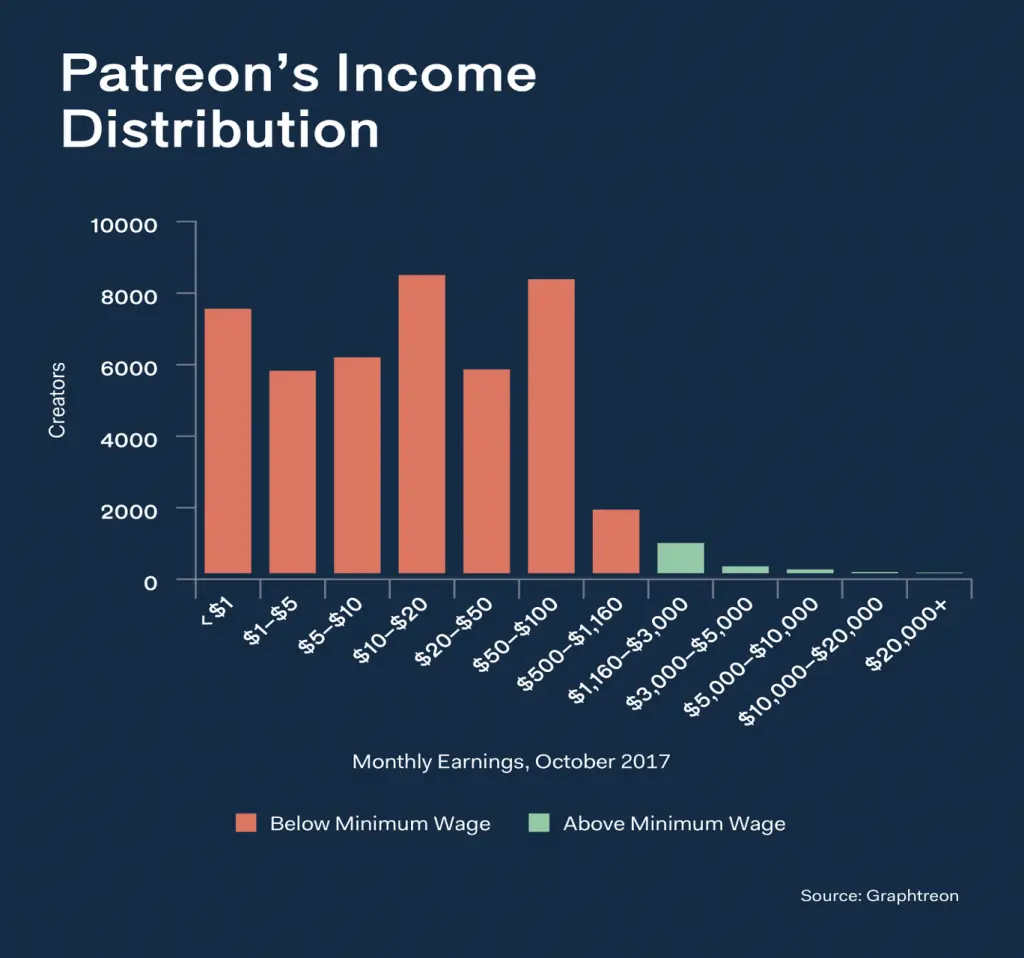 (Graphtreon)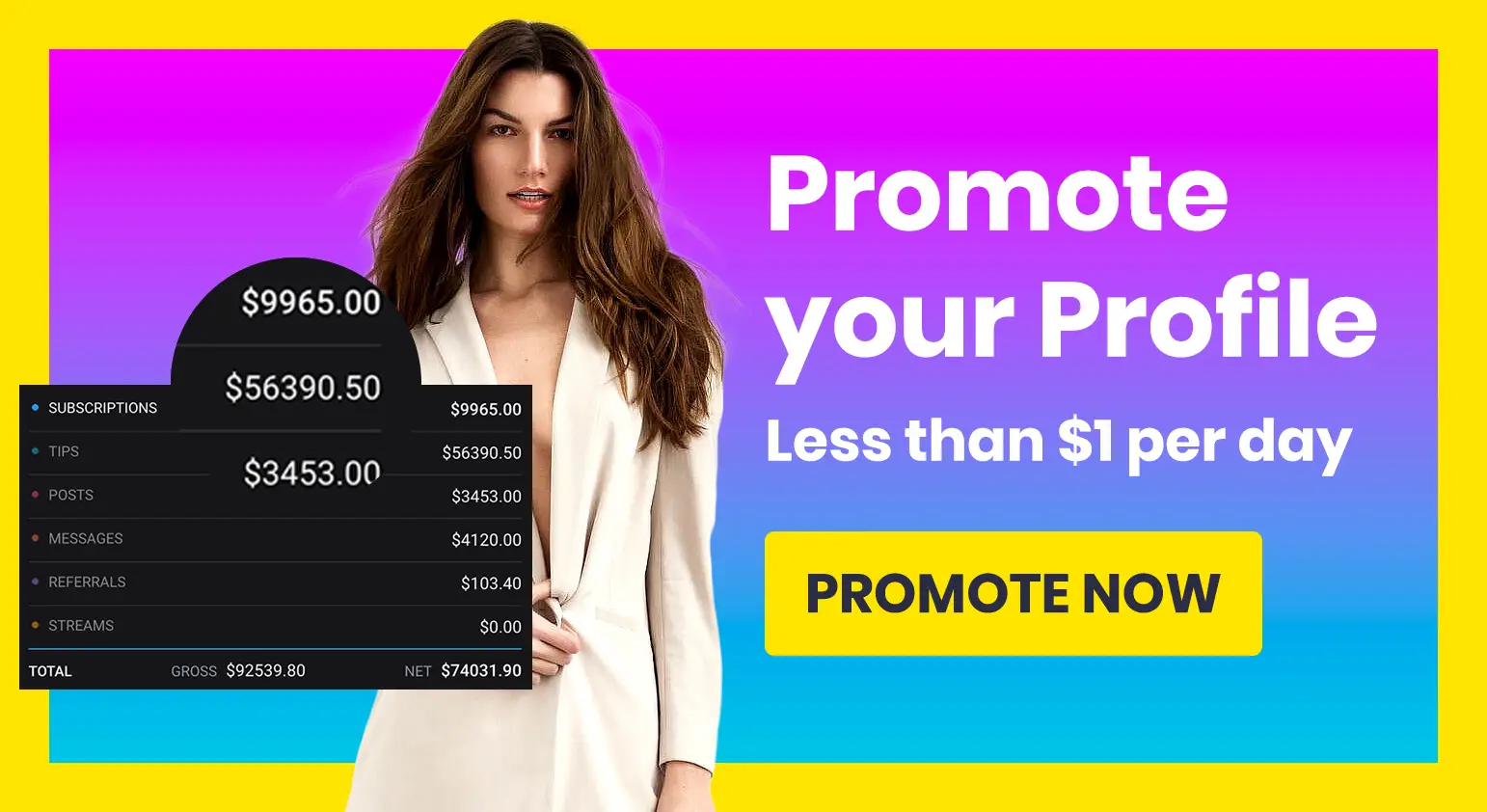 Patreon announced in 2016 that 7,960 users make $100 plus per month. At the time Patreon had 25,000 creators, which means only 31 per cent of Patreon's users were making over that amount. Up to October 2017, only 1,393 creators (about 2% per cent of Patreon creators) earned more than the federal minimum wage through the site, which is $7.25 an hour, or $1,160 a month, according to public earnings data.
Fanbase is the latest platform in the field, with many popular music artists including rappers Trippie Redd and Snoop Dogg. It now has 37,000 subscribers. A former Facebook Engineer Jonathan Gray along with the hip-hop artist Kid Cudi developed Encore, which will likely expand the market.
Yet the actual competitors are expected to be the major social media platforms such as Instagram, Facebook, and YouTube. In fact, YouTube and Facebook already offer subscription products for creators. However, they limit the number of subscribers to 1,000 on YouTube and 10,000 on Facebook.
Their cut of revenue is 30% which is more than OnlyFans and Patreon who cut 20% of the revenue. Some other less popular platforms cut even a smaller percentage of the revenue. If the revenue sharing strategies of Facebook and Instagram (which is a subsidiary of Facebook) become more appealing to creators, then it will be because creators have already built a reputation and fan base on these platforms rather than having to start from zero on a different platform.
Sex workers have benefited the most from these types of platforms because they transitioned from one-to-one, or a limited audience group, into a more scalable model. The platforms create a safer environment and a wider fan/client base.
Traditionally, sex workers have to move door-to-door from one client to the other, which puts their lives at a lot of risks, especially when you consider the health impact since the pandemic started. This is even more true in countries where sex work is criminalized and pushed underground.
"A lot of sex workers will have to move outdoors and do street-based sex work, which puts their lives in a lot of risk," TS Jane said.
Taylor Stevens is a 29-year-old cam model. Since this shift, the growth of online platforms, she was able to increase her working hours and thus doubled her income. She is now making a lot of money when previously it was hard for her to make ends meet. Stevens is not the only one, Monica Huldt's life also changed after using OnlyFans. She is one of the top earners on the platform making more than $100,000 a year when two years ago she was barely able to make ends meet as well.
According to Aella, another cam model and Adult content creator, OnlyFans revolutionized porn (and its racist behaviour) which impeded her career for so long -and still does, despite the fact that she became a major star.
According to professor Mireille Miller-Young U.C. Santa Barbara associate professor, the racial earning gap in mainstream porn is up to 50%. Aella also points out that OnlyFans has improved working conditions in comparison to camming where models make money from one customer.
"It becomes a weird power relationship, which can be very toxic," she says. "A lot of girls would be beholden to emotionally abusive members." On the other hand, earnings are much more widely distributed on OnlyFans. OnlyFans is an Adult Content platform yet on Patreon there are other professions such as artists, writers, photographers, cooks, and so on. On Patreon, nonetheless, you need to have an established online presence before joining Patreon and expecting to earn big from it.