👋 Got a fan account that needs a boost? Promote it here. We support ALL platforms ❤️ Get a FREE digital eBook packed with Onlyfans tips with every ad purchase!
We've reviewed a lot of alternatives to OnlyFans on this site, and usually, they work in pretty much the same way. Flirtback is definitely a little more unique though – it's trying to fill the gap between a traditional fan platform, and a cam site. And with that comes some benefits, and some downsides. So, is it worth your time, or would you be better served focusing on other platforms? Read on to find out.
Pros
Flirtback invests in paid advertising to help build your fanbase
Smaller than rivals – chance to stand out
Cons
Creators only keep 60% of their earnings
No subscription model available – tips and single purchases only
What is Flirtback?
Let's be clear right out of the gate – Flirtback is not a fan subscription platform. Creators can't charge a subscription for users to access their content.
Nor is it a cam site – sort of.
So never mind what it isn't – what is it? Well, it's a site where you can upload your photos and videos and charge people to view them on a one-off basis. But it started primarily as a live cam aggregator and then introduced a premium chat feature, and that's still a huge part of the service offered. Creators can sign up, chat to users (charging for messages) and then sell them content, including custom content created just for them.
The site used to be called Megacams, but because people assumed that it was a camsite, it rebranded as Flirtback in 2022.
What kind of content is allowed on Flirtback?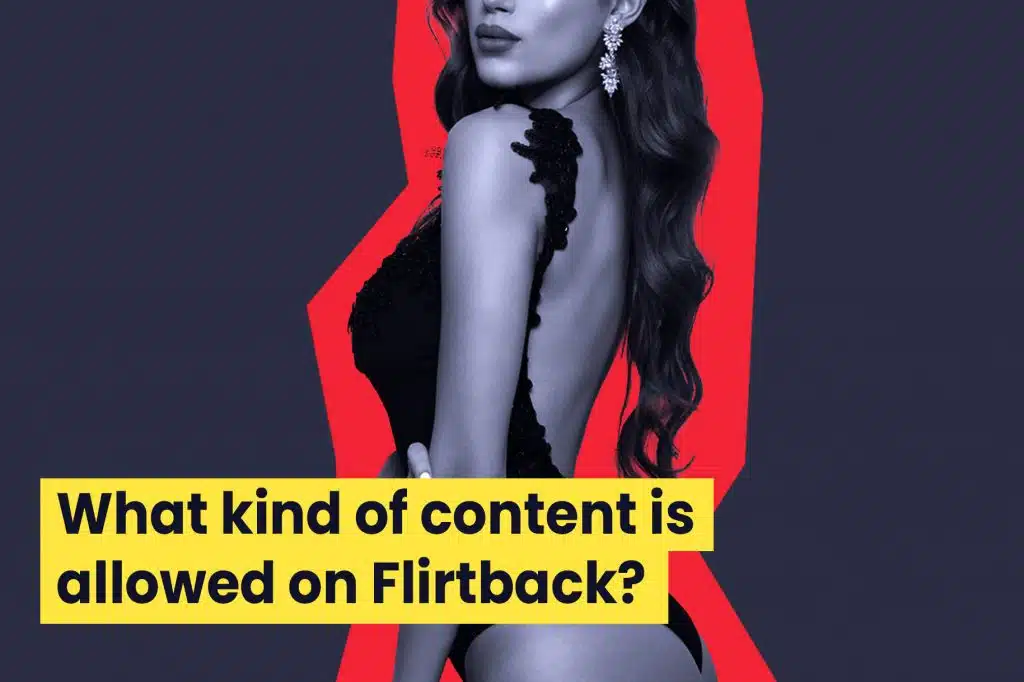 Flirtback is very much an adult website. Some platforms advertise themselves as being designed for creators of all kinds, not just for sexual content, but there's none of that with Flirtback. It is 100% for adult creators, even down to the recommended porn websites that you can visit.
The site says that it "celebrates sexuality" and is fully accepting of all individuals, so it's not just aimed at one particular niche audience. As long as you're not posting any content that would be considered illegal then you should have no problems uploading your hardcore sexual content to the site.
How can creators make money on Flirtback?
There are a few different ways that creators can make money through Flirtback. It's important to again state that this isn't a site with a subscription model. Instead, you get paid on a one-off basis for your services, whether that's chatting, or for your photos and videos. The only exception is with tipping – more on that in a moment.
First though, you need to be aware that Flirtback works with a token system. If you're not familiar with this, it means that users don't pay direct cash to creators on the site. Instead, users first buy tokens, which are kept in their account, and then they can spend those tokens on the site on messages, or to unlock content.
It's very similar to the system used on a lot of cam sites. On Flirtback these tokens are called MEGAs.
So, creators can make money by chatting with fans. By default, chat starts free but it's easy for a creator to change how much they want to charge per message. They can also send attachments – photos or videos – through the chat to an individual, again setting a charge against it. It's a great way to engage with a fan, offer them some custom content just for them, and then sell it to them.
The other main way you can make money is by uploading your photos and videos, and selling access to them. Users pay a one-off MEGAs fee to access the content, which you can either sell on an individual photo/video basis or by album. Users likely won't pay much for a single photo so it's best to curate albums, but for videos, if the clip is long enough you can justify selling them individually.
You don't have to put a price on all of your content, which means you can upload some teasers for free. Flirtback recommends you have a mix of paid-for and free content, otherwise users won't be interested in your paid content – they won't know much about what you look like and what you get up to, which you can tease through free content.
The other way you can make money is through tips. And this is the only way you can make a regular guaranteed income on Flirtback. Users can either tip you on a one-off basis, or they can set up a regular weekly tip that is paid automatically.
Users won't get any direct benefits from this, so you need to build a relationship with your fans in order to justify tips. Many users of adult sites are happy to tip so that they can become your favorite, but you don't want to go for the hard shill either. Spend time engaging with your fans, and maybe offer some special bonus content for anyone that sets up recurring tips once you've got that relationship with them.
Payments are available via different methods including Paxum, SEPA, ACH, Bitsafe, and international wiring. Payments are all made in Euros, and there's a fee for some of the withdrawal services. Bitsafe is their preferred option, and it doesn't have a fee. There are two payment periods each month, running from the 1st to the 15th, and from the 16th to the last day. You'll get paid 7 days after the end of each payment period, providing you've reached the minimum payout level of 50 Euros.
What features does Flirtback have?
Flirtback has a few extra features designed to enhance your experience as a creator.
Blocked countries
Sometimes referred to as geoblocking on other websites, this is a function that lets you stop people from a specific country from accessing your profile. If you don't want your friends or family to know that you're creating adult content online, then you can block your home country, and your profile won't show up to any users in that country.
Obviously depending on where you live this could severely restrict your potential audience, so you need to weigh up whether it's the right decision. But it is useful if you are extremely worried about someone you know finding out about your adult career.
Referrals
Flirtback has a referral system which also acts as another revenue stream for creators. Once you've signed up you'll be given a referral link, and anyone that signs up to become a creator on Flirtback could earn you extra cash.
Flirtback's referral system works a little differently than other sites, which normally offer a percentage of all earnings over a fixed period (1-3 years), or sometimes for the lifetime of the account. With Flirtback they provide a fixed fee – once a referred creator earns 50 Euros, the referee also gets 50 Euros.
This means that if you refer a really successful creator you'll be losing out in the long run, but at least it is clear what you'll receive in advance.
Push notifications
Flirtback is a site that's designed to work well on mobile. It doesn't have an app – no adult websites can, due to app store rules – but the mobile website is optimized to make it really simple to use.
And Flirtback capitalizes on this by using push notifications which tell you when you've received a new message, so that you can reply almost instantly. Depending on your browser there are different ways to set up push notifications, all detailed on the Flirtback website, but if you want to be serious about your Flirtback career then this is a handy tool to make sure you can reply to fans quickly and keep them engaged.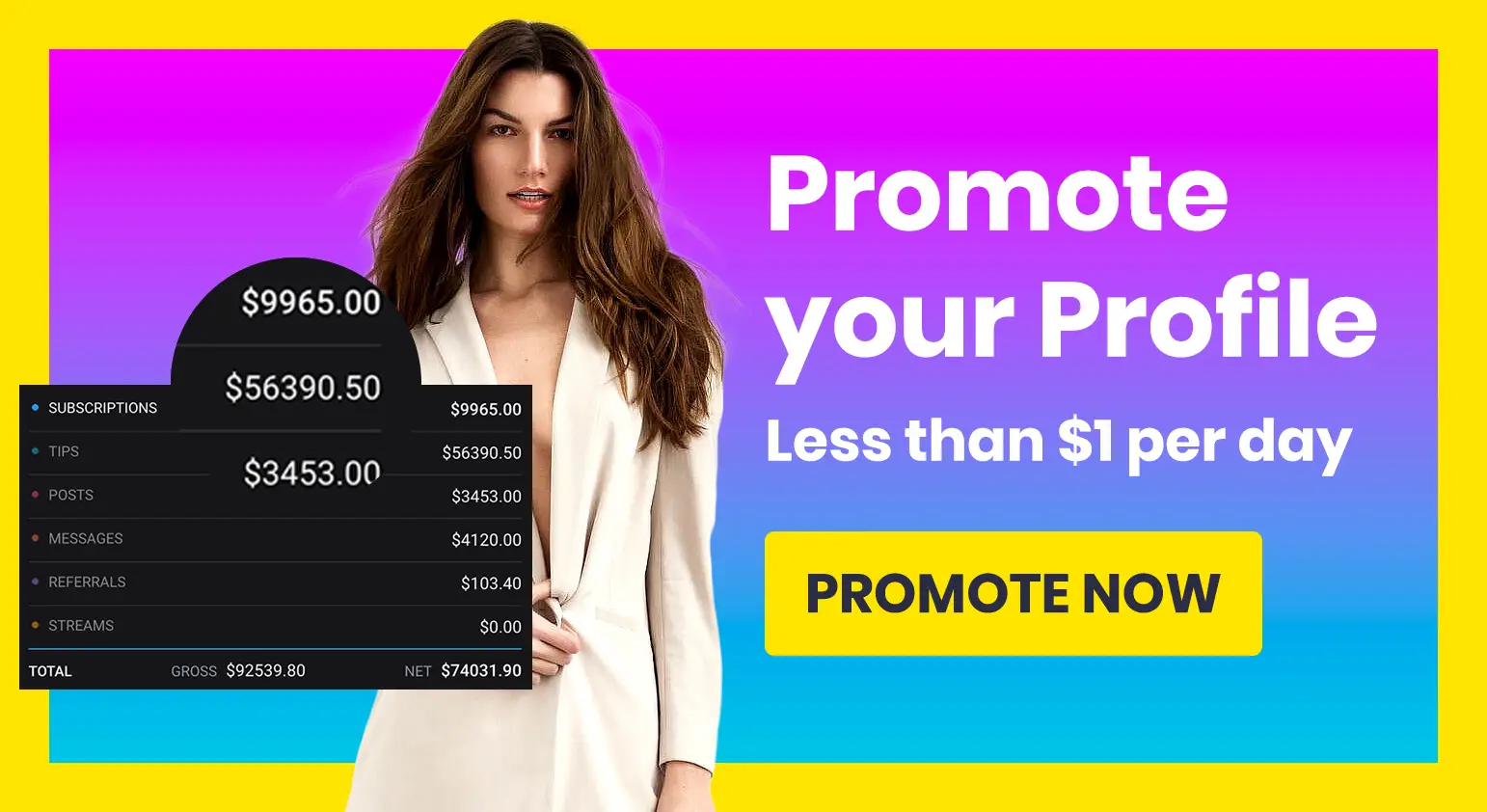 Knowledge Base
Flirtback has its own Knowledge Base. This is more than just an FAQ about how to use the website, as it includes handy videos and guides on ways to have the most success when you're online. There's even a (very short) guide to setting up an OnlyFans account, showing that Flirtback doesn't believe it is a direct competitor.
The guides are OK, though not always super detailed and the layout of the site is definitely tailored for mobile – if you're using it on desktop or laptop then the formatting isn't great. But it's worth checking out.
How does Flirtback make money?
Flirtback isn't a free service. It exists to make money. And being honest, this is where some creators may be put off using it as a service, once you dive into the figures. But there is justification for that, so let's lay it out.
Flirtback is not a cam site, nor it is a subscription platform. But to give you some context, most cam sites charge around 50% of a model's earnings as a fee, which they justify due to their extremely high bandwidth costs for running hundreds (if not thousands) of live videos at a single time.
Subscription platforms like OnlyFans charge less, usually taking a 20% cut of a creator's earnings.
Flirtback sits closer to the cam site side, taking 40% of a creator's earnings from messages, content sales, and tips. That's a relatively recent change too, as the site previously took a 50% cut, so things are improving.
Flirtback doesn't have the same bandwidth costs as a cam site does. They don't host live videos (more on that just below). So why does it charge 40%?
That's a decision taken by Flirtback to help differentiate it. Because Flirtback's unique selling point is that it doesn't just take your money and hoard it. Instead, it uses a large part of its cut to fund marketing and direct advertising – not just for Flirtback, but for its creators.
If you're one of the more engaged creators on the site, interacting with fans and posting content regularly, then Flirtback will invest in you by paying for direct advertising of your profile, sending you users who could pay for your content.
This makes it clear that Flirtback is not aimed at people with an established following. If you already have thousands of paying subscribers on another website, Flirtback may help you grow your business but they'll take a larger cut.
But it does mean that Flirtback could be ideal for anyone starting out without the advantages of a big social profile. You won't see the benefit at first while you establish yourself as an active creator, but once you are posting content regularly and chatting with site users, Flirtback will pay to help you grow your audience. Essentially, part of the money you're giving to Flirtback will be reinvested in marketing you.
It won't work if you don't take Flirtback seriously, since you won't benefit from the promotion, but it is a good feature for people new to the adult content creator industry who need a helping hand finding fans.
Affiliate cams
The other way that Flirtback makes money is from live cam shows. Now as we've said, Flirtback doesn't host these shows, but instead it is an affiliate for other cam sites like Chaturbate, xcams and others.
This means that, when someone visits Flirtback and wants to view a live show, Flirtback directs them to that model and takes a cut of the earnings of the cam site. They don't take a cut of the earnings from the model.
Now, where this might get a little controversial is that Flirtback doesn't just wait for people to add their live show to their site. Instead, they partner with the cam sites to advertise models, and build a basic profile on the Flirtback site that shows the history of that model.
What this means is that, if you use cam sites, you might visit Flirtback and see that apparently you already have a profile with them! Don't panic, this hasn't been set up by someone pretending to be you, and you can claim the Flirtback profile to take ownership of it.
You won't start making referral money from it, but you will be able to add extra content for anyone who does already follow the profile.
It might seem a little weird, visiting a site where you have a profile that you didn't create, but it isn't costing you any money and you can use it as another platform to sell content if you want to.
Also, if you aren't happy with this, then Flirtback has guides to help you remove your profile from their site, including how to change settings on your cam site to stop it happening elsewhere.
How easy is Flirtback to use for creators?
Flirtback isn't going to win awards for redefining how good user experience can be, but it's not bad either. It's clearly designed for mobile, which makes everything look a little bit spread out and basic on desktop or laptop, but menu options are clear enough and the site is quick to load.
Becoming a creator only takes a few steps along with verification, and uploading content is easy. The fact it is designed for mobile user and has push notifications means you can easily manage your profile on-the-go.
How easy is Flirtback to use for site visitors?
The experience for users is pretty similar. One benefit Flirtback has over some (but not all) sites like OnlyFans is that it's easy to browse users. You don't have to rely on having a direct link, you can look around and find people who look interesting to chat to and buy content from.
There's a search function, some keywords tags and the ability to filter to only see free content or to choose a price range, which does just make it easy to find the kind of content you'd be interested in and can afford to pay for. Overall, it's pretty solid.
What's Flirtback's support like?
Flirtback offers a pretty comprehensive FAQ list, but if you don't find the answer you need there you can email the company using a webform or get in touch via their various social media channels.
When reviewing a site's support, you can only judge it based on the regular online feedback about the site – sending a one-off message to test response times isn't indicative.
And the good news is that there is no real online feedback about Flirtback's support. People don't tend to review in a positive way, negative feedback is always the loudest and most prominent, so the fact that creators aren't decrying Flirtback's support times online is a good sign.
Final verdict
Flirtback is certainly a little different. From its cam show aggregation including setting up profiles for models without their involvement, to the lack of subscriptions, it does sit in that space between a site like OnlyFans and a site like Chaturbate.
But it's important to remember that what makes it unique is the commitment to investing in creators and sending traffic to them.
If you're a new creator who isn't confident in their ability to self-promote but who knows they will be dedicated to posting content regularly and interacting with users, then Flirtback could be the perfect site for you, even as a stepping stone to building a subscription profile elsewhere further down the line.