👋 Got a fan account that needs a boost? Promote it here. We support ALL platforms ❤️ Get a FREE digital eBook packed with Onlyfans tips with every ad purchase!
ManyVids is fast becoming an established alternative to sites like OnlyFans for content creators. It has a model that's very similar, but with some key differences, including a much larger focus on content with a one-time fee. How does it stack up, and is it worth considering as your main income source as a creator? Let's take a look.
Pros
Loads of ways you can make money
Great online support and tutorials
Easier to get discovered by new fans compared to some platforms
Cons
Not as well-known a name as some platforms
So many options for content can be overwhelming for new creators
What is ManyVids?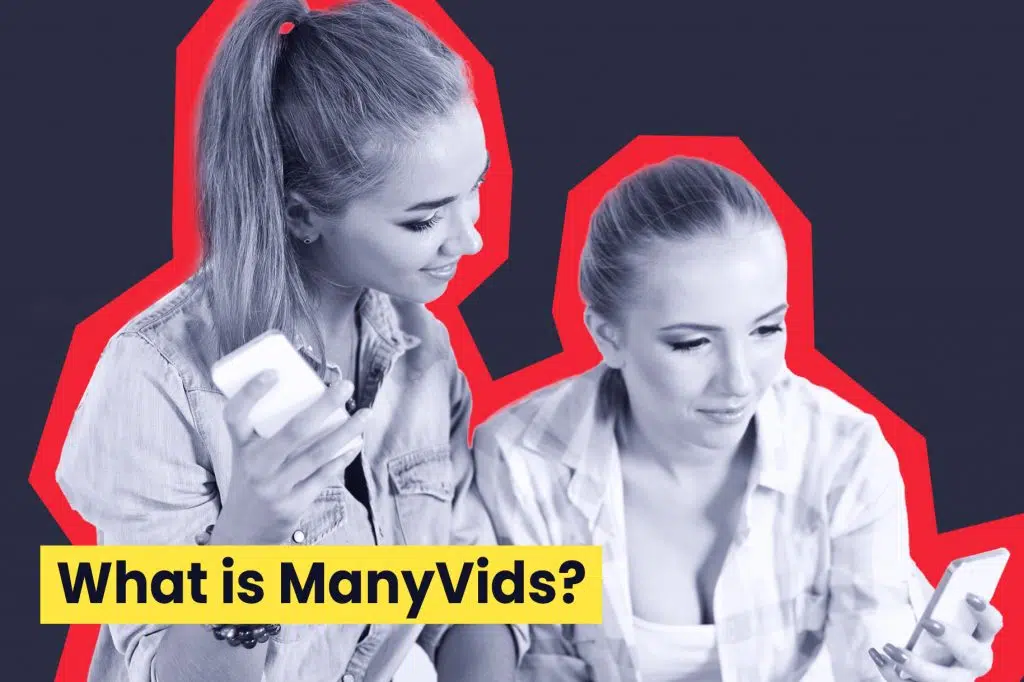 ManyVids is a website that allows creators to showcase their talents and earn cash from the videos and photos that they put their time and effort into. It offers a number of different ways that creators can turn their content into a revenue stream, giving you the most flexibility and potential possible.
The site was set up in 2014 in Canada, which makes it somewhat of a veteran site when compared to some other platforms that have been created off the back of the fame of OnlyFans. Despite that longevity, it doesn't quite hold the notoriety of sites like OnlyFans and some of its biggest competitors, although it continues to grow both its creator base and its monthly visitors.
What kind of content is allowed on ManyVids?
ManyVids permits content creators of all kinds, including work-safe creators and those making adult photos and videos. There are of course limits – nothing illegal can be posted – but the content rules are otherwise pretty forgiving.
This even means that some videos are flagged with an extreme content warning because they're of a particularly narrow and taboo niche that some people may not enjoy, but they are within the boundaries of the upload policy.
While ManyVids does advertise itself as being suitable for all content creators, expect the majority of videos on the site to be adult in nature. Even if you visit the sub-genres for things like food or fitness, a number of the videos shown within those categories will be adult-oriented videos that involve those themes.
How can creators make money on ManyVids?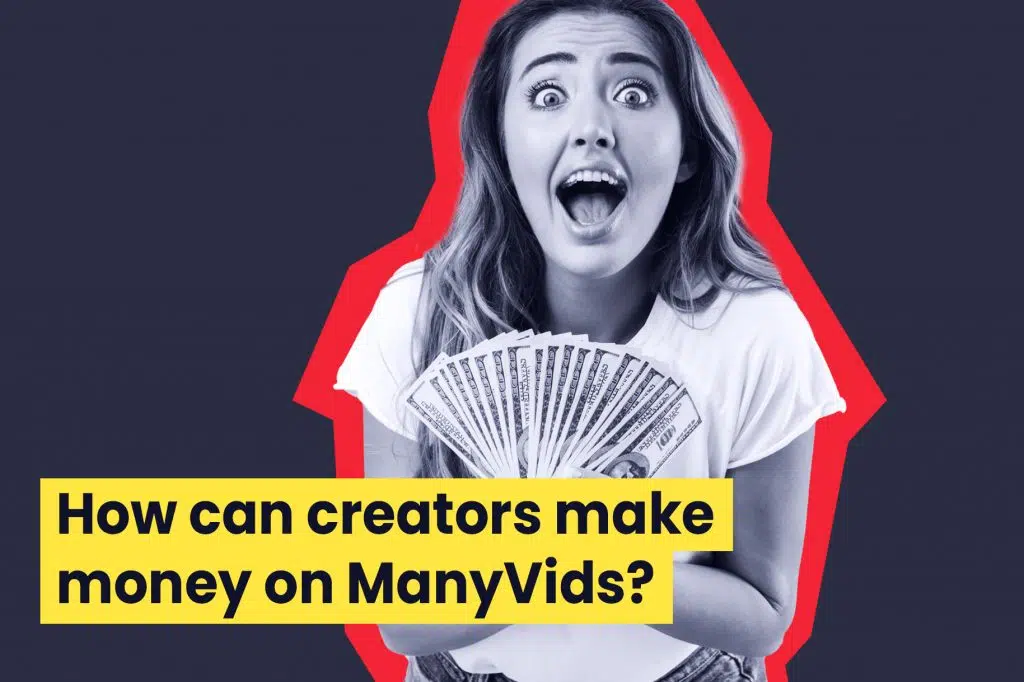 There are so many different ways that creators can earn money on ManyVids – you can use as many or as few as you like. Here's a look at the main options:
Selling videos
Creators can upload videos to ManyVids and assign a single one-off cost to them. People visiting the site will pay this one-off fee and then have access to that single video, as many times as they want to watch it.
You can set whatever price you like for these videos all the way up to $999, although most videos are much more conservatively priced, at around the $5-15 mark. You can also upload some free videos, which is recommended – it helps to let people see what you're about, and get to know you. By watching your free videos, they're more likely to pay for your exclusive content.
VIP FanClub
The VIP FanClub works in much the same way as many other fan platforms. Firstly though, let's explain – ManyVids has a social feed called the FanClub, where creators and users (and the ManyVids team) can post updates, videos and photos.
But you also have your VIP FanClub, where you'll have exclusive photos and videos that only paying subscribers can see. You set your subscription rate, and then if someone signs up, your hidden posts will appear in their FanClub feed.
These photos and videos are not the same as the ones you're selling for a one-off fee, so you need to decide when you upload content whether it's something for your VIP FanClub or that you want to charge for on an individual basis.
Memberships
It's really important to be clear here on the differences between Memberships and the VIP FanClub subscriptions, because they are different.
A VIP FanClub subscription gets a user access to the posts you've chosen specifically for that feed.
A Membership gives them access to all of your video content that you're charging a one-off fee to view. Instead of buying each video, they can pay for a membership and access all videos you've added, as well as future ones, while their subscription is active.
For that reason, Memberships tend to be a lot higher priced than subscriptions. VIP FanClub subscriptions might average $5-10 a month, while a Membership could be as high as $200 a month – but if you have over $1,000 of paid-for video content and you keep adding more, that could be good value.
Again, it's up to you to set your prices, but these give you lots of options on how to price your videos.
Custom Videos
As well as the videos you choose to shoot, you can also offer a custom video service. These are typically higher priced, but allow people to send you requests for what they want you to film for them – it might be something in a specific outfit, or talking directly to them.
You're under no obligation to offer this service, and you can also refund someone if they ask for something you aren't comfortable with. But it's a great way to offer a personalized service to your biggest fans.
Tips
As with most platforms of this nature, you're able to accept tips on the website. Tips are paid for no reason other than someone wanting to support you, so make sure you're engaging with your fans as much as possible in order to drive them to want to tip you.
Don't constantly ask for tips – that becomes off-putting – but make sure people know that it's an option if they want to.
Fundraising
Fundraising is sort of like tipping in that you don't need to offer any particular product or piece of content, but essentially you set a financial goal and ask your fans to contribute towards it. You might attach a reward to that fundraiser – either a specific video, or maybe a promise to buy an outfit that you'll use in future content. That's up to you.
Contests
You're able to run contests on your page if you want to. These vary in nature but you ask members to pay a fee along with their entry, and you might offer a reward in the form of a custom video or even a physical gift. It's a good way to encourage fans who don't have the funds for a custom video of their own to enter a contest to potentially win one, for a much lower fee.
Text Chat
Members who want to chat to creators have to pay in order to send a message, with the cost per message set by you. You don't want this to be too high, as you ideally want to encourage an on-going conversation. This is a great way to engage your fans too.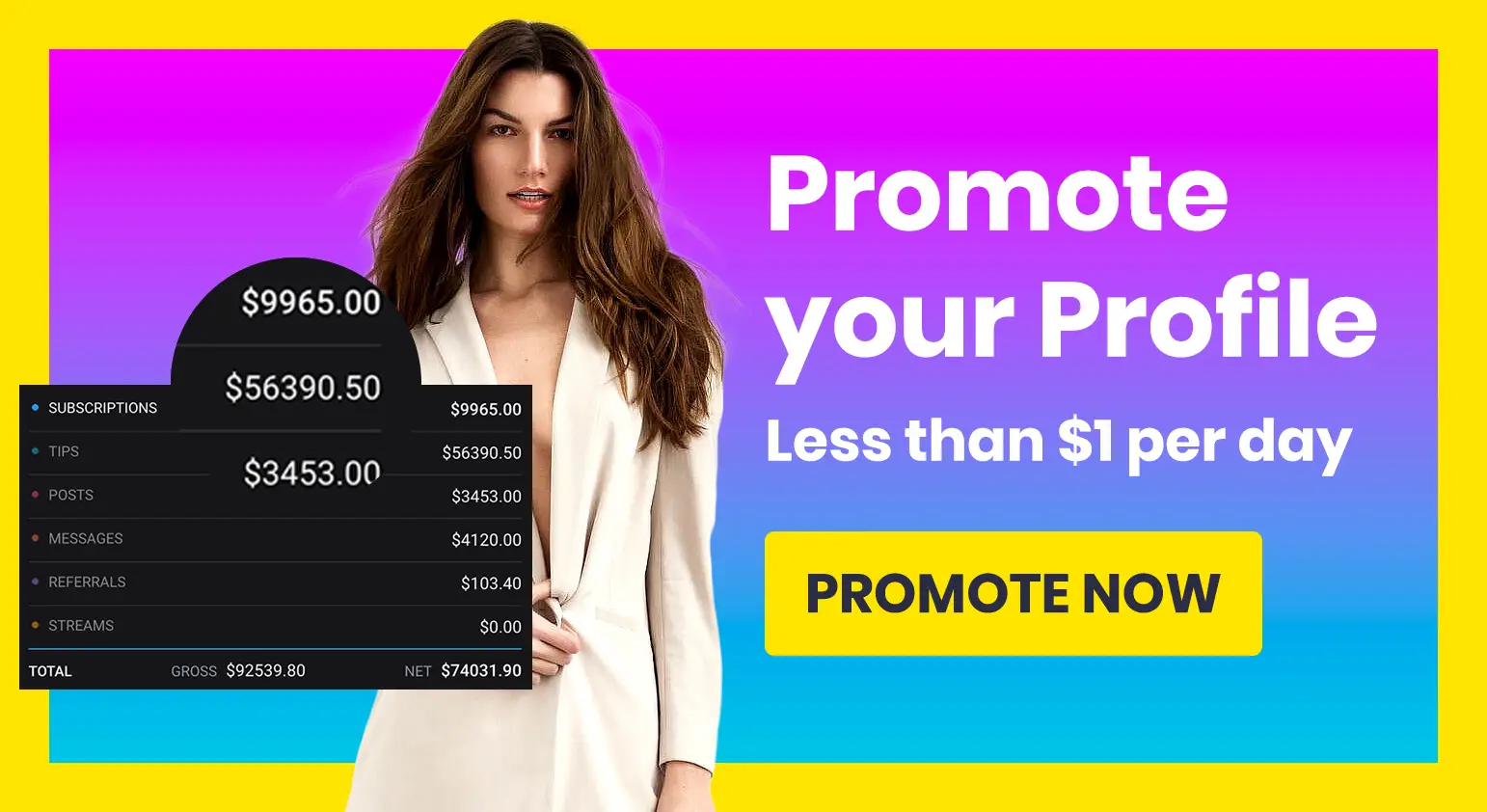 Video Chat
Video chats are like text chats taken to a higher level. You charge for a set amount of time, but ManyVids will display the cost per minute as well – so it's a good way of setting up deals by showing that a 90 minute video might cost a lot more, but it's actually a better per-minute cost. Just be careful to make sure your pricing makes sense, and you can then engage members in video chats that can be great for engagement but also earn you a high amount of revenue.
Live Shows
Live shows work just like they do on other camsites, and have a lot of the same features built in. Users don't pay directly to watch a live show, but can buy tokens to send your way in exchange for you carrying out certain actions. Lovesense interactivity is built into the site too, so users can control a Lovesense toy directly with their token contributions.
As you can see – there are so many ways you can earn. Remember you don't have to do them all, and can pick the ones that work best for you.
What features does ManyVids have?
The majority of the features that ManyVids offers are related to the various ways you can earn money, but there are some other features worth mentioning:
Animated profile icons
You have the option of making your profile icon animated, showing a short video clip instead of a static image. This helps you to stand out and showcase what you're really about, and unlike some other sites, there are no limits on what you post here.
Some sites allow for intro videos or animated icons as long as they don't contain hardcore imagery but that isn't a concern here – many users have glimpses of their most risqué content here.
Store
As well as the store for your video clips, you can also use the site to sell items too. These might be physical gifts – some people choose to sell used panties – or it could just be a one-off way for someone to treat you. Some creators set 'items' as things like "Treat me to a day off" or "Treat me to a new toy".
Discounts
You can easily offer discounts on your videos or store items whenever you want to with the built-in feature. This is a great way to generate some short-term interest, and can encourage people to buy some of your best clips and then hopefully return to pay full price at a later date.
About Me
Every creator has a space to write a comprehensive About Me which gives details of what you're into, the kind of content you make and more. This is a chance to really showcase your personality and tell people what they'll get if they part with their money, so make the most of it!
MV Stars Discoverability
The biggest feature is the way that ManyVids makes it easy for users to discover new people to follow. Unlike some sites where this is basically non-existent, ManyVids has a great page where users can search creators to find people they're interested in.
Every creator is called an MV Star, and users can look through all the MV Stars on the search pages. They can refine their search in many ways, including by age, location, hair and eye colors, breast type and size, and by specialities including tattoos and long nails.
How does ManyVids make money?
ManyVids makes money by charging commission on the money you make, the same way other fan platforms work. The commission rates are relatively standard – 80% for most types of content including VIP FanClub subscriptions, tips, custom videos and video/texts/calls. They do charge 60% for paid-for videos and Memberships, but this is also relatively standard.
How easy is ManyVids to use for creators?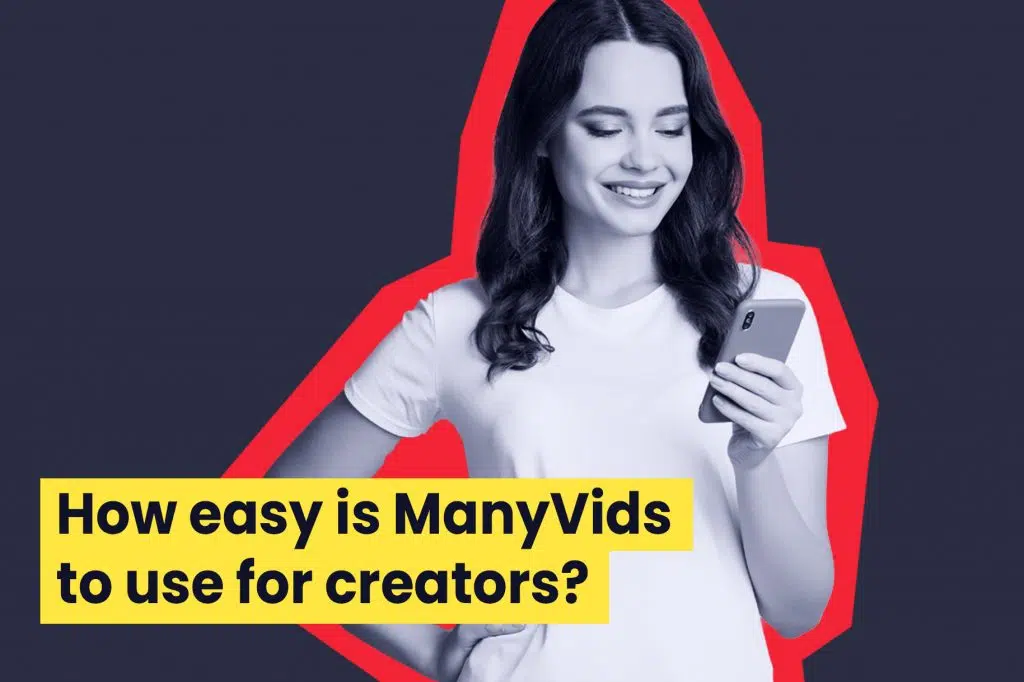 One of the few criticisms you could level at ManyVids is that, when a creator first visits the site, it can be quite overwhelming. There are a lot of options available, and the descriptions of the differences between Memberships and VIP FanClub subscriptions are a little bit buried.
But, take the time to go through the tutorials on offer, and it quickly becomes clear. In fact, the MVU tutorial site is fantastic, and makes it really simple for creators to not only get started, but to make the most of their content too.
If you take the time to go through the tutorial videos and pages, then it's one of the easiest sites you could use as a creator.
How easy is ManyVids to use for site visitors?
ManyVids is relatively easy for site visitors to use as well. When you first visit you can set the parameters of what you're looking for, and then it's easy to navigate around the site, find new people to follow and build up a custom feed.
Again, it's a little unclear on the differences between Memberships and VIP FanClub subscriptions, and a user coming to the site may struggle to find the VIP FanClub sections at first glance. A little more help for users would be good here, but once they get used to how the site works it becomes effortless to get around.
What's ManyVids' support like?
While ManyVids can be a little overwhelming at first, as soon as you dig into their MVU support site those worries quickly evaporate. There are extensive guides, videos and FAQs available to tell you everything you could need to know about the site, whether you're a creator or a visitor.
Independent reviews of the support are generally positive, suggesting that responses to individual questions are normally quick and personalized, although a couple of people have reported feeling like they're getting automated replies that don't help. These are the minority of comments though.
Final verdict
ManyVids is definitely worthy of your consideration for hosting your content. There are so many ways you can monetize the content that you make, and to interact with your fans in one place, that you can make a great living if you work hard at it.
Of course, there are no guarantees on the traffic levels of the site, so while numbers have grown it may be worth operating a ManyVids profile alongside another one until you grow one of them to be self-sustaining.
But for the overall wealth of options, the excellent support and tutorial content that's available to help you, and the easy-to-use discoverability features, ManyVids could absolutely be a great website where you can sell your content and build up a substantial fanbase.
ManyVids FAQs
Who can use ManyVids?
ManyVids is open to any content creator looking to turn their photos and videos into a successful career. It is open to all kinds of content, providing it is legal. This includes adult content, although it positions itself as a platform that is suitable for both work-safe and not-safe-for-work content.
What are ManyVids' Forbidden Words?
ManyVids has a list of words that creators cannot use in the titles of their videos. These words would cause problems with the payment providers that the site works with, and most of them are related to illegal content including words such as "drugs" and "murder". The full list of words can be found on the ManyVids website.
What is the MV FanClub?
The MV FanClub is a sort of social network that lives on the ManyVids site. It allows users and creators to see updates from other creators and from the site itself, and to share their own updates too. The VIP FanClub is an extension of this, which allows users to post exclusive content only for their subscribers.
What are extreme content warnings on ManyVids?
Some creators post content that falls within the acceptable limits of the MV content rules, but that would be deemed a niche video due to its taboo or risqué nature. These videos will have been flagged to the MV team who will place an extreme content warning on them. Users can still view these videos, but they won't autoplay by default as other videos normally would.
How long should videos on ManyVids be?
The length of a video is completely up to the creator, but a recommended length for videos is between 7 and 15 minutes on average. You can charge more for longer videos, but you may wish to split them up into different parts – that way, you can charge twice for the same extended piece of content.