👋 Got an OnlyFans, Fansly or other fan page account that needs a boost? Promote it here. We support ALL platforms ❤️ Get 15% OFF with coupon code "LIMITED15"
OnlyFans created a real movement for online creators, but the platform is far from perfect. A number of rivals have been set up to either capitalize on its success or to fill a gap by offering creators a better alternative. And that's where FriendsOnly claims to sit – something that's like OnlyFans, but different, and more importantly better. Read on to find out if they're right.
Pros
Unique algorithm helps new creators build a following
Robust support system and analytical tools
Extensive referral system offers passive income options
Cons
Still an up-and-comer, but with tons of potential
Video content only – no photos except for slideshows
What is FriendsOnly?
FriendsOnly is a creator platform that allows creators – called 'Authors' – to upload video content to be shared with their fans. Content can be provided freely or hidden behind a paywall, either as a one-off purchase or as part of a subscription.
In that respect, FriendsOnly is similar to OnlyFans, Fansly, iFans and other platforms which allow for creators to earn an income from their fanbase. The main difference for FriendsOnly – although there are a few other key features it offers too – is in how the homepage works.
The homepage for FriendsOnly is more like a TikTok feed. It has a carousel of free videos for users to browse based on their interests, as determined by the FriendsOnly algorithm. Any author's content can appear here, even if they're relatively new to the site. This offers a fantastic opportunity for authors to quickly build up a fan base that they can convert into paying subscribers.
What kind of content is allowed on FriendsOnly?
FriendsOnly allows all types of content that is legal – the obvious illegal subjects are barred from the website. It's not an adults-only website either, although many of the authors on the site do post suggestive or sexual content. FriendsOnly declares that they're open to all creators, whether you want to post videos about fitness, cooking, educational subjects or whatever you think will be interesting to fans.
Because FriendsOnly has its algorithm which shows users videos that it thinks will interest them, this actually allows for creators to target the people that will be more interested in their content. Other platforms which claim to be for 'all creators' end up with non-sexual profiles muddled amongst the majority of adult ones. With FriendsOnly you can have your fitness videos displayed to people interested in fitness, without fighting for space on the site between nude models.
And for adult creators this is even better too, because it means your videos are shown to people interested in adult content, and in your particular niche too, providing you have one.
How can creators make money on FriendsOnly?
There are many ways that authors can monetize their content on FriendsOnly, providing a lot of opportunities to make a success of their creator career.
The biggest, as it is with other similar platforms, is through fan subscriptions. This is when fans sign up for a monthly fee to access videos normally hidden behind a paywall. One of the key benefits of FriendsOnly is that you don't need to create multiple accounts to share free and paid content – something you need to do with OnlyFans. Instead, you can manage it all from one account. Any paid content in your grid is just blurred out for non-paying users.
You can also offer a trial subscription at no cost. A lot of the time users are worried about committing to a monthly payment without seeing what they get in exchange. By allowing users to get a sneak preview of your subscription content you can prove to them that it's worth the cost.
Individual videos can also be uploaded for a single fee, where any user – whether they subscribe to you or not – has to pay a one-off amount to watch it. This is a great way of creating even more premium content to get your best subscribers to pay more than normal, and to generate cash from users who don't want to commit to regular payments.
It's the same with live broadcasts – you can set up a live stream and charge users to access it. Users are often willing to pay more for a live broadcast since it's often more interactive and exciting.
There are two other 'standard' ways that authors can make money, and that's through tipping and by charging for private messages. Tipping is turned on for all authors and allows users to send you extra donations freely. You can encourage this (without being too needy) through private messages, or keep your messages locked behind a paywall if you want to offer exclusive chat services to your best subscribers.
As well as charging for your own content, you can make money through the FriendsOnly referral scheme. This passive income can be a great way of supplementing your main earnings.
Any user or author that you refer to FriendsOnly will generate you 5% earnings of all of their activity. With most fan platforms referrals only apply to creators, so this is a great benefit that helps FriendsOnly stand out. Not only that, but for any active author you do refer to the site you'll also get a $100 one-off bonus payment too.
Between creating paid-for content, charging fans for access to messaging services and through the generous referral scheme, there are a lot of ways that you can make money through FriendsOnly to create a successful career from your fanbase.
What features does FriendsOnly have?
The main feature of FriendsOnly is its algorithm. This clever AI determines what content is shown on the FriendsOnly homepage.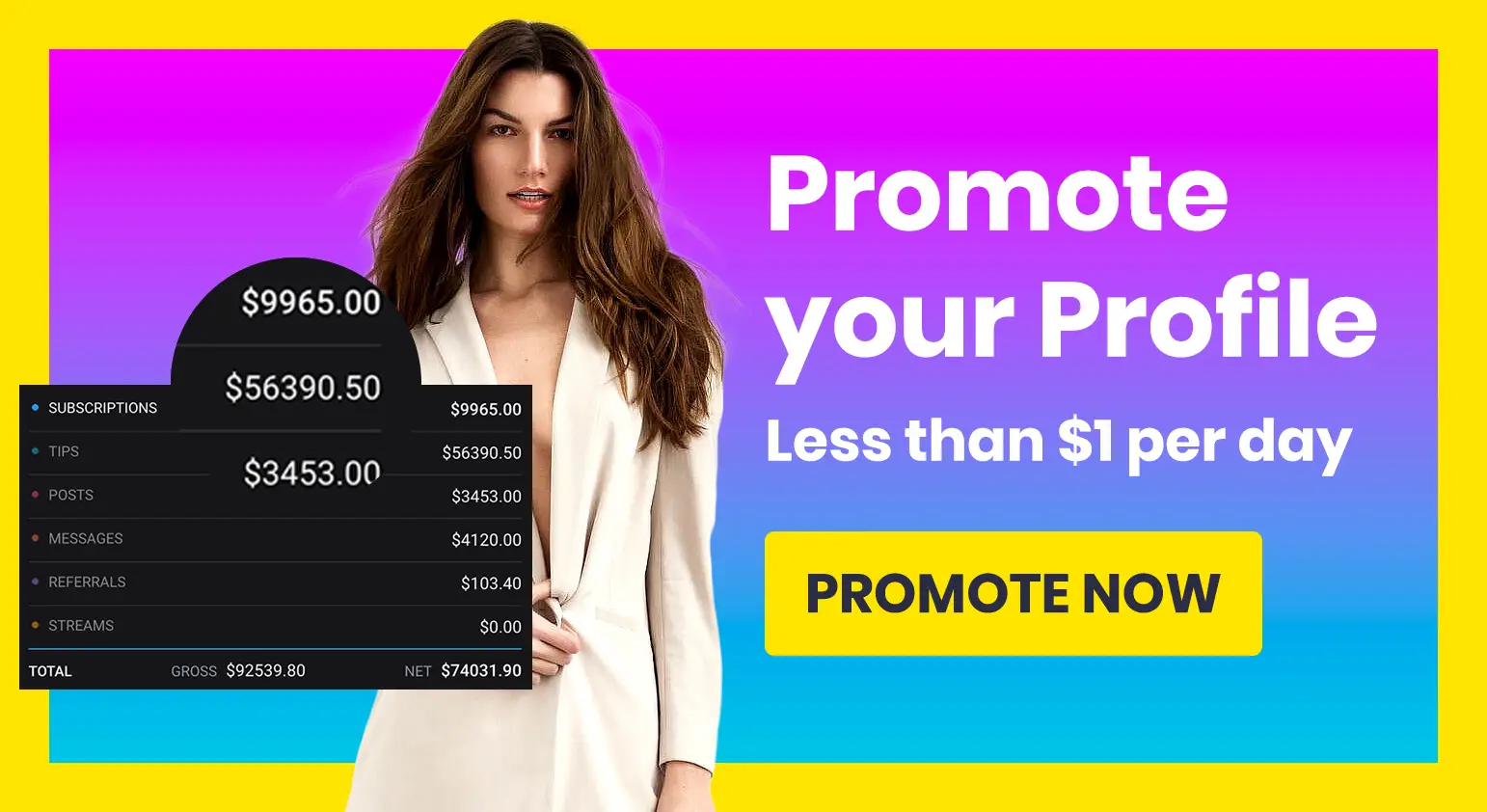 Most fan platforms, and in particular OnlyFans, are pretty poor at helping creators to build their fanbase. Discoverability features tend to be lacking – you're essentially on your own to build up interest in your profile through your existing social media channels.
So, the fact that FriendsOnly have this homepage carousel, and that its built on an algorithm that promotes the best content for the user, is a huge advantage. Some platforms may have something a little bit similar, but the space is reserved for creators who pay for promotion. Not here – any author, no matter how new they are to the site, can have their free videos advertised in this space if their content is relevant.
Another unique (to our knowledge) feature of FriendsOnly is the option for authors to sign up to an affiliate program. Through this, professional affiliates will take on a large chunk of the work in finding new fans and subscribers for the author, in exchange for a cut of the earnings.
If you're someone who wants to focus purely on creating content, and you don't mind giving up some of your revenue to get help with promoting it to build up the subscriber base, then this is a great tool to help you out.
How does FriendsOnly make money?
FriendsOnly makes it money by taking a commission cut of any earnings you make from your subscriptions or any one-off payments. The commission that the site takes is 20%, which is pretty standard for fan platforms. There are a handful that only take 15% but in most cases, including with OnlyFans, 20% is the standard commission fee taken.
This doesn't apply to any referral fees you make – commission for those is taken from the author you've referred payments to, and instead your 5% comes out of their fund – you don't pay 20% fee on that 5% you earn.
How easy is FriendsOnly to use for creators?
If you've ever used TikTok, Instagram or indeed any other social platform – and who hasn't – then you'll find it easy to adapt to FriendsOnly. Uploading content is really simple, and you can easily determine which videos should be free, which are for subscribers and which are paid-for.
The only thing that is a little more difficult than with other fan platforms is uploading photos. Technically it's not possible with FriendsOnly – you can only upload videos. So instead you'll need to create a slideshow of your photos before you upload it to the site.
Thankfully it's at least easy to track how your content is performing – there are some great tools available to help you manage your stats. More on that in the support section below.
How easy is FriendsOnly to use for site visitors?
Users who visit FriendsOnly should have no problems navigating their way around. And because of the algorithm, it's so easy to find new creators to follow and potentially subscribe to. Users will be shown content that is relevant to their interests, so you don't have to spend ages searching to find authors that produce videos you'd be interested in.
It does take some time to get used to the layout of the site, especially if you're on desktop – it's very much aimed at mobile users. But you'll soon get the hang of it.
The option of trial subscriptions also makes a user's life much easier. It removes some of the 'risk' of paying for a subscription to only be disappointed by the content. As long as an author is using the trial option, then users can get a preview and make sure that their funds are worth spending on the videos hidden behind the paywall.
What's FriendsOnly's support like?
The support available to authors on FriendsOnly is really good. Once you sign up as an author you're assigned a personal manager who will help you with any queries you have and make sure you're comfortable using the site. There's help available 24/7 so you don't have to wait weeks for a generic response to your question, like some fan platforms may make you do.
There's also an FAQ on-site that answers some of the most popular questions, meaning you often don't even need to wait for a reply – you can find the answer to your query yourself.
Further support is provided through the statistical tools that every author has access to. These will help you to see whether your content is having the desired impact, and suggest ways that you might want to change your approach.
You'll be able to access information on the geographical location of your subscribers, the content that they're interacting most with, their activity on the site and also how much you've earned that month. Stats are available in straight numbers, graphs or diagrams, so however best you enjoy viewing your analytical information you'll be catered for.
And what really makes FriendsOnly stand out is the offer of extra motivation for the most successful authors. Anyone who helps to build up the userbase of FriendsOnly could win gifts as a thank you, ranging from the latest iPhone to a premium car or holiday to a tropical destination.
Final verdict
FriendsOnly has made great efforts to create an experience that is distinctive from the standard OnlyFans-style platform. Ultimately authors will still make money in similar ways – through subscriptions, tips and one-off payments – but the whole experience is much closer to a more user-friendly social network, and the support available is excellent.
Whether you're a creator that wants a helping hand building up your fanbase, or you just want to make sure your videos are targeting people who are interested in the type of content you produce, then FriendsOnly could be a great option. FriendsOnly does have a lower userbase than OnlyFans but getting in while it's still being built up, and contributing to growing that audience, could be really fruitful for you in future.