👋 Got a fan account that needs a boost? Promote it here. We support ALL platforms ❤️ Get a FREE digital eBook packed with Onlyfans tips with every ad purchase!
When you decide to start your content creator journey, one of the things more experienced creators might ask you is whether you've chosen a niche.
This might be something you've already put a lot of thought into, or it might not be something you've considered at all. You might not even know what they're talking about!
But as niches become more popular, and there's more and more diversity on OnlyFans and other platforms, it's important that you're at least aware of your options, and that you make the right choice when setting up your profile.
After all, your OnlyFans niche, or your niche on whatever platform you choose, is what will set you apart, and it'll define everything you do – the content you create, who you target, and how you speak to people.
What is a niche?
The definition of a niche is a specialized segment of a market – like a particular area that you focus on. In the context of fan platforms, a niche means that you create content that appeals to people with a specific interest, rather than creating adult content for everybody.
You can probably think of some of the obvious ones immediately – there are people who create content about feet, or cosplay content, those sorts of things.
But there may be less obvious options available that you could consider too, which we'll cover in this guide.
The purpose of a niche is to find a particular audience – people who are looking for content that directly appeals to them. Everybody has different interests, preferences or even fetishes, and choosing to narrow your appeal to serve one or two of those can be beneficial when setting up your content-creation profile.
Do I need to choose a niche?
One of the first questions you might ask is whether it's essential to choose a niche. Do you have to narrow down your focus in this way, or can you make your account broad, and aim to appeal to everyone?
In reality, everyone is already working in a niche, you might just not realize it. And it's up to you how much you want to drill that niche down.
If you're a female content creator, then you're in a niche – because there are people who are looking to follow male creators.
Your skin tone defines your niche too, as does your hair color, and your body shape…you might not realize just how much of a niche you're already in.
But we admit, there are different levels and you could just create content that is aimed as broadly as possible. The question here is whether that's a good idea or whether you should be looking to choose a niche audience and drill down on that.
There's no definitive answer – there are pros and cons to both approaches.
If you keep things as broad as possible, you do maximize your potential reach, but you also make it so much harder to stand out. There are literally thousands of creators out there already across every platform, and if you try to compete for attention with all of them, then you're making your job harder.
But if you then choose a niche, you might have less competition but you also have a smaller potential audience.
This week I got an email from a girl starting her OnlyFans journey.

She's researching and found a niche idea, but worried it's too narrow. Sound familiar?

Let's chat about niching down on OnlyFans.

(A thread 🧵)

— Adult Girl Boss (@AGB_Valentina) February 12, 2023
It's a balancing act, and there's no single right answer. What matters is that you bear this topic in mind and don't just dive into creating whatever content you want. If you don't put any thought into your strategy, and the choices you make with your content, then you're more likely to fail.
Main types of niche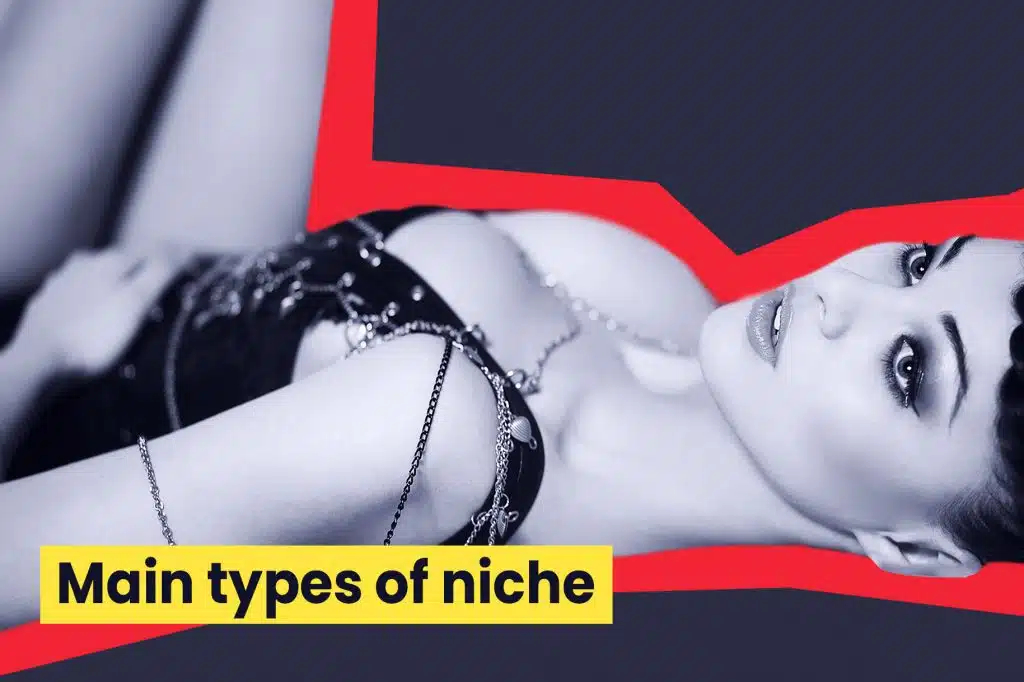 If you're looking for ways to differentiate yourself, a good way to approach finding your niche is to consider the four main niche categories.
These are:
Ethnicity, background, and age
Physical attributes
Occupation (doesn't have to be real!)
Special interests
Not everyone is looking for their dream content creator. There will be plenty of people out there who subscribe to creators of different races and skin tones, or that subscribe to people with different hair color, and so on.
Not everyone exists in their own little bubble.
But you can help to mine a specific audience if you start to consider where you fit in these four main categories, and then target your social media promotion to look for people who are specifically interested in the kind of creator you are.
Let's use the example of a redhead.
If you try to target everyone, you'll probably have some success. The wider audience will contain people who are either specifically interested in redheads or that don't care about hair color and so therefore will potentially be attracted to your content anyway.
But if you acknowledge that you're part of a redhead niche, and you go out there trying to find people who have that specific interest, you might reap more of a reward for the effort you put in, because you're not wasting time speaking to people who might only care about blondes.
Creative niche ideas
Here's a list of the most common niches and angles that people use to differentiate their content.
Amateur
'Amateur' content is quite broad – in essence, most creators are amateur – but if you purposefully shoot your content to show that you're a real, girl-next-door type instead of trying to create professionally-shot videos and photos then you may appeal to those who want to connect with the everyday person.
Athletic
While this has crossover with body type, content based around being athletic is that which involves the creator wearing fitness clothing, or doing exercise-related activities as part of their shoots. Yoga content is a strong subset of this if you're able to be quite flexible in your poses.
Belly
The 'belly' niche is itself quite broad because it can apply to those with a toned stomach, and those with a larger belly. Both have their audiences.
Brat
Some people are interested in creators who act bratty – entitled, feisty, and a bit mean. If you feel like this is a character you could pull off, then it may be a niche worth considering.
Cosplay
Cosplay creators are those who target people with an interest in popular culture, dressing up like their favorite characters but in more revealing outfits (or just stripping off from the full outfit). Some cosplayers spend hundreds of dollars creating perfect costumes, but there are plenty who still find success with cheaper, homemade outfits.
Cute
Again, this is a character you have to inhibit, rather than a specific look (although certain physical characteristics, like a smaller height and pigtail hair, can help). It's about portraying innocence – which may be easier for some than others!
Domination
Domination creators are those who like to find submissive audiences and exhibit power over them. There are traditional domination options, which involve physical restraints, latex outfits, and so on, but also sub-categories such as Findom – financial domination. Get this right and it can be very, very lucrative.
Exhibitionism
Some people get off on seeing creators acting as exhibitionists – wearing revealing clothing outdoors, clearly going out without underwear, or even flashing people. You have to be careful if you want to create exhibition content, as you must stay on the right side of the law. Fake content is the way to go – flashing people who are pretending to be innocent bystanders.
Farting
Yes, this is a real niche. Some people enjoy seeing creators – especially women – fart. It's because it's quite a taboo, and so it feels like you're seeing a natural side of someone they hide.
First times
If you've led a quite conservative sex life so far (or you think you can pretend that you have), then creating first-time content can be appealing to audiences. This is where you're trying different sexual experiences (oral, girl-on-girl, anal, etc.) for the first time. This niche can have a limited shelf life unless you're creative and open to a lot of ideas.
Feet
One of the classic niches of content creation, there is a huge audience out there of people who enjoy feet fetish content – sometimes just photos of feet, while others like seeing feet engaged in sexual acts.
Gamer Girl
There are a lot of nerdy/geeky types of niches, and they often work very well. Gamer Girl audiences are a little more specific, in that they want to see girls taking part in gaming or in game-like settings (so lots of LED lighting and tech). It creates a connection with the game-playing audience who have a shared interest (whether your interest in gaming is real or not).
Goth
Another of the classic niches, goth girls typically have dark hair, and dark makeup, and may wear clothing such as band t-shirts, leather (with spikes), and a lot of chains. If you're already living the goth lifestyle, it's a good niche to exploit.
Group
This likely won't work for most creators, but some people just enjoy seeing group sexual activity – if you are able to get involved in group content with other creators, you can make a lot of money from this audience.
Jerk-off instruction (JOI)
JOI is a popular niche that has a mild link to domination. It's about talking your audience through their own masturbation, telling them what to do and when. You need to be super-confident if you want to try this niche, as you need to directly talk down the camera to your potential audience in a way that completely controls them.
Lingerie
Lingerie niches are ideal for anyone who enjoys buying new sexy underwear (or having it bought for them by audience members). You can run a niche like this without ever going nude, although some people do prefer to see how you look once you've taken the underwear off as well!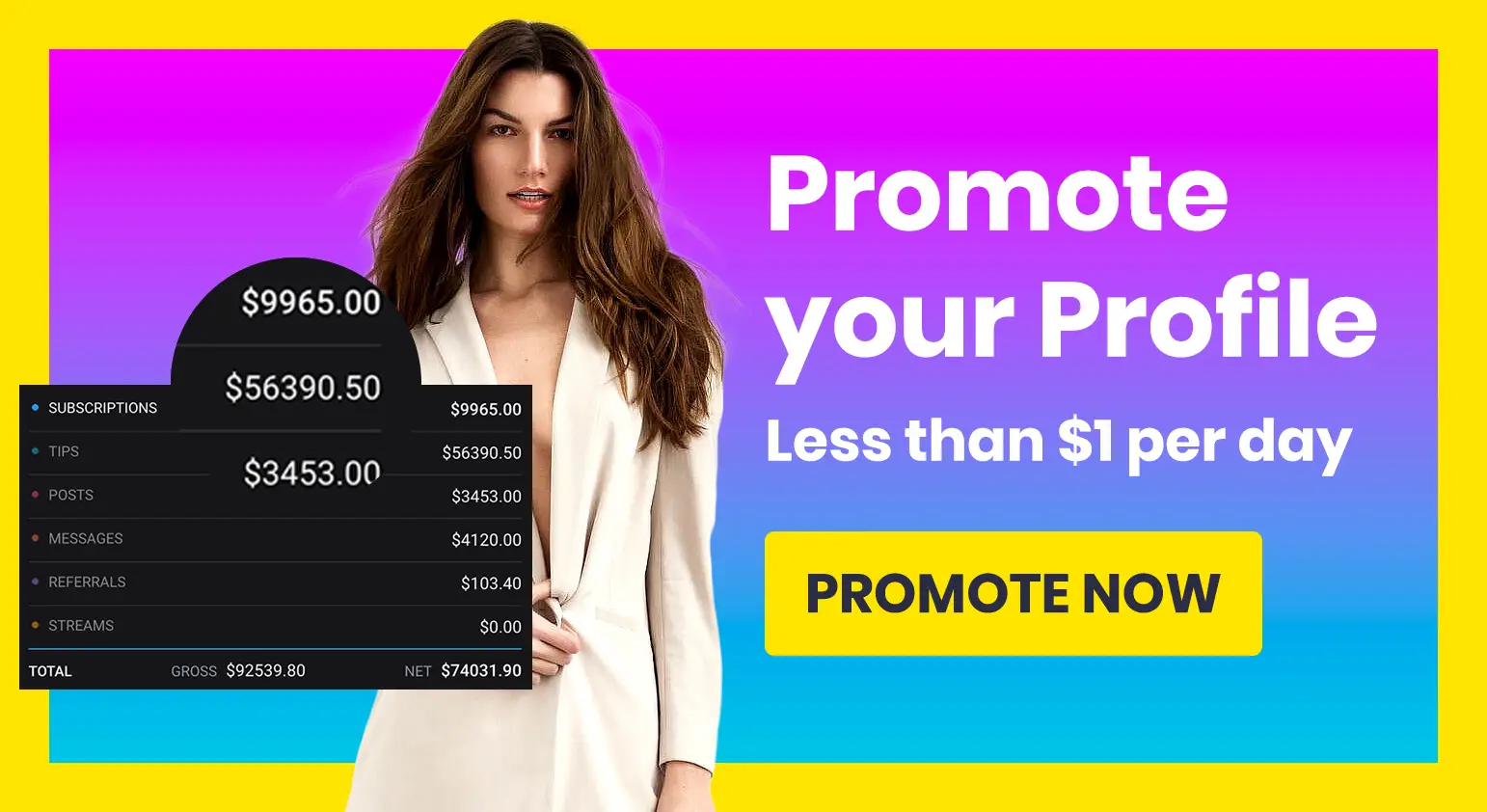 Masked
Most people prefer to see the faces of the content creators they subscribe to – it creates more of a personal connection. But there are some that enjoy the mystery and intrigue of masked content. You can even make this work for you financially by creating mainly masked content but selling private access to unmasked photos and videos.
Messy
While 'messy' can mean a lot of things in the adult world, for this niche we're specifically talking about untidy. If you're someone who is naturally messy and enjoys shooting content in a bedroom with items strewn everywhere then good news, there is an audience for that.
Piercings
We're not talking about ear piercings here obviously. If you have body piercings (a couple, or a lot) then you may find a target audience interested in seeing them.
Smoking
While you can't create any content showing drugs on any platform, you are allowed to smoke legal cigarettes and vapes. If you are a smoker, then you may be surprised by how large the audience for this content is – from other smokers, and those who don't smoke but see it as a naughty, sexy taboo.
Stripping
Simple enough – some audiences get their rocks off from the delayed gratification of watching someone strip. You could create an entire account where you just film stripteases, taking everything super slowly.
Tattooed
Similar to piercings, there's quite the audience for people who are tattooed, and that audience varies. Some people love to see those covered in art, while others just enjoy seeing otherwise 'innocent' girls who have a small, secret tattoo they show off.
And of course, there are plenty of people out there too who prefer untattooed creators.
Uniformed
Uniforms are an easy way to score yourself a niche. There are a lot of options, and you can either try them all or stick to one and milk it for all its worth – whether that's pretending to be a schoolgirl or a nurse. In fact, if you are a nurse, or you're in the armed forces, you can really make the most of that angle.
And here's a list of some physical attributes that you may or may not realize qualify as a niche:
BBW
People love women of all sizes, but the BBW (big, beautiful women) audience is particularly prominent on creator sites. If you're plus-size then consider leaning into that, and finding audiences who are looking for that kind of content.
Freckles
If you have freckled skin, this can be a great niche to build around. There's a large demand for freckled content, especially if you play into it by choosing matching niches. It works well with the cute category.
Hairy
While a lot of porn actresses tend to go for the shaved look, there's a huge gap in the market for natural women who have hair. This can be just pubic hair, or it could be body hair in other places too.
Petite
If you're a smaller body size, or you have smaller breasts, that isn't a downside compared to the popularity of BBW. Indeed, there's an equally large audience for people who enjoy the petite body shape.
Short
If you are particularly short – shorter than average really – you can make the most of this niche, especially if you shoot content with a partner who is taller than average. The difference in height can really emphasize your own size, and appeal to people who like shorter women.
Stretchmarks
Linked to the 'amateur' style of content, if you have stretchmarks don't feel like you have to hide them. Some people enjoy seeing the 'real' bodies of women including stretch marks.
Tall
Again, anyone with a 'niche' height will find a niche audience, so if you're tall then there are plenty of people out there looking to subscribe to your content. There are even sub-niches for 'giantesses' – taller, powerful women who act in a dominating way.
These are just some of the potential niche ideas but there are literally hundreds more. If you have any kind of special interest or distinguishing feature, there is likely to be an audience out there willing to pay for the content you make. So don't be afraid to embrace that!
For more niche ideas, take a look at our categories here on our Follower Find platform, where you'll find real creators that are advertising their fan pages.
The importance of being comfortable with your niche
When you begin creating content targeting a particular niche, it's not uncommon for you to shift focus slightly as your reach grows. But it is rare to completely move away from that initial target audience.
If you choose to focus on a niche that is inherent to you – related to your age, body type, or other physical attributes, then that's not a concern.
But when you're looking at special interests or hobbies, it's really important to not over-stretch and choose something that you're uncomfortable with.
Being comfortable with the content you create is absolutely vital for a number of reasons:
You'll potentially be making this content for a very long time, and you want this to be a career that you'll enjoy.
You'll be engaging with your followers through private messages and social media promotion, and you need to be comfortable doing so, either with your knowledge of your niche or just in talking about the subject.
Even with care, you may be discovered by people you know in real life. You need to be happy with them knowing about what you get up to in your content creation career.
If you're going to adopt a niche – by that, we mean focus on something which doesn't come naturally to you – then that's OK, but you must make sure you're happy with it long-term. Don't pick something because it sounds good if you're not sure you'll be happy making that content long-term.
Of course, if any followers ask you questions you don't like, or make requests you're not comfortable with, you can always say no.
But you don't want to build up a budding audience of paying subscribers, only to lose confidence or interest and have to start over from scratch with a new account. That would completely undermine all of the work you've done to get to that point, and fans don't forget if they're abandoned.
How to make the most of your niche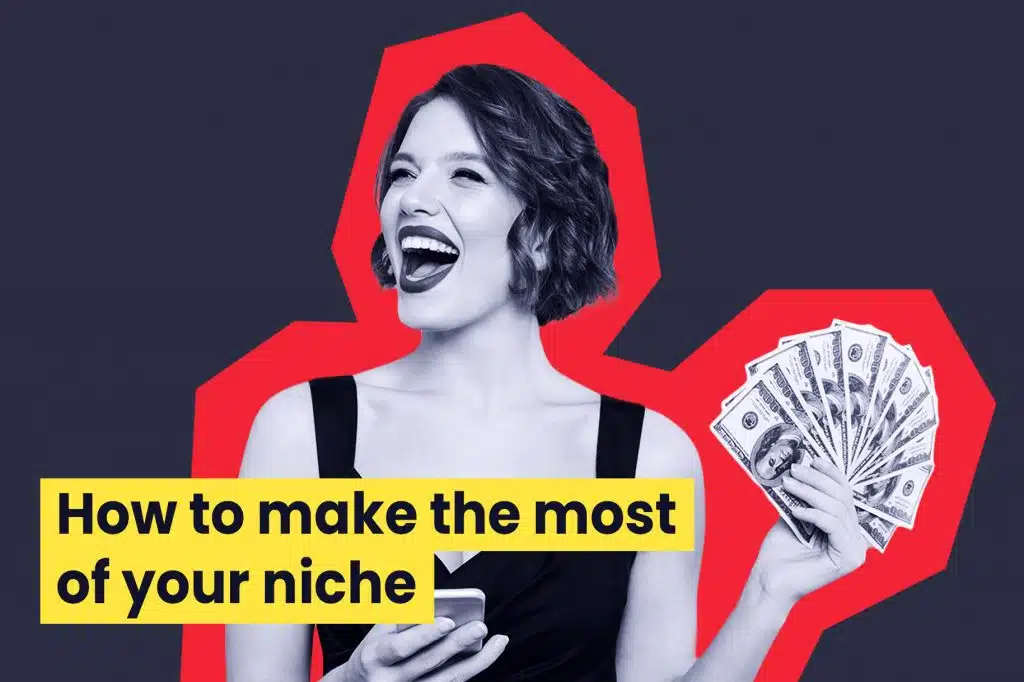 Once you've settled on your niche, you need to work out how you're going to maximize this. And that comes in three main areas:
Creating content for that niche
Making it clear that your profile is related to that niche
Promoting yourself to that niche audience
Content creation
This one is pretty simple really – you just need to make sure that you're creating content that is clearly related to your chosen niche. If that niche is just based on physical attributes then that's easy, but if it's interest-related, you need to get started with the right kind of content shoots.
This might involve buying props or setting the right scene, but this is important to get right. Don't describe yourself as offering a specific type of content, and then fail to deliver. You'll never keep any subscribers, and you may have to pay for refunds.
One idea is to look at what other creators are doing and see the kind of content that is most successful for them. You could also, if you're comfortable, look up free porn websites and check out the videos that have the most views for your niche.
These can just give you some more ideas on the kind of content you could create.
Profile setup
Another relatively simple one, but you need to make sure your profile makes it obvious what your niche is.
You tend to have two or three spaces to do this with – your profile picture, your bio, and potentially a header image.
Use these to show examples, or to describe the content you make. Don't let anyone be uncertain about what you're creating. If you're making Gamer content, showcase your gamer side – otherwise, the people interested in Gamer content will just scroll on by.
If you're no good with photo editing for your profile picture or header, our editing service can help – read more about that here.
Promotion
This is the biggie – finding ways to promote yourself to your niche audience. After all, the whole point of narrowing down to a niche is to win that audience.
So, here's what you need to do:
Set up your social media profiles in the same way you've set up your content profile – use bios and images to make it obvious what you're creating.
Use hashtags related to your niche whenever you post on social media. And use the same hashtags to find the conversations that are happening, and get involved with them
Join forums and subreddits related to your niche and become active in them.

If they are adult-themed/NSFW, show examples of your niche and link to your content profile.

If they are work-safe, just make sure you have a discreet link to your content page and become an active person in the chat. People will get to know you and can then organically discover the content you make.

Look at what your competitors within your niche are doing, and cherry-pick the best promotion ideas to use yourself.
It's not enough to just promote yourself in a typical blanket way to everyone and hope for the best. You need to work on finding the right audience and marketing yourself to them. Otherwise, your niche is a wasted opportunity.
In summary
Choosing the right niche is a key step to your content creation career, even if that just means acknowledging your existing niche based on your background and body. If you're looking for OnlyFans content ideas, or you're working with other platforms, start with who you are, and then consider other niches you're interested in targeting.
Remember that, if you want a head start, our Promote service includes some categories related to niches. If you want a boosted start then we've got thousands of people visiting our pages who are actively looking for niche content. Find out more about our Promote service here.