👋 Got a fan account that needs a boost? Promote it here. We support ALL platforms ❤️ Get a FREE digital eBook packed with Onlyfans tips with every ad purchase!
Camsites have existed for a number of years, and are a good way for adult content creators to make money.
They let creators connect with a large fanbase at once, and because there's a certain excitement that comes with live content – a sort of anything-could-happen vibe – users tend to find live streams to be that extra-bit thrilling compared to a regular video.
There's also the element of interactivity – viewers of a live stream can influence the direction the stream takes through their comments and tips, and as such, they feel a much stronger bond with the creator.
Now, live streaming is moving beyond standalone websites. Some fan subscription platforms like LoyalFans are offering their creators the opportunity to host live streams alongside their regular feeds.
If you're an aspiring content creator, or you're established on a platform but are considering switching, here's why you need to make sure live streaming is an option that's available to you, and how to make the most of it.
The benefits of live streaming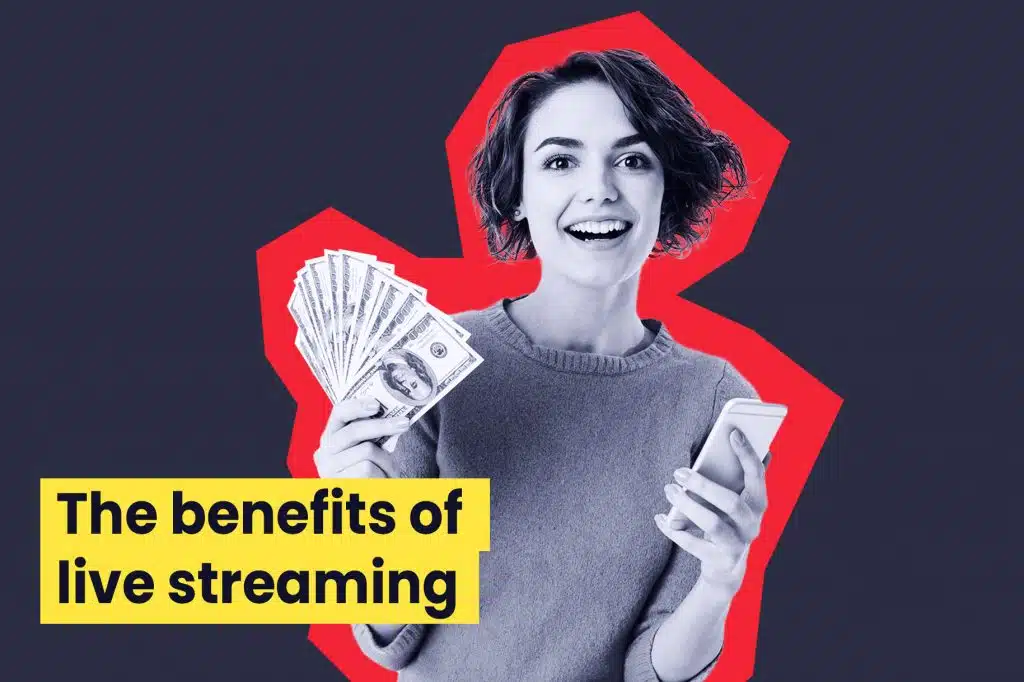 The first question to address with live streaming is, why bother?
And it's a valid question. If you're a content creator who is putting the work in, you're already going to be busy. You need to shoot content, edit it, upload it, interact with your fans and then promote your page in various ways to help find new subscribers too.
It's not an easy job.
Still, it's worth finding the time to live stream if you can, because it has a number of benefits.
Additional income stream
The most obvious benefit to live streaming is that it's another income stream that you can maximize. People pay to watch your stream and will also tip you if you manage your stream in the right way. Spending time on a live stream could be a great way to boost your earnings for the day, and a regular live-streaming spot can make a huge difference in your monthly income.
Promotion
Secondly, your live stream is a sort of commercial for your regular subscription content. Consider it as a way of promoting your brand, where your brand is you and the content you make. You're giving people a sneak preview of what they can get if they sign up for your page.
And the great thing about live streaming on a fan subscription website is that it's really easy for users to then find your profile and sign up. Plus, you don't risk getting in trouble mentioning your subscription services, whereas if you tried to push your fan page on an independent camsite, you could find yourself banned.
Engagement
Live streaming is a fantastic way of boosting your engagement with your existing fans. Get them to pay for your live show, and you are essentially hosting a video call with multiple users all at once. You can chat with them (they'll be talking away in the comments for you), get to know what they like, and then tailor your future content to suit them. Added to that, you're making your fans feel special by spending your time with them. It's a win-win.
This is why you need to give live streaming a go. It's a service that perfectly complements your subscription page so that you can please your current fans, find new ones, and bring in extra cash too.
The equipment you'll need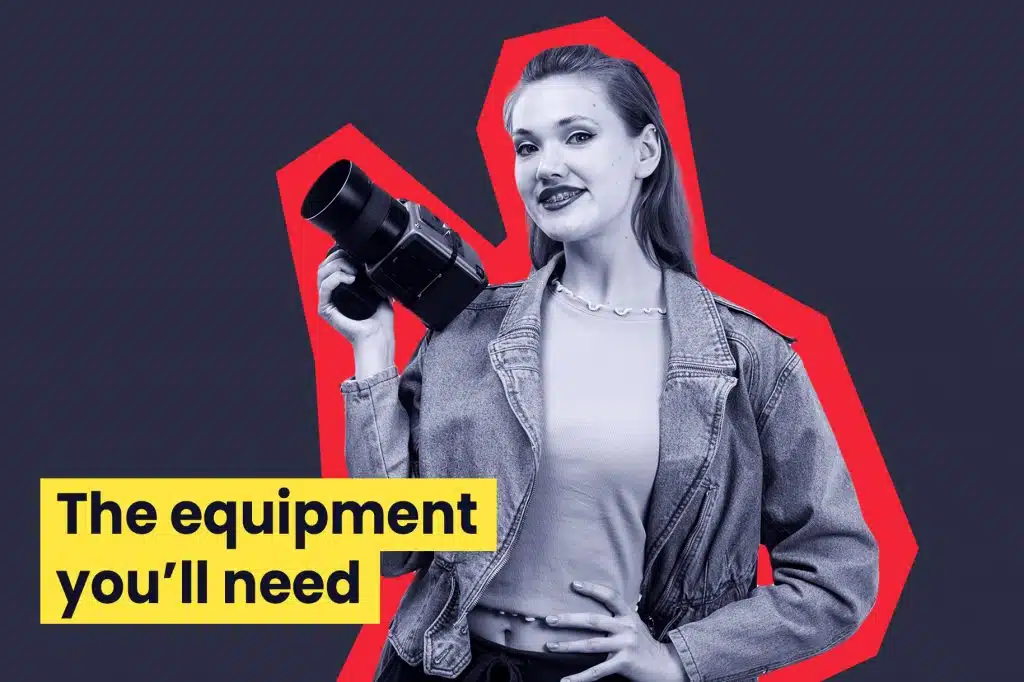 So, we've managed to convince you, and you're going to give live streaming a go. Fantastic.
Where do you start?
Firstly, you're going to need a few essentials. Top of the list is a decent internet connection – it's no good trying to live stream if your internet is terrible. You don't need the most expensive option, but if you've been holding onto an old deal that barely gets you a couple of Mb/s then maybe it's time to upgrade your package.
Next, think about the hardware – specifically the camera. You can use any webcam or hook up your camera – you can also stream straight from your phone if you like.
Ideally, you'll want to get an HD webcam though, because this will have better image processing to help make sure the image stays smooth as you move around, especially when streaming live.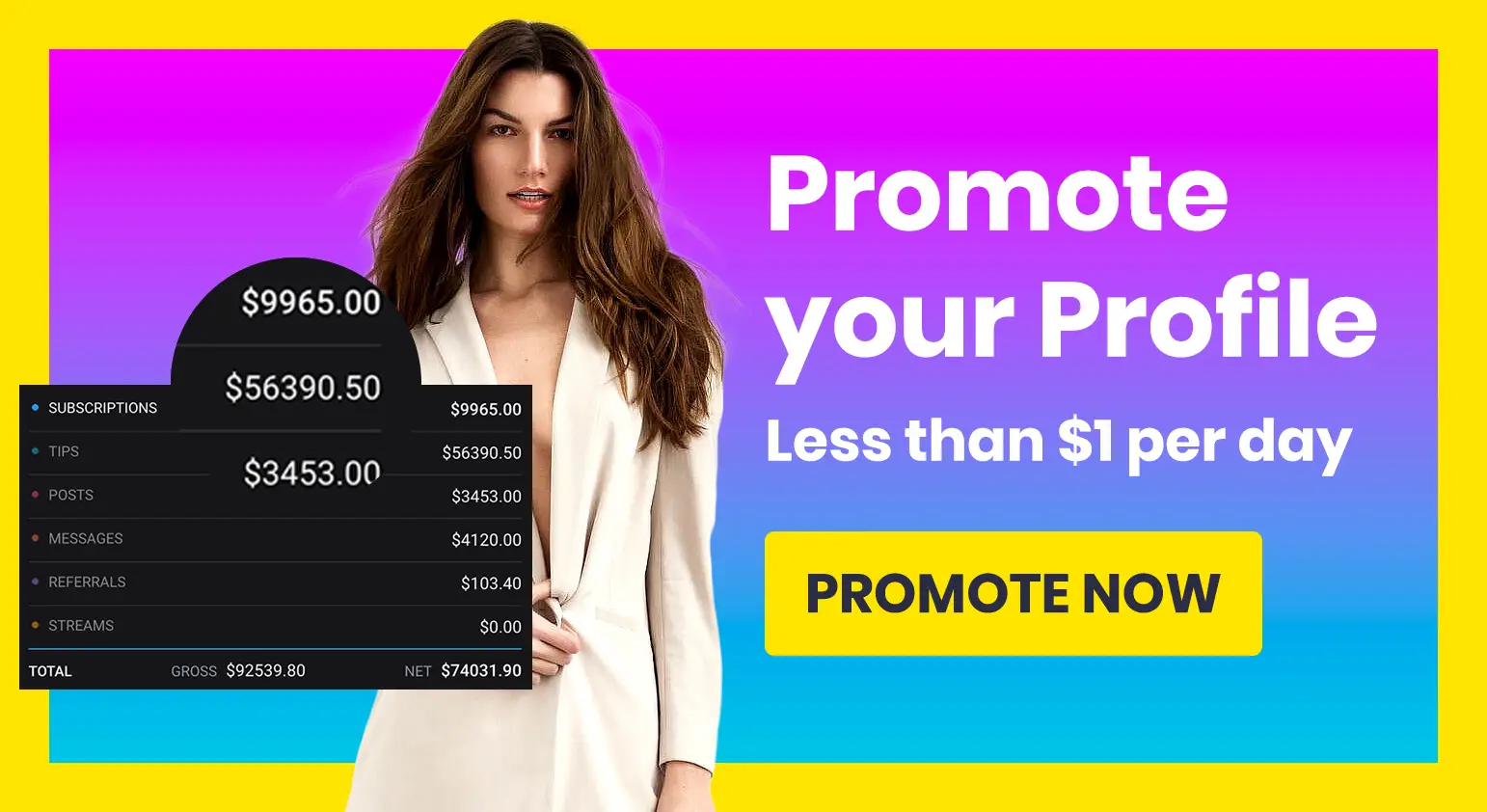 Using your phone also makes it harder for you to see comments as they come in, and respond to them. It's best to work from a PC or laptop with a large enough monitor that lets you have different windows for your chat and so you can see how you look on camera.
If you plan on sitting away from the computer – many people stream from their beds – consider getting a wireless keyboard and mouse too. It means you can scroll through comments and reply to people without having to constantly move back and forth between the desk and your bed.
Sound quality matters too – an HD webcam might have a sufficient microphone, otherwise, you should think about buying a standalone one. This is especially true if you are going to be sat further from the desk – you want to make sure that everyone can hear you.
Finally, you need to think about lighting. It's the same with shooting video for your feed – relying on natural lighting, or typical room lighting will only make you look grainy and blurry, with some harsh shadows.
A ring light is a cheap solution that fits around your camera, and when you start streaming more regularly you can invest in a couple of box lights to really turn your set into a professional studio at home.
What to do while on camera
Step 3 in your plan of camming success is working out what you're actually going to do during a live stream. You can't just sit then and talk to people as they join the room – that's not going to retain interest for very long.
Most creators who make a success of live streaming will have a set length of streaming planned, which helps them to pace out their activities. If you only want to strip during your live stream and take it no further, then it's no good whipping all your clothes off in the first five minutes – what else have you got to fall back on?
Think about what you're comfortable doing on camera, and how you can then pace this across your planned video length. This is good for teasing viewers as well.
A common tactic is to set tip goals. Pick a couple of things that people might want to see, and then make it so that you'll only do them once a tip goal has been hit.
That way, one of two things is going to happen:
You're going to have a slow-build stream as tips slowly come in
Someone is going to tip you a huge sum right at the start to get you straight into the action
This happens – great! You've made a lot of money. But you still need a Plan B of how you'll fill the rest of your time on stream.
Go in with a plan, and then tell your viewers what you're going to be doing – and keep reminding them. Don't lead them on too long, but don't rush everything either.
Finding the balance takes time, but soon you'll have your audience enthralled and waiting for every move you make.
Other tips for successful streaming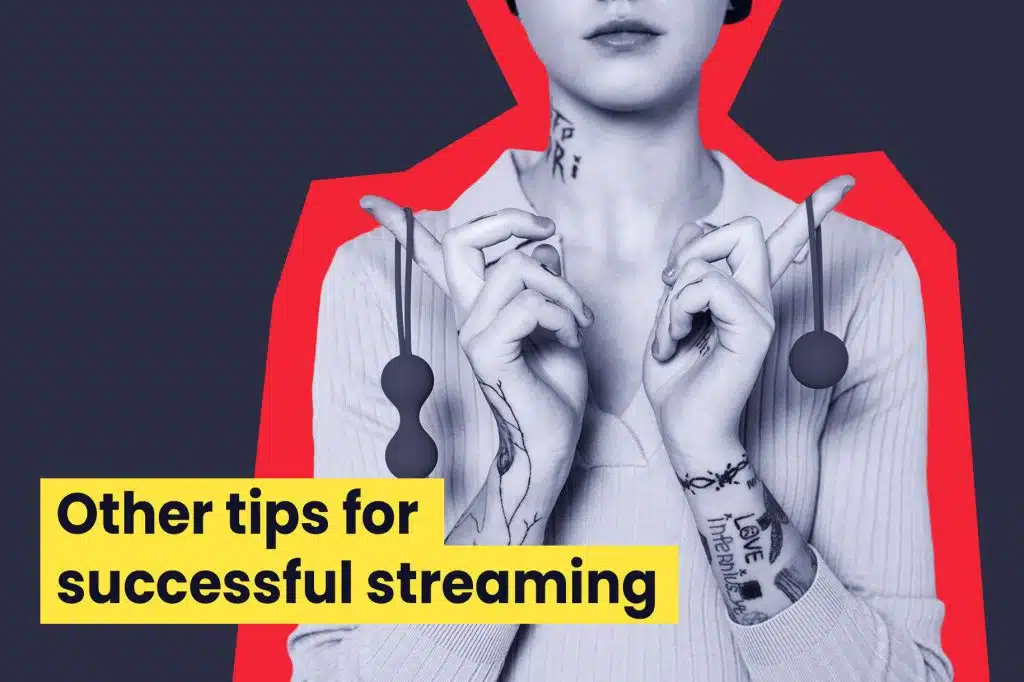 There are some other key tips for making a success of live streaming, which are worth bearing in mind once you've got your first streams out of the way, and your confidence is building:
Regularity – having a designated time or times each week that you stream will help your users since they'll know when they can find you online. Try not to stick to just one time but have maybe two streams a week at different times if you can – it'll maximize your global audience.
Add toys – there are special sex toys you can use in your streams which can be linked to your tips – as people tip you, the toy activates. Compatibility for the software will vary depending on the platform you're using, but it's worth looking into.
Setting – don't stream from a messy bedroom. Put the effort in to have a pleasing background, one that doesn't divert attention but also one that makes you at least look like you care about streaming.
Be chatty – address commenters by name, and thank them for their contributions (financial or conversational). Engage with people and they're more likely to come back to your next stream.
That covers the basics – with these tips you'll be live streaming with confidence in no time.
Remember that live streaming can be a highly effective promotional tool for your subscriptions too, so maybe consider running a special offer during your live streams of a discounted sub price – that'll help convince even more people to start paying you regularly.
Get yourself sign up with a fan subscription site that offers live streaming services – something like LoyalFans – and you'll soon be boosting your profile and your earnings, and having fun too.