👋 Got an OnlyFans, Fansly or other fan page account that needs a boost? Promote it here. We support ALL platforms ❤️ Get 15% OFF with coupon code "LIMITED15"
A relative newcomer to the fan platform scene, Unlockd aims to offer the most streamlined and simple service to content creators, while at the same time offering them plenty of features to ensure they can maximize their earnings. Read our review to see if it manages to strike this balance, or if it ends up falling a little flat.
Pros
Creators treated as business partners – very professional service
Streamlined interface is easy for creators and fans to use
Low fees compared to other fan platforms
Cons
Not a lot of extra features when compared to some other competitors
$100 minimum payout is higher than with some other platforms
What is Unlockd?
Unlockd is a fan platform that allows creators to set up a private account, posting photos and videos. People can then choose to subscribe for a monthly fee to gain access to that content – helping the creator to turn their photos and videos into a way of making a living.
It's in the same competitive space as OnlyFans and many other subscriber-based content platforms, but Unlockd is trying to stand out by keeping the site as simple to use for creators as possible, and ensuring they are seen as professional partners. With that in mind, customer support and profile promotion are some of the core focus areas of the platform.
The site has over a million active fans and has paid out almost $40 million so far to content creators.
You can sign up to Unlockd here
What kind of content is allowed on Unlockd?
Unlockd is a site that welcomes adult content and proudly advertises that any (legal) kink need not feel ashamed or shy on their site. As with any fan platform, Unlockd is super-strict on illegal content and you'll need to go through a stringent verification process to prove you're of legal age to be a content creator, and if you post anything illegal you'll be quickly banned.
This isn't just sexual content that goes too far, but also any content that you don't own the rights to. Unlockd is especially clear on making sure creators only post photos and videos that they own.
How can creators make money on Unlockd?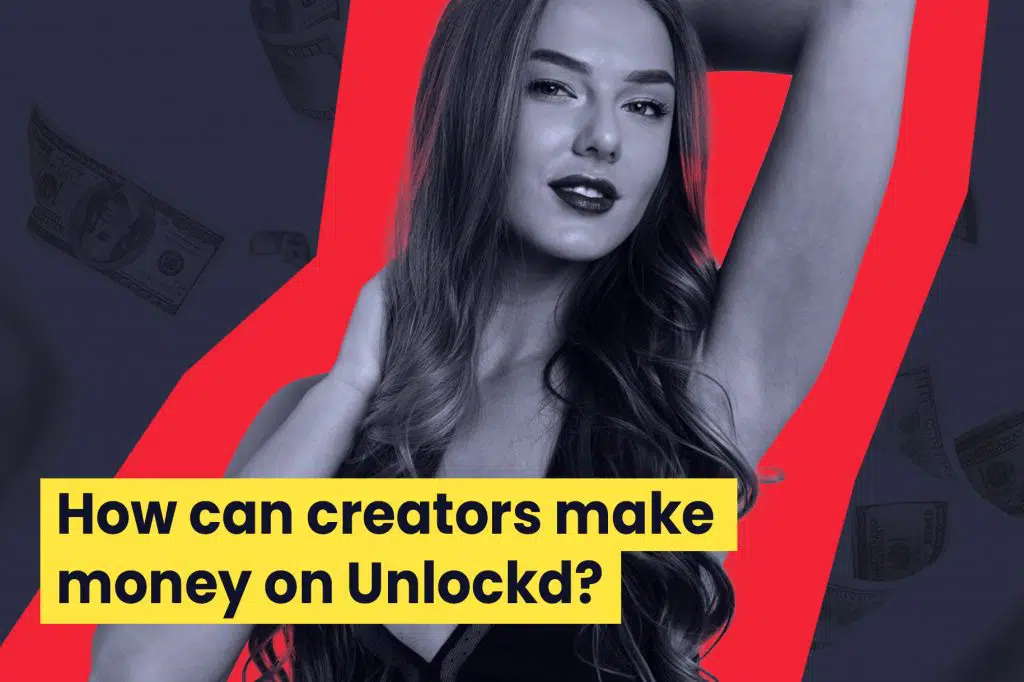 There are a few ways to make money on Unlockd but before we dive into those, it's important to set out how the platform works, because it's a little different from some of the other sites that are similar.
With Unlockd, there will always be parts of your profile that are free to view, and you're asked to post some content to those on a regular basis, particularly if you want to make it to the Unlockd home page (more on that below).
Some of this free content, including gallery images and clips, can't show hardcore material – it needs to be work safe. However, you can post some adult content on your free feed, only accessible to people who choose to follow you.
Then, people can subscribe to you, and that's the main way you'll make money. They subscribe to access your photos and videos that are hidden behind the paywall, although they'll be able to see a short description of your content before they sign up – ideal for helping to convert them.
You can set your subscriber cost to whatever you want, though it's common for a monthly fee to be between $5 and $15. So, for every person you convert to a subscriber, you'll make that amount (minus Unlockd's cut – more on that below) each month. This means you need to work hard to promote your account to win new fans, and then post great content to keep them paying for a subscription.
Then there are premium videos. These are videos that you charge an extra fee for. Subscribers can't access these videos automatically. You can charge anywhere between $5 and $100 for a premium video, so they can be a great way to earn extra money.
But they need to be worth it. There's no faster way to annoy people and suffer a load of refund claims than misrepresenting a video and making it poor value for money. You have to be clear in your description of what the customer is paying for.
You're also able to charge users to chat directly with you if you want to. Private messages can be left open, or you can add this to your subscription package, or charge for it separately. One to one fancams – video call sessions – is another way you can directly reach out to fans, and you can monetize those too.
There are two other ways you can make money on Unlockd. The first is through tips. Anyone that follows you can tip you at any time, and it's a great reason to make sure that, if you allow direct messages, you respond to them as much as possible. Engaging followers and fans in conversation is what makes their day, and they're more likely to throw a few extra dollars your way if you make them feel special.
Finally, you're able to set up a private Snapchat account through your Unlockd profile and charge for access to subscribe to that. It's another fun way to keep your fanbase engaged, and with a few regular snaps, you could be earning two regular fees from your fans, as well as the occasional top-ups from premium videos and tips.
What features does Unlockd have?
There are a few extra features available to content creators to help them earn the most money possible.
However, the first isn't actually a way of earning extra – it's just a useful tool to help creators feel more comfortable. Geo-targeting is a way of blocking some people from accessing your content. A lot of people use this if they don't want family and friends to see their adult content, or if they're working a day job that would frown upon an adult content-based fan platform profile.
The only drawback is that you can only currently block entire countries – not ideal if you're a US-based creator, as that's a lot of potential subscribers you're ruling out. Some other sites let you block users at State level, so Unlockd could do with improving this ideally.
Back to the features that Unlockd does have, the two worth calling out are all around promotion of your profile. Unlockd's home page is great for casual fans and people browsing the site because it's a really good way of finding new people to follow and potentially subscribe to.
Any creator can be featured on the homepage, providing they meet the minimum requirements for content – a profile photo and gallery pics, a profile video, a description of your profile and subscriptions, between 3 and 10 safe for work teaser photos, at least 5 videos on your private feed and at least one Premium video. Ideally, you'll also share your Unlockd link on your personal Instagram to promote yourself, which also helps verify who you are – but this step is optional.
If you do all of these though, then not only will you be promoted on the Unlockd homepage, but you'll be featured in the site's algorithm. Any users browsing other creators that are similar to you may be shown your profile as a recommendation. It's another reason that it pays (literally) to have a fully fleshed-out profile with good quality content and descriptions, and staying active by posting as often as possible really helps too.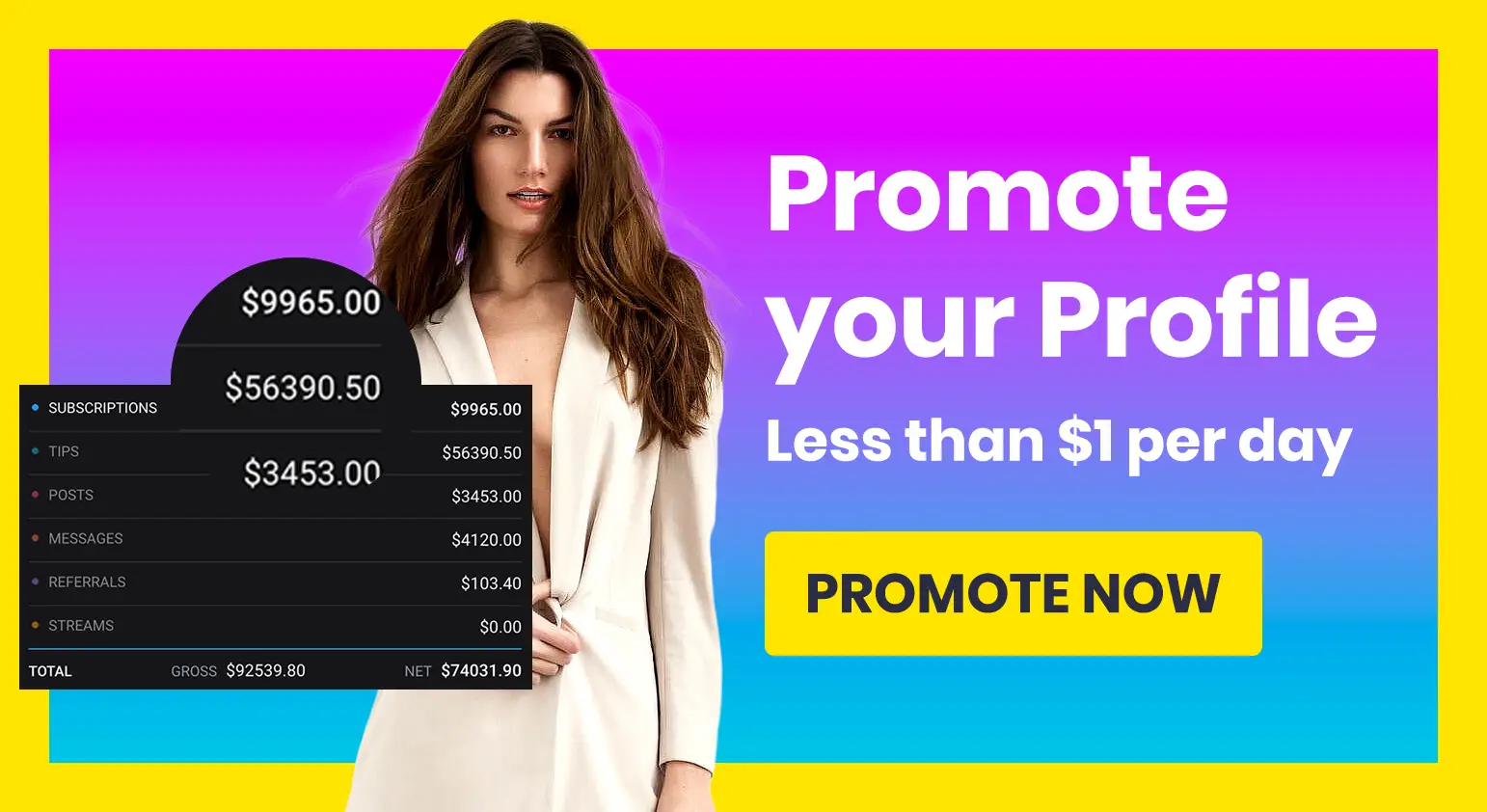 How does Unlockd make money?
Like other fan platforms, Unlockd makes its money by taking a cut of your earnings. This cut pays for Unlockd's staff, and for all that server space to store all your content.
Unlockd's fee is 15%. If that sounds high to you, then you've clearly not spent much time researching fan platforms yet – it's one of, if not the best rate you'll find. Most platforms (like OnlyFans) charge 20-25%. Unlockd not only offers 15% now, but it has a lifetime guarantee that if you sign up, you'll only ever pay 15%. Even if they bump up the price in the future, you'll be locked in at that lower level.
It's not all great news here though, because while Unlockd does make automatic weekly payments, that's only if you've earned $100. If not, the money rolls over until you reach that minimum limit. Other sites tend to have a lower minimum threshold of around $20, which means you can start cashing in your earnings much faster. It'll be interesting to see if Unlockd decides to bring itself in line with OnlyFans and some other big names in this area.
How easy is Unlockd to use for creators?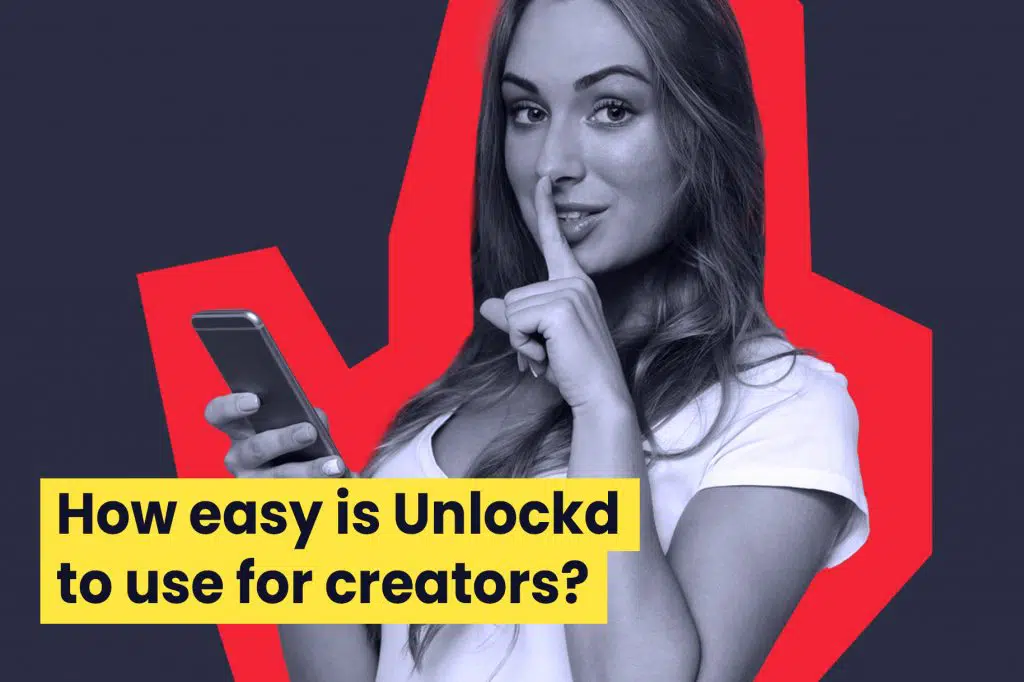 Unlockd is really easy for creators to use…once you're signed up. Signing up does take a little time, unfortunately, because Unlockd needs to verify everyone manually in order to protect itself from underage applicants.
Unlockd receives hundreds of applications a day, so it may take a little time for your account to be set active once you've provided your proof of ID. Once it's live though, it's super-easy to navigate around, schedule content, add descriptions and interact with your fans.
You don't need to be at your desk to work on your page either – the site is fully optimized for mobile users, so uploading pics and videos you've shot on your phone couldn't be easier.
How easy is Unlockd to use for site visitors?
One of the biggest criticisms leveled at OnlyFans and some of the other big-name fan platforms is how those sites don't seem to care about user experience. As long as you can pay your money and find your way to your chosen creator's content, that's enough for them.
Unlockd does buck the trend somewhat. The site's nice and clean, the feed isn't horrendously cluttered, and that home page with the option of discovering new profiles really is nicely designed. It's a simple tile layout that loads fast, so you can quickly browse to find people you're interested in.
There are some excellent filters available too, to help you narrow down your search. Choose from stars based in certain locations, or with a specific eye color, filter by age or body type, and even by job – if you've got a thing for porn stars or supermodels, finding them is so easy.
Overall, Unlockd probably has one of the better sites for user experience. If you're a creator this is great, because it means other users are more likely to browse and discover you organically. You still need to promote yourself, but picking up a few extra subscribers is a lot easier on Unlockd than with other platforms.
What's Unlockd's support like?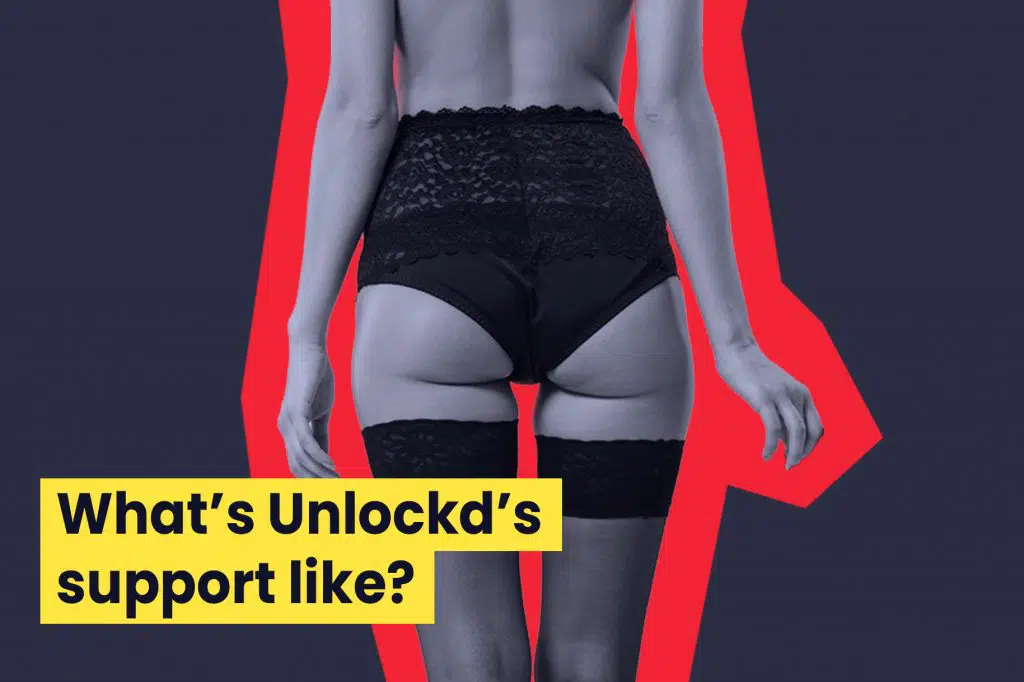 This is another area where Unlockd really has positioned itself well. It talks about creators as business partners, and how it wants to support you to grow your brand and profile. And they aren't just blowing hot air. You'll be assigned a dedicated account manager, who is available whenever you need them to help improve your profile and find ways of better promoting yourself to new fans.
They also have some excellent resources on their website to help creators. Their blog has some interesting posts, although it is a little messy – recent posts aren't always shown, and their posting schedule does seem a little irregular. But their FAQs are outstanding. Most fan platforms might offer 5-10 frequently asked questions – Unlockd has 114 (although one or two are duplicates).
And if you still need more help, Unlockd promises to reply to any emails or live chat messages within 24 hours – a lot faster than some other platforms would be able to commit to.
Overall, Unlockd's support has generally been viewed as excellent, and with the platform's growing popularity this is to be commended.
But over time, there are more negative reviews appearing on independent platforms. We'd recommend you check those out, and balance them against the positive reviews, before you fully commit.
Final verdict
A lot of people who subscribe to OnlyFans are starting to look for an alternative platform, after becoming worried that OnlyFans may ban adult content. It tried to once already before backpedaling, but it may decide to make that move in future.
If you fall into that camp, or if you're looking for somewhere to start your first fan platform, then Unlockd is undoubtedly one of the better options available.
There are some drawbacks – it could maybe do with having a few extra features to help tailor your content and profile even further, and that $100 minimum payout is a little high.
But the support most creators get, especially for the lower fee of just 15%, is pretty outstanding, and the site is a step up in quality (in terms of usability and site speed) over some competitors. We'd recommend Unlockd as one of the better options to explore for your content creation career – with the caveat that you do your research and make sure the platform is not starting to stutter.
What's the difference between feed, private and premium videos?
Feed videos are those that you post to your public feed. Anyone can see these if they choose to follow you, which they can do for free. There's a difference between following (free) and subscribing.
Private videos are those which are only available to your paid subscribers, while premium videos cost extra even for someone who is paying a subscription to your content. Premium videos therefore need to be worth the extra cost in order to convince people to pay for them.
Can I delete my content?
You're able to delete any content that you've posted to your Unlockd at any time. Just be careful not to delete something that has helped win you a lot of fans, unless you've a good reason to remove it. New subscribers will want to browse through your older posts too, and not just see what's new.
What content am I allowed to post?
You're allowed to post anything legal to Unlockd, including hardcore content. The exceptions to this are any type of content that breaks any laws, or any content that you don't explicitly own, even if you appear in that content. So if a professional photographer has taken photographs of you but retained the copyright, or if you've appeared in someone else's video, you can't share that content to Unlockd.
Beyond that, as long as what you're posting is legal, then you've free rein. Unlockd supports all legal kinks and encourages creators to post what they think their fans will want to see.
Can I cross promote my other content sites on Unlockd?
You are not allowed to promote your other content sites on Unlockd. This includes your own Instagram, YouTube or any other fan platforms where you might have a profile. Unlockd put a lot of effort into building traffic to your page and to their site, and they don't want that traffic to then be redirected elsewhere.
Does Unlockd have an app?
Unlockd does not have an app for iPhones or Android. That's because neither the Apple Store or the Google Play Store allow any outright adult content. You won't find any app on those stores for any fan platform.
However, the website is fully optimized for mobile and really easy to use. Instead of an app, you can save a shortcut to the website from your phone's home screen, which will take you straight to your page – as long as you've previously logged in and told the site to remember you, it'll get you right to your profile and ready to manage your content or chat with subscribers.
What are Gallery images?
Gallery images are essentially extra profile pictures. These help to show potential subscribers more of what you're like and the types of content you might be posting. However these images do need to be safe for work, so don't show off hardcore imagery here – although you can allude to it.
Is there a minimum/maximum video length?
Teaser (free) videos and private videos can be as short as you want them to be, and it's quite easy to show something exciting in just a few seconds (maybe hinting at flashing in a teaser, or actually flashing on your feed). Premium videos do have a minimum length of 30 seconds though.
In terms of a maximum, there's no limit on the duration but there is a limit on the file size – 4GB. That's a pretty hefty limit – if you're shooting in Full HD that's more than an hour for more video formats.